One of the biggest considerations when buying a Thermomix is weighing up the cost (and at over $2k, there's no doubt that it's a massive expense!) and the ways in which it could save you money (and thankfully there's LOTS of them!). We've included 10 of the top ways that your Thermomix can save you money below.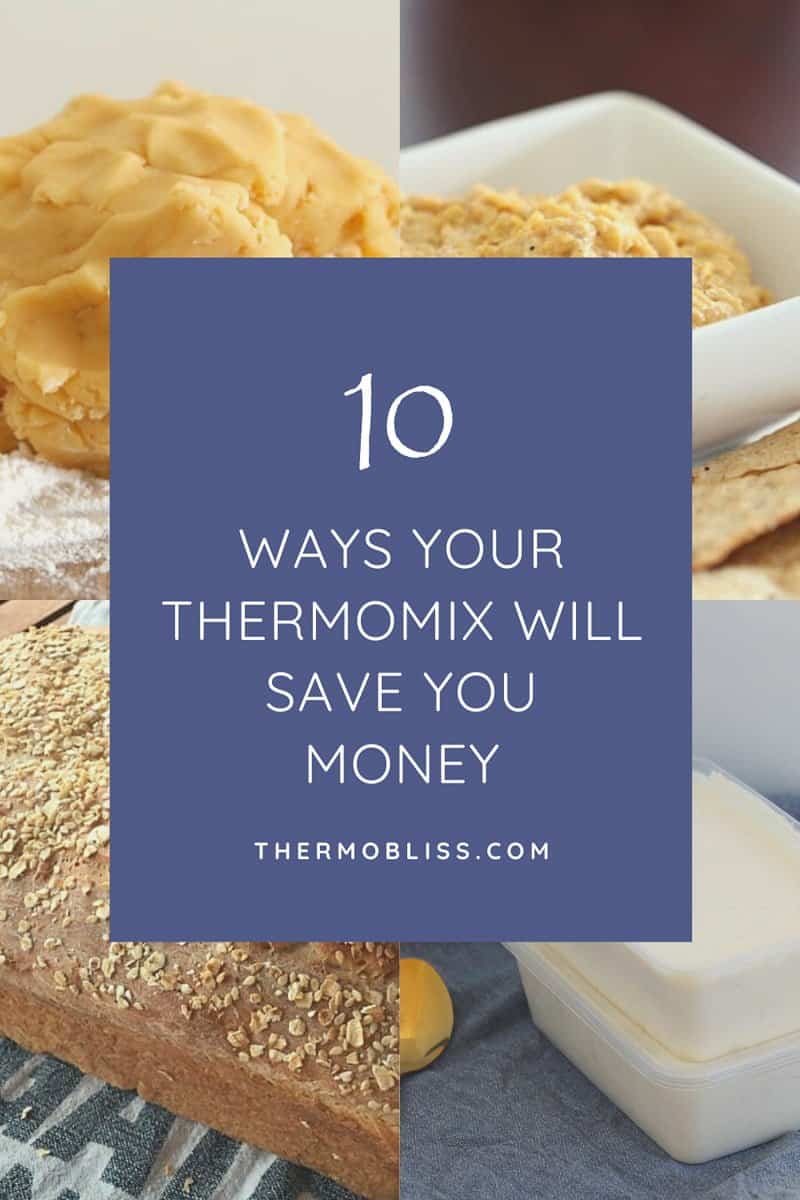 How Your Thermomix Will Save You Money
1. Butters
Store-bought butter and nut butters can be pricey and also full of additives. Making butter and nut-butters in your Thermomix couldn't be easier (or cheaper).
Plus check out our top tips for making butter in your Thermomix here. 
2. Pizza Bases
Every Friday night is pizza night in our house... so you can imagine how much of a money saver the Thermomix is on those nights! In fact, you can make your own pizza bases in the Thermomix for around $1.00. Amazing, right!?
And here's my favourite pizza EVER!
3. Yoghurt
We're massive yogurt eaters in our house and would easily go through around 2kg a week (on muesli, for a snack, in smoothies etc). At the supermarket, our favourite yoghurt costs around $7.00 for 600g, whereas you can make 1kg of yoghurt in the Thermie for around $3.00. That's a massive saving for us.
Here's our super easy pot-set yoghurt recipe (including lots of tips for getting it right!).
4. Homemade Bread
Making your own bread, rolls, scrolls, buns and loaves can save you a pretty penny. Gourmet olive and parmesan loaves can cost around $8.00 from the bakery, and yet you can make one for around $2.00 in the Thermomix. Similarly, a dozen rolls in the Thermomix will set you back about the same cost as 2-3 rolls from the bakery. This is a great way to save money with your Thermomix every day of the week!
5. Homemade Vegetable Stock
Veggie stock is a staple in any kitchen and making your own not only saves you money, but you also know exactly what's going into it. (You'll also usually get a chance to make a batch of homemade stock when you have your Thermomix delivered or during a demo!).
6. Almond Meal
I do a lot of baking, so this one is a huge thing for me! A tiny packet of almond meal at the supermarket is so expensive (around $15.00 for 500g) and yet you can make your own in the Thermomix for just over half that cost. Plus, we always have almonds sitting in the pantry, so it's easy to whip up a container of almond meal (and it saves a trip to the supermarket too!)... and it only takes a couple of seconds!
7. Smoothies and Juices
I've certainly been known to pop by Boost Juice for a mid-afternoon pick me up. And while I love their juices and smoothies, one drink can cost over $6.00. Using the Thermomix lets me make 2-3 juices and smoothies for the same price.
Here's a few of our favourites...
8. Cakes and Biscuits
If you're someone who buys store-bought cakes, biscuits and slices, then a Thermomix will save you a huge amount of money! Making your own baked goods from scratch is one of the biggest money savers.. plus they'll taste far better too!
Check out some of our most popular cakes and biscuit recipes:
9. Dips
We used to buy dips from the supermarket each week. But after buying a Thermomix, there's no way I would buy them again! It's so quick, easy and cheap to make your own.
10. Pastry
And lets not forget that the Thermomix makes the most delicious pastry ever... plus it's oh-so-easy. Best of all, it's so much cheaper than buying frozen sheets from the supermarket. Once you've had Thermomix pastry, you can never, ever go back!!
There are so many other ways that the Thermomix will save you money... whether it's by making your own jams, butter or even laundry powder, or by reducing your gas and electricity bills... it really can save you a whole lot of cash! Most people say that the savings they make from owning a Thermomix would mean that they would have paid it off within a year - which is pretty good considering that you're going to get a whole lot of years use out of it!
How does your Thermomix save you money?