Looking for healthier recipes to make in your Thermomix? We've put together this collection of our favourite delicious and simple healthy Thermomix Recipes! In this collection you will find healthier snacks, meals and drinks - enjoy!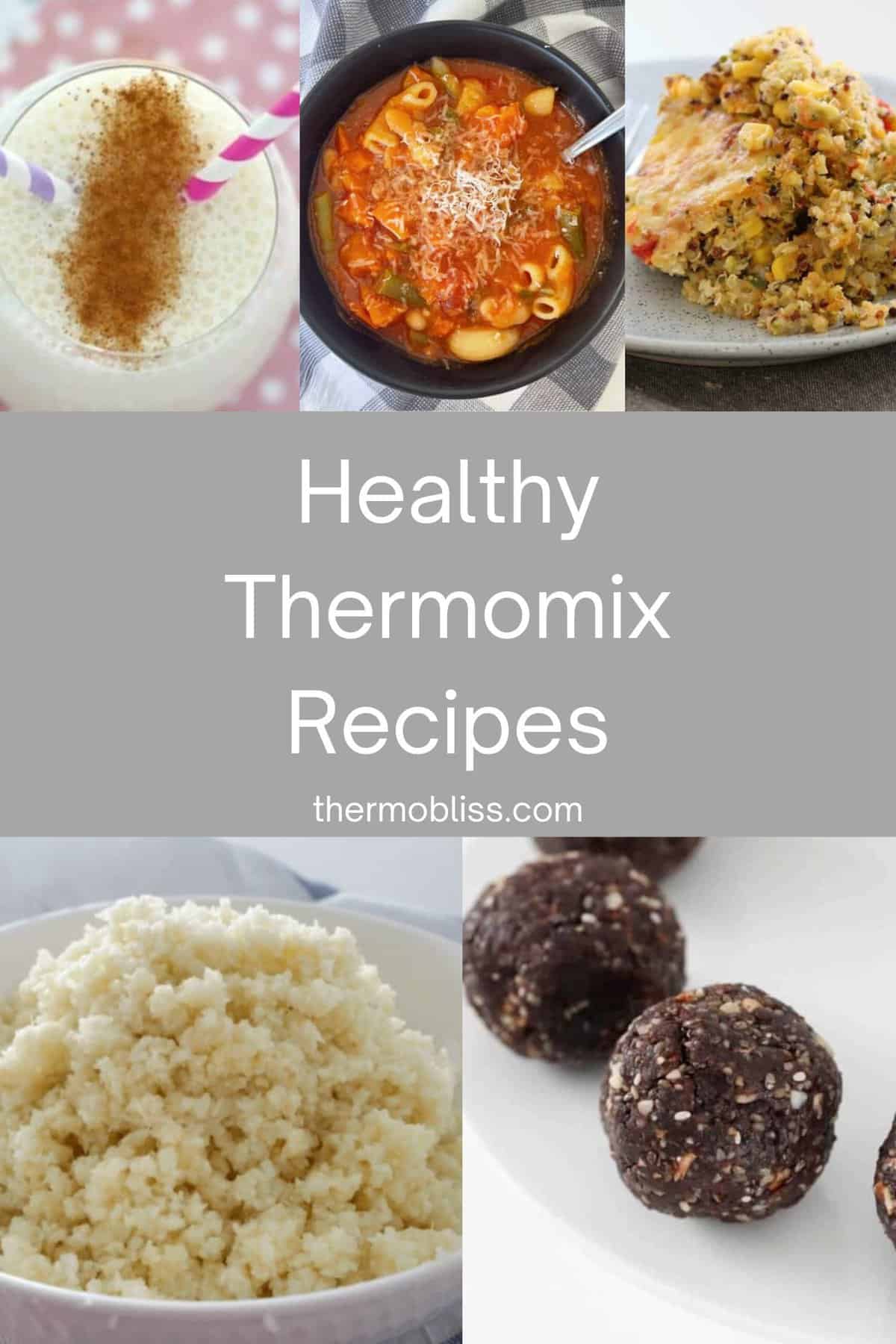 There is no need to buy Muesli Bars when it is so easy to make them yourself! Our healthy Thermomix Muesli Bars are packed with goodness and are a family favourite.
For a filling and delicious meal, you cannot go past our Thermomix Quinoa and Vegetable Bake. You can also substitute the vegetables in this recipe for what you already have at home, making this a great budget friendly recipe.
Our Thermomix Banana Smoothie makes the perfect snack or breakfast on the go! You can also use either fresh or frozen banana pieces to make it, making it a great way to use up leftover bananas.
There is no need to buy processed chicken for your rolls and sandwiches anymore! You are going to LOVE how simple it is to steam and shred chicken in your Thermomix.
For a sweet but healthier snack, you cannot go past these yummy Choc Bliss Balls! You will love just how quick and easy they are to put together using your Thermomix too.
Made with just TWO Ingredients, our Mango Ice-cream couldn't be easier to make! It is the perfect sweet treat and can be enjoyed immediately after preparing OR you can pop the mixture into ice-cream moulds.
Packed with vegetables, our Thermomix Minestrone Soup is a great light lunch option. This recipe can also be frozen, making it a quick healthy lunch.
Light and refreshing, our Thermomix Chicken and Mango Salad makes a great healthier meal choice.
Start your day with this delicious and satisfying healthy Thermomix Acai Bowl! This recipe is also simple to adapt to make it family friendly.
Looking for a lighter option to serve with your favourite curry? You really need to try our simple Thermomix Cheesy Cauliflower Rice!
You may also like these recipes:
Looking for more?
You can find even more simple and delicious recipes in our books and eBooks. Shop the range here.