My Thermomix Beef and Vegetable Pasta Bake is perfect if you need to feed a crowd!
This Thermomix Beef and Vegetable Pasta Bake is one of my go to recipes whenever I'm looking for an easy and delicious meal which will feed our family.  I love it because I can make it in advance and store in the freezer, but also because it's a great way to use up any leftover veggies and I can modify the veggies I used based on our preferences.
This recipe is also a great meal to make for friends or family, as let's face it, you really can't go wrong with a pasta bake!  The addition of the cheese sauce helps to give the pasta bake a delicious flavour and if you are big cheese fans like us, you can also pop some grated mozzarella cheese over the top of the pasta bake before popping it into the oven - yum!
 If you are looking for more family friendly meal ideas, make sure you check out our 'Month of Thermomix Dinners' and 'Thermomix Dinners and Desserts' eBooks.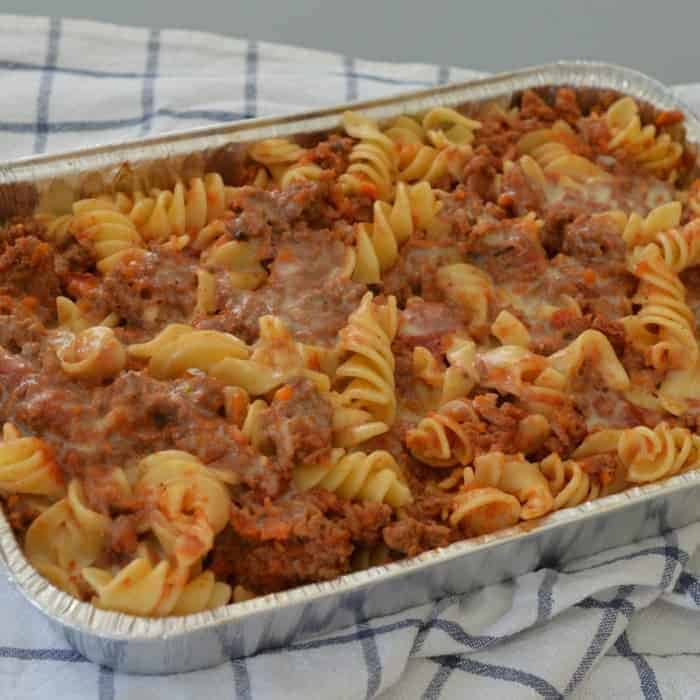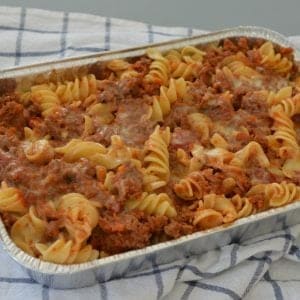 Thermomix Beef and Vegetable Pasta Bake
Our Thermomix Beef and Vegetable Pasta Bake is easy to prepare, feeds a crowd and can also be frozen!
Print
Pin
Rate
Ingredients
Meat Sauce
500

grams

beef mince

4

rashers

short cut bacon

2

cloves

garlic

20

grams

olive oil

1

brown onion

cut in half

1

zucchini

cut into 3cm cubes

1

carrot

cut into 3cm cubes

50

grams

sweet potato

peeled and cut into 3cm cubes

800

grams

crushed tomatoes

50

grams

tomato paste

1

tablespoon

mixed herbs

100

grams

water
Cheese Sauce
30

grams

butter

20

grams

plain flour

250

grams

milk

100

grams

tasty cheese

cut into 3cm cubes

25

grams

parmesan cheese

½

teaspoon

nutmeg

pinch of salt and pepper
Instructions
Place the garlic, short cut bacon and brown onion into your Thermomix bowl. Blitz for 4 sec, sp 5

Add the olive oil and cook for 3 mins, varoma temp, sp2.


Add the zucchini, carrot and sweet potato and blitz for 4 sec, sp 5. Blitz for longer if you want it finer

Add the crushed tomatoes, mixed herbs, water and tomato paste and cook for 5 minutes, varoma temp, speed 2.

Place the beef mince into the steaming basket and break up with your spatula. Gently and carefully pop it into the TM bowl and cook for 8 mins, varoma temp, sp 3 REVERSE. At the 8 min mark, gently stir mince and cook for another 4 mins (or longer until it's cooked through) on varoma temp, sp 3 Reverse.


Carefully remove the basket from the TM bowl and place into your Thermoserver. Add the sauce and stir to combine. Set aside until needed.


Cook the spiral pasta as per the packet instructions. Drain and place the cooked pasta into a large oven safe baking dish.

To make the cheese sauce, place the cubed pieces of the tasty and parmesan cheese into a clean Thermomix bowl and blitz for 10 seconds on speed 10 or until finely grated.

Add the butter, plain flour, milk, nutmeg and salt and pepper to your Thermomix bowl and cook for 7 minutes at 80 degrees on speed 4.


Preheat your oven to 180 degrees and pour the meat sauce over the top of the cooked pasta and stir through.


Pour the cheese sauce over the top of the pasta mixture and place into the oven to bake for 30 minutes.
Notes
This recipe can be frozen.
You can also substitute the vegetables as per your taste.
Enjoy!