It is no secret that we love a good slice recipe and here you will find our collection of our favourite and the BEST Thermomix Slice recipes.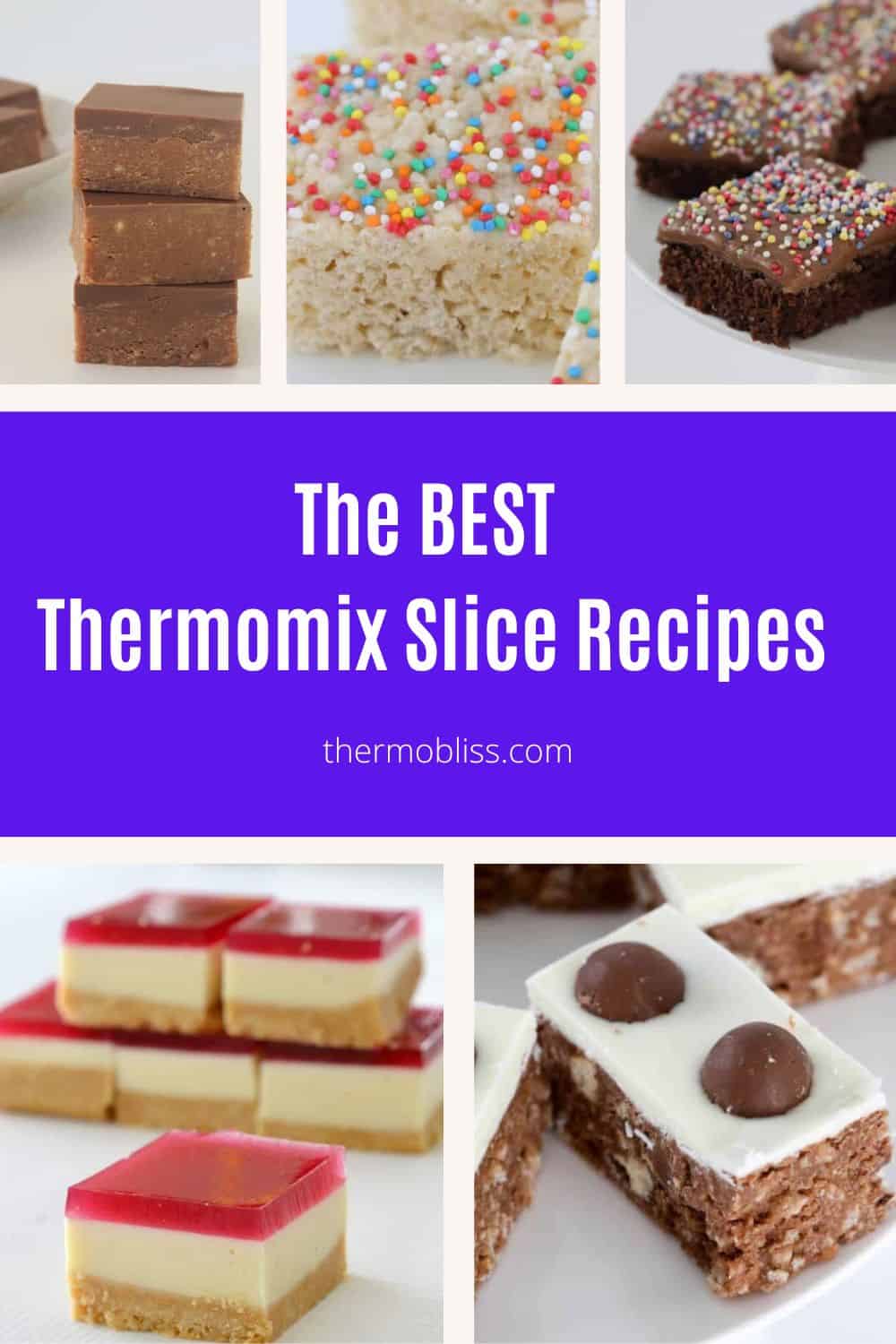 Our recipes are so simple to make and take no time at all to prepare.
All of our recipes in this collection are suitable for use in all Thermomix models.
To access the full recipe, simply click on any of the links below.
Made with only THREE ingredients, these delicious Rice Bubble Bars make a simple and delicious treat everyone will love.
One of the most popular recipes on the blog is this Thermomix Malteser Slice, filled with chocolate and yummy Maltesers - what's not to love?
This slice can be made a few days in advance, making it perfect for entertaining.
The perfect after dinner mint or gift for friends and family. This fudge has just the right combination of mint and chocolate, you will love it!
If it's a classic slice recipe that you are after, this no bake slice is for you. Made with just a few simple ingredients and topped with milk chocolate, you won't be able to resist a piece (or two) of this slice.
Another classic recipe, this baked Jam and Coconut Slice is just like the one your Nan used to make.
Although we use raspberry jam for the filling, you can substitute this with strawberry, apricot or mixed berry if you prefer.
This really is the ultimate Lemon Slice recipe!
With a delicious Lemon Curd centre and topped with crumble, you are going to LOVE this recipe.
Everyone loves this Thermomix Weet-Bix Slice recipe and it really is the BEST way to use up those last few Weet-Bix Bars.
This delicious slice is perfect for lunchboxes and best of all it is freezer friendly too.
Our popular Thermomix ANZAC Slice recipe really is the best, it can be prepared in less than 15 minutes and ready to enjoy from start to finish in under one hour.
You won't be able to resist this delicious Thermomix Honey and Almond Slice! It takes not time to prepare and makes a yummy snack.
Our famous Jelly Slice recipe really is the best!
With three layers of delicious sweetness, one piece is never enough.
Mars Bar Slice was always one of favourite sweet treats when I was growing up and I would ALWAYS select it whenever it was on a party table!
Sweet, creamy and delicious. Our Thermomix Passionfruit Slice recipe ticks all of the boxes.
Looking for a 'cheat' version of Caramel Slice?
Our Thermomix Caramello Slice recipe takes 10 minutes to prepare and is guaranteed to satisfy the biggest sweet tooth!
This classic slice couldn't be easier to make in a Thermomix! It's the perfect treat for your next party or cake stall.
The combination of Carmel and Nuts makes this slice irresistible!
Looking for More?
You can find even more delicious and simple slice recipes in our Slices and Cookies and Slices cookbooks. Shop the full range of print and eBooks here.