Risotto would have to be one of my number 1 favourite things to make in the Thermomix. Before my Thermie days, I had my fair share of hits and misses when it came to risotto. I would forget to stir it enough. Or I would cook it for ages and it STILL wasn't cooked through. And on top of all that, my beautiful mother-in-law was the absolute queen of risottos. She always made it look so simple... and her's were always absolutely perfect (unlike mine!).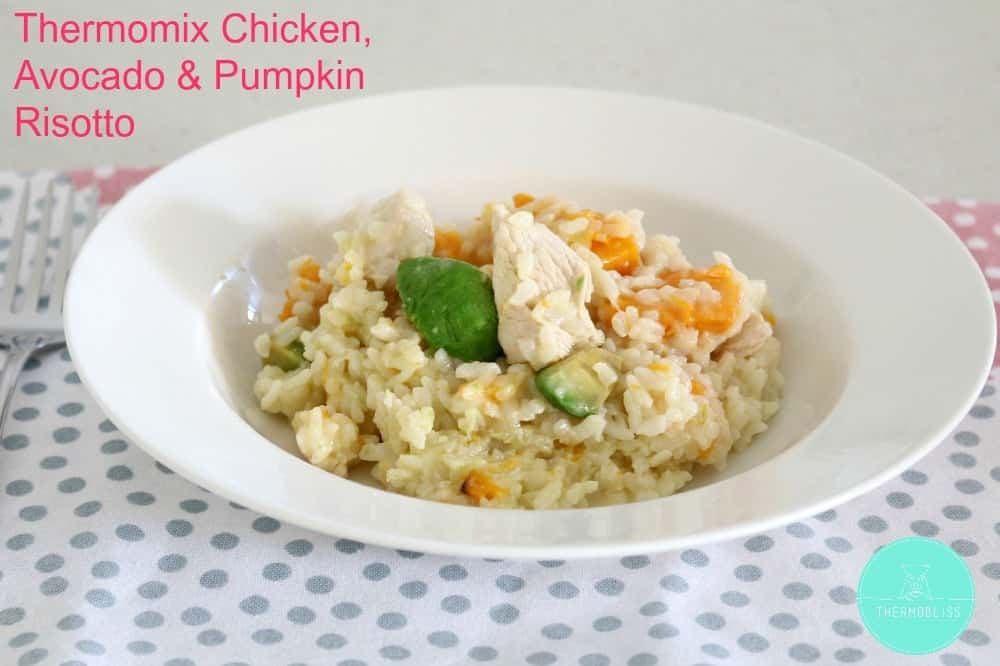 Anyway, after I bought my Thermomix, I knew that risotto had to be one of the very first recipes to try. And right from the very start, my Thermomix risottos have turned out great! I love that the Thermie makes everything so darn easy.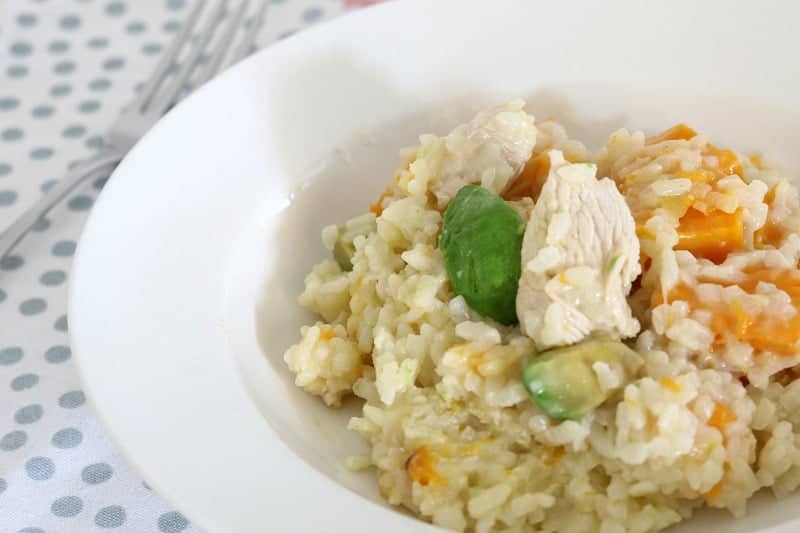 This Thermomix Chicken, Avocado & Pumpkin Risotto would have to be one of my absolute faves. It's so easy and yummy... and everyone enjoys it! I do find though that the pumpkin is much nicer if you bake it in the oven and then stir it through at the end. This is a bit of a pain in the bum (because the Thermie should do EVERYTHING right!?), but it definitely gives it a nicer flavour and texture. I've found that steaming the pumpkin in the Varoma takes longer than the risotto does to cook, and if you add it to the bowl you sort of just end up with orange risotto (which isn't too bad actually!).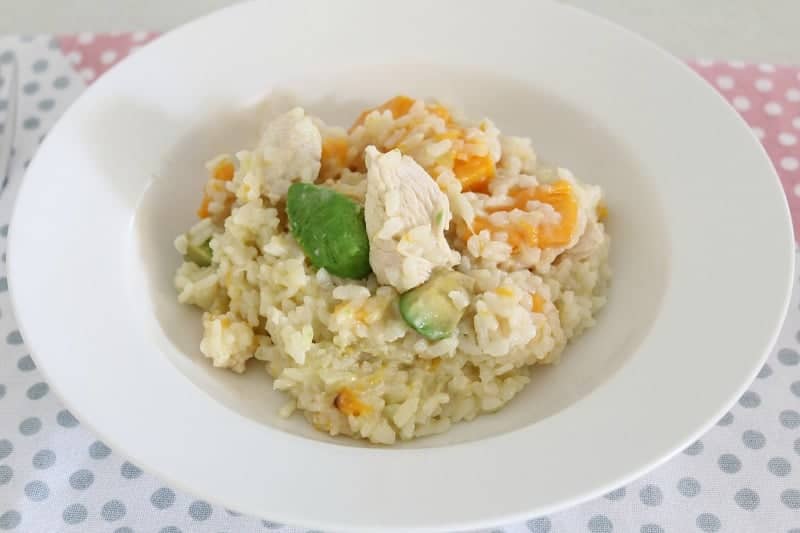 This is a really versatile recipe. You can add in bacon, baby spinach, peas, chopped capsicum... whatever you like! As with all risottos, it seems to always make a huge batch, so be prepared for leftovers!!
Don't forget to check out this awesome new recipe on Chicken and Mushroom Risotto!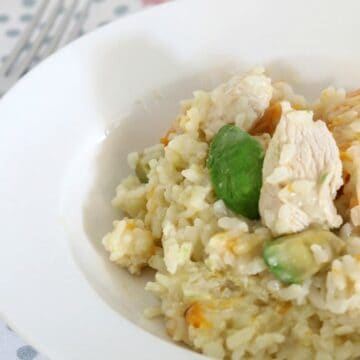 Thermomix Chicken, Avocado & Pumpkin Risotto
Our Thermomix Chicken, Avocado & Pumpkin Risotto is a classic favourite. Perfect for the whole family!
Print
Pin
Rate
Ingredients
90

g

parmesan cheese

500

g

pumpkin

, cubed (with the skin removed)

1

onion

, - peeled and halved

2

cloves

garlic

(or 2 teaspoon of minced garlic)

50

g

olive oil

320

g

arborio rice

100

g

white wine

300

g

chicken breast

, thinly sliced

800

g

vegetable stock

(or however much liquid it takes to get to just below the fill line)

1

avocado

, chopped
Instructions
Preheat oven to 200 degrees celsius.

Place the chopped pumpkin onto a baking tray, season with salt and pepper and drizzle with a little olive oil.

Bake for 20 minutes or until just tender.

Place the pumpkin into the Thermoserver.

Meanwhile, place the parmesan cheese into the TM bowl - grate on Speed 10 for 8 seconds.

Set aside and rinse/dry the bowl very well.

Place the garlic and onion into the TM bowl and chop on speed 5 for 6 seconds.

Add 50g olive oil and sauté for 2 minutes, 100 degrees, Speed 1, Reverse (MC off).

Add rice and wine and sauté for 2 min, 100 degrees, Speed 1, Reverse.

Add chicken and vegetable stock and cook for 18 minutes, 100C, Speed 1, reverse.

Pour the risotto over top of the pumpkin.

Add in ¾ of the parmesan cheese and stir.

Place the lid onto the Thermoserver and leave for 10 minutes.

Stir through the chopped avocado.

Serve with the remaining parmesan cheese.