Hands up who loves Jelly Slice!  I've tried a couple of versions, but ALWAYS seem to come back to this easy Thermomix Jelly Slice recipe!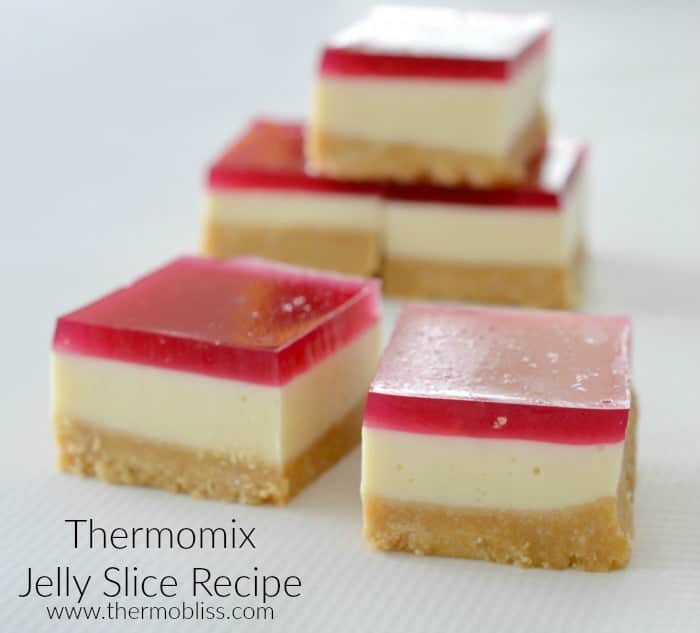 Jelly Slice is such a classic slice recipe and my Mum has been making this slice for special occasions for as long as I can remember.  The key to making this easy Thermomix Jelly Slice recipe is to make sure you let each layer chill in the fridge and bring the jelly to room temperature before adding it to the slice, otherwise you may end up with a bit of a melted mess.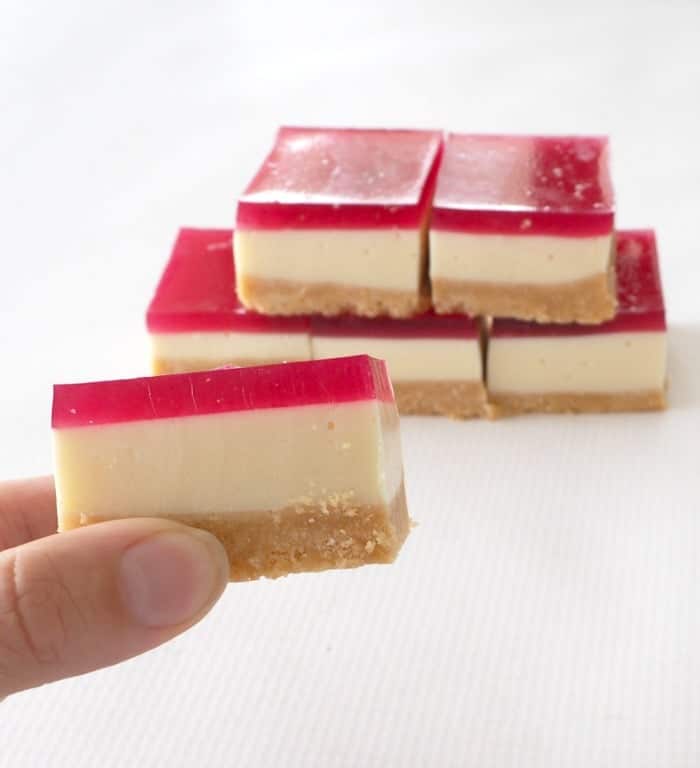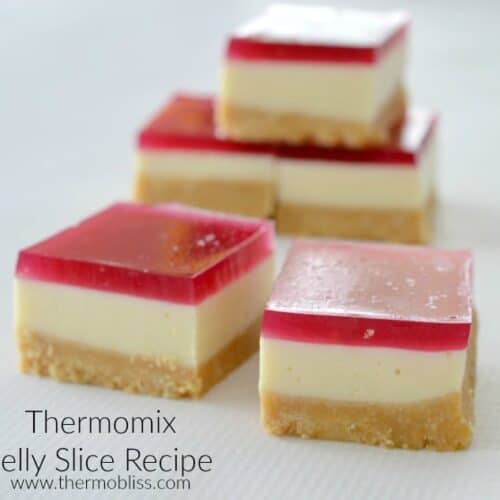 Ingredients
200

g

of Marie biscuits - or any other plain biscuit

225

g

of melted butter

395

g

can of condensed milk

2½

teaspoons

of gelatine

¾

cup

of boiling water

2

Lemons – juiced

1

packet to strawberry jelly

Boiling Water as per jelly packet instructions

An extra 1 teaspoon of gelatine – for the jelly top
Instructions
Line the base and the sides of a slice tin with baking paper, making sure you leave plenty hanging over the sides.

Place the biscuits in the bowl and crush for 5 seconds on speed 9.

Add the butter and heat for 3 minutes on 80 degrees speed 2.

Remove biscuit mixture from the bowl and pour into the lined tray. Push the mixture down with a metal spoon to create a flat surface. Place in the fridge for 30 minutes to set.

To make the filling, combine the gelatine in a jug with the boiling water and allow to cool slightly. In a clean bowl, add the lemon juice and condensed milk and mix for 45 seconds on speed 4. After 5 seconds, remove the measuring cup and carefully pour the gelatine mixture in. Remove the set slice base from the fridge and pour over the filling. Put back into the fridge for 30 minutes.

In a clean Thermomix bowl, add the hot water and heat for 3 minutes on 90 degrees speed 2.

Add the jelly crystals and one extra teaspoon of gelatine and stir until they have dissolved. Pour jelly into another bowl and allow it to cool until it has reached room temperature.

Remove the slice from the fridge and carefully pour the jelly over the slice and place it back in the fridge to set for approximately 4 hours - overnight is best.

Remove the set slice from the fridge and cut into squares.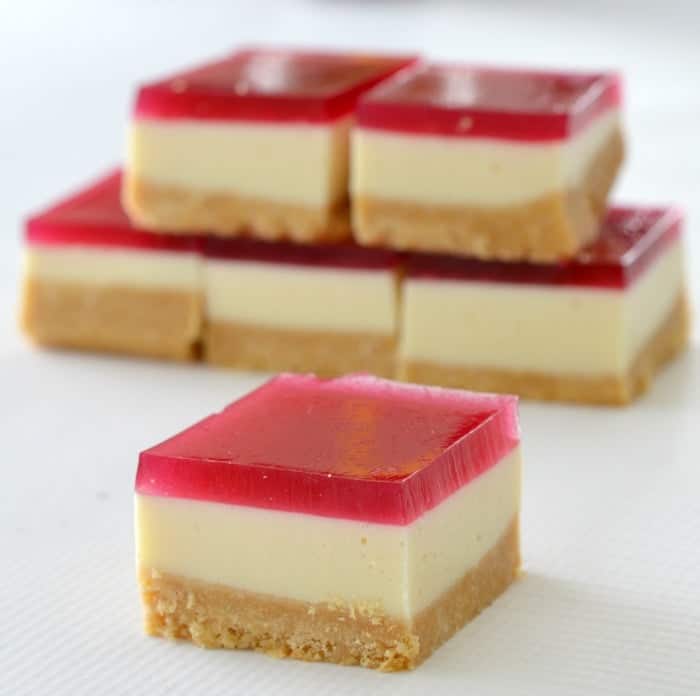 What's your favourite classic slice recipe?