We have put together 20 of our favourite nut free Thermomix snack recipes that are perfect for lunchboxes and also your next special gathering.
Below you will find both savoury and sweet nut free Thermomix snack recipes and there really is something for everyone!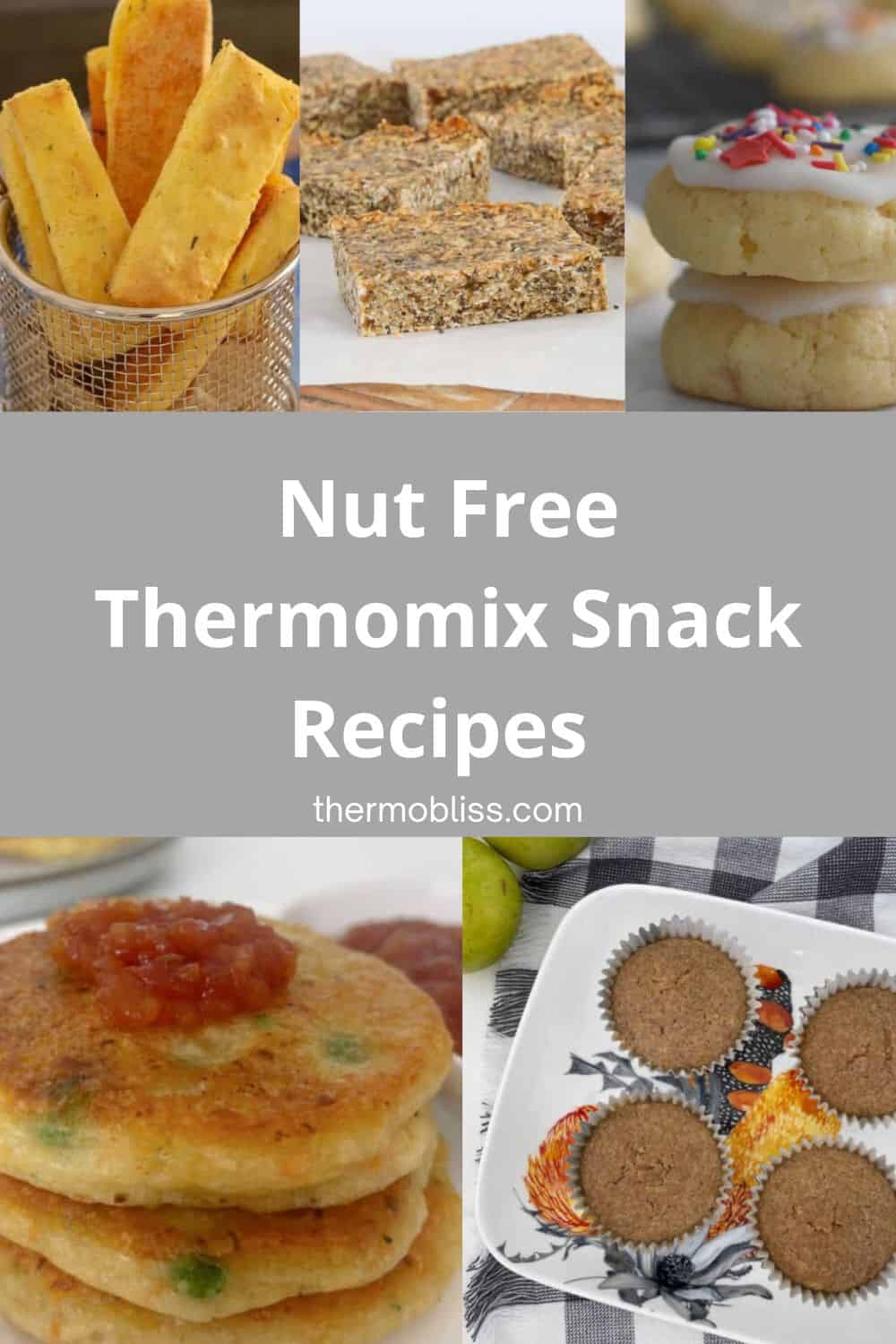 Simple and yummy… our Apple and Cinnamon Muffins are sure to be an absolute hit with the whole family! Plus, they're great for little lunch boxes!
These oven baked Polenta Chips will have everyone coming back for more! You will love how simple they are to make AND they are freezer friendly too.
For a savoury snack, you can't go past our Thermomix Chicken Meatballs. I love to enjoy them with sweet chill sauce but they are also delicious with BBQ or even tomato sauce!
Our super easy Thermomix Condensed Milk Cookies are the perfect biscuit jar filler! Made from just 4 basic ingredients – these yummy cookies are always a winner!
This classic Zucchini Slice recipe couldn't be easier to make in the Thermomix! It is both a great snack for your next party or easy mid week meal.
Using a Thermomix makes it dangerously easy to have a batch of these Four Ingredient Scones in the oven in no time at all.
Great for afternoon tea or a lunchbox snack, these Thermomix Pikelets are quick and simple to prepare, PLUS they are freezer friendly.
Super healthy and easy to make, these Thermomix Egg and Bacon Quiches will go down a treat as a better finger food option.
These simple Cheesy Thermomix Crackers are a great addition to any antipasto platter or simply team with dip.
Packed with vegetable and flavour, these Thermomix Vegetable Fritters make a delicious snack that everyone can enjoy.
A personal favourite around these parts, yummy little Arancini Balls are a brilliant snack plate that will have everyone smiling.
Thermomix Tzatziki Dip is great on the go. Just had some of your favourite chopped vegetables and you have one super healthy snack.
Mix things up with our Thermomix Chocolate Chip Banana Bread recipe! Your friends and family will LOVE the chocolate hit within our famous Banana Bread recipe.
These Healthy Thermomix Muesli Bars ae perfect for the kids lunchbox – and yours too!
These Thermomix Caramel Cookies are based on a four ingredient recipe that we have been using forever. In fact, it's one of those recipes that you just know off the top of your head!
Our Thermomix Chocolate Chip Muffins are sure to become a lunchbox favourite!
Mix things up and add a mixture of white and milk chocolate chips, you won't be able to resist them!
Our Thermomix Date Scones are a delicious snack, you won't be able to stop at just one!
Our classic Vegemite and Cheese Scrolls are the ultimate snack for the whole family! These scrolls can be made into smaller pieces, making them perfect for lunchboxes.
Packed with flavour, these Thermomix Zucchini Fritters make a great snack or easy meal.
These cute as a button Thermomix Fairy Biscuits take no time at all to make - or eat!
They are also freezer friendly, so why not bake a batch to have on hand for your next snack emergency?
These soft and sweet Thermomix Banana Muffins take no time to prepare AND they can be frozen for a quick and simple snack on the go.
Looking for More?
You can find more tasty treats in our ThermoBliss: Sweets Cookbook (plus ebook) available now in our store!
You can view all of our print and eBooks here.