Browse our collection of the Top 10 Thermomix Winter Desserts!
From pies to puddings, cakes to crumbles.. there's something for everyone. Simple, easy & family-friendly recipes.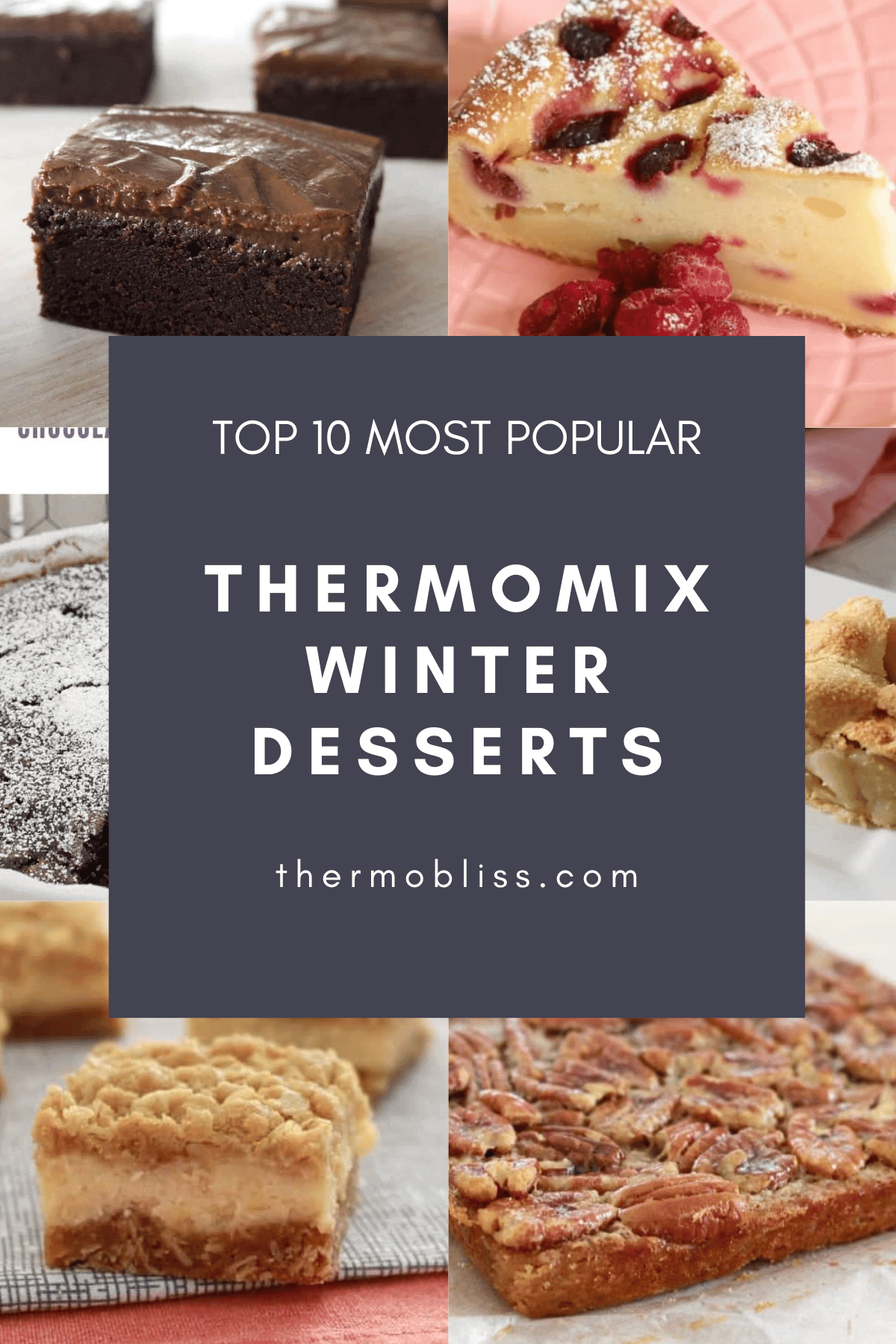 Winter and comfort food go hand in hand!
So whether you're after a winter warming homemade sweet pie, a decadent self-saucing pudding or some cheeky boozy brownies made with Kahlua, we've got all the Thermomix winter desserts you need to get you through the cold months!
Just add your choice of ice-cream, cream or custard... and some Netflix binge-watching, of course!
To get any of the recipes, simply click on the links below!
The ultimate in winter comfort food! Our apple pie recipe is sweet and delicious with a soft apple filling and flakey, melt-in-your-mouth pastry.
Top it with your choice of ice-cream, cream or custard.
Serve this dessert cake warm or cold (... I highly recommend serving it warm with custard or ice-cream!).
You can substitute the raspberries with blackberries, blueberries or strawberries if you prefer.
If you love pecan pie, then you're going to LOVE this simple slice recipe.
Serve it warm for dessert or as a yummy morning tea with coffee.
Mmm... everyone's favourite Mars Bar Cheesecake goes hand in hand with a night of binge watching your favourite show on Netflix!
This classic dessert is packed full of chocolate and completely delicious.
Nothing says winter dessert quite like a sticky date pudding (with loads of homemade caramel sauce, of course!).
Serve it on it's own... or with PLENTY of ice-cream, cream or custard!
This is one of our most popular recipes EVER!!!
Layers of sweet oat crumble filled with a deliciously creamy lemon filling.
Serve it on it's own or take it to the next level with ice-cream, custard or cream for the ultimate winter dessert!
A baked cheesecake is the perfect winter treat. Pop it in the oven and let is cook nice and slow... all while filling your house with the most AMAZING smell!
TIP: Make sure you bake it the night before so it can completely cool and set before serving.
Serve our decadent and rich brownies warm with a drizzle of cream or a scoop of ice-cream.
Note: As these cheeky brownies are made with Kahlua, they're completely adults-only!! Bonus... no sharing!
Calling all chocoholics... this one is for you! A soft chocolate sponge pudding with a rich and decadent chocolate sauce hiding underneath. The ultimate winter dessert!
This is one of my favourite Thermomix desserts!
It's so quick and easy... plus you can serve it on your own or drizzle it over one of our cakes or puddings.
Related Recipes
For more delicious dessert inspiration, check out our entire collection of Thermomix desserts here. There's something to suit every occasion, budget and taste.
Serve our desserts with one of these yummy sauces and condiments:
Our Range Of Thermomix Cookbooks
If you love our Thermomix recipes, then please browse our collection of hardcopy printed cookbooks!