Browse our collection of the Top 10 Thermomix Biscuits and Cookies recipes... from classic chocolate chip cookies to jam drops, shortbread to ANZACS and more!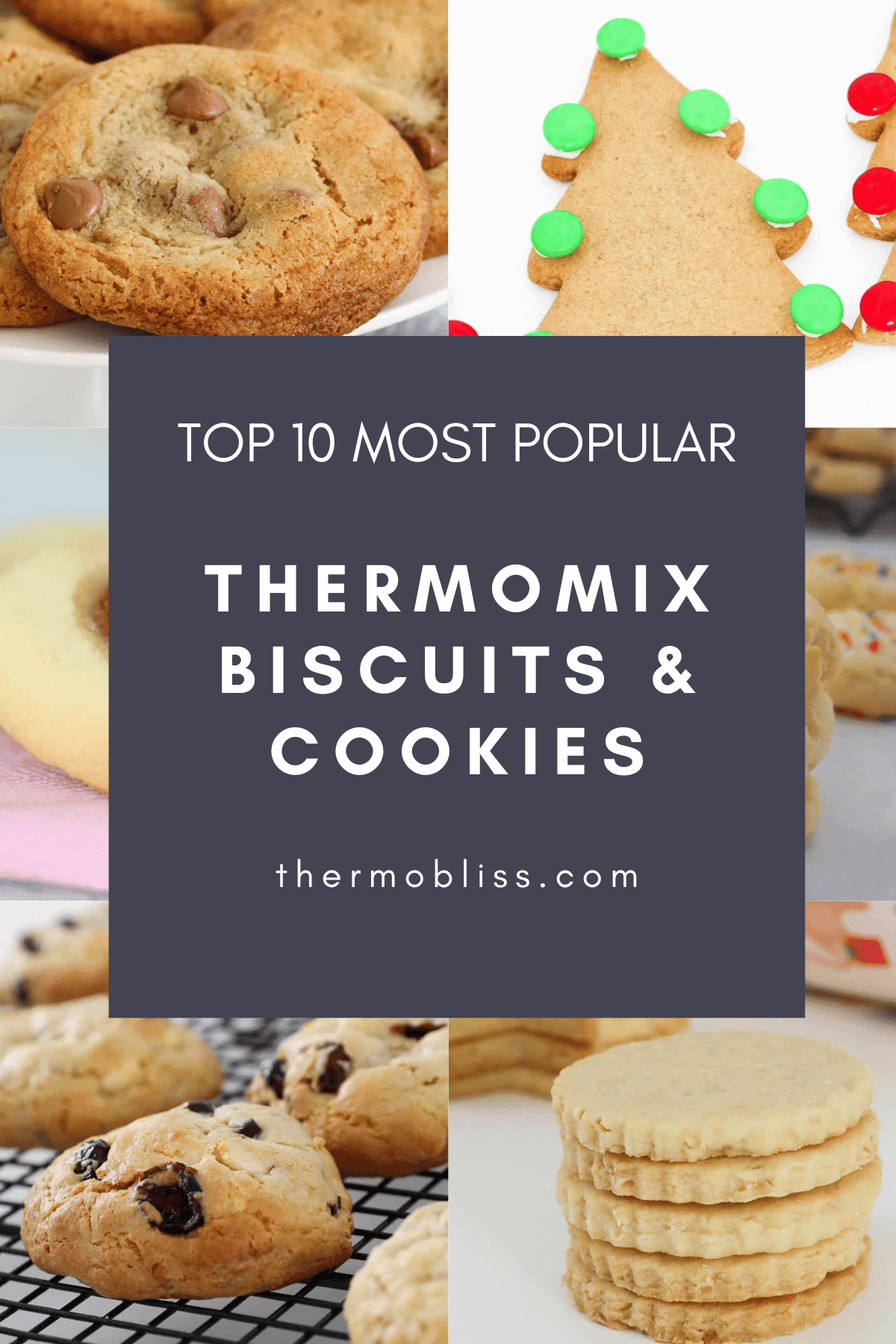 Here at ThermoBliss, we are HUGE fans of making batch after batch of biscuits and cookies in the Thermomix!
And so, we've put together a collection of our most popular Thermomix biscuits - we hope you love them as much as we do!
Sweet and simple Thermomix biscuits and cookies that the whole family will love!
To access any of the recipes, simply click on the links below.
One batch of cookie dough = 100 delicious cookies!
Use our basic recipe and mix and match with your favourite add-ins.
Our all-time most popular chocolate chip cookie recipe!
These are soft and chewy on the inside... and packed full of chocolate chips.
An old fashioned favourite recipe that everyone loves.
Use your favourite flavoured jam to fill these sweet, little biscuits.
A classic ANZAC biscuit recipe that's SO simple to make in the Thermomix.
Perfect for school lunch boxes... or to enjoy with a mid-afternoon cuppa.
This is a favourite recipe at Christmas time... but it's equally as delicious all year round.
Filled with tiny chunks of almonds, this shortbread recipe is next level!
You'll love our simple gingerbread recipe so much... you'll be making it year round.
Let the kids decorate their gingerbread shapes with icing, smarties and more.
The perfect combination of white chocolate chips and sweet dried cranberries are delicious in this soft and fluffy recipe.
Sugar cookies are perfect for any occasion - birthdays, lunch boxes, Christmas, morning tea... in fact, anytime or place!
These easy old fashioned biscuits are so incredibly easy to make - and are perfect for filling up the cookie jar.
The sweet, caramel flavour of these biscuits is simply irresistible.
Best of all, they take just a few minutes to prep!
Thermomix Cookbooks
For more delicious Thermomix recipes, browse our collection of printed cookbooks. From dinners to lunch box snacks, cookies to slices, cakes to cocktails, Christmas recipes to chocolate treats and more!