Before I owned my Thermomix, my track record with fudge was pretty dodgy! Some batches would be great and others would be absolute disasters (and that's probably putting it kindly). But since my little Thermie took pride of place on our kitchen bench, I have made so many batches of fudge and every single time they have been perfect... which unfortunately means that I was clearly the issue in my previous attempts.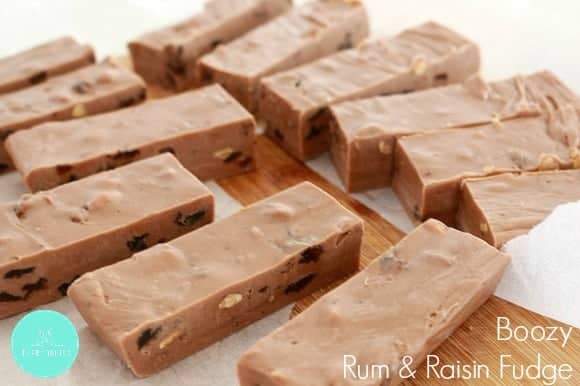 After seeing Lauren's recipe for Coconut Rough Fudge, I was inspired to make another batch myself. But this time I thought I'd go for a delicious mix of rum and raisins. Oh and I added in a few chopped up roasted almonds just to make it even yummier.
Now you can definitely heat your rum and raisins in the TM, but to be honest, it's much quicker to do them in the microwave and get straight into making your fudge in the TM bowl. A little word of warning is that you'll need to work quickly once your fudge has finished cooking - it sets super fast! Make sure you've got your tin all ready to go and you'll be fine!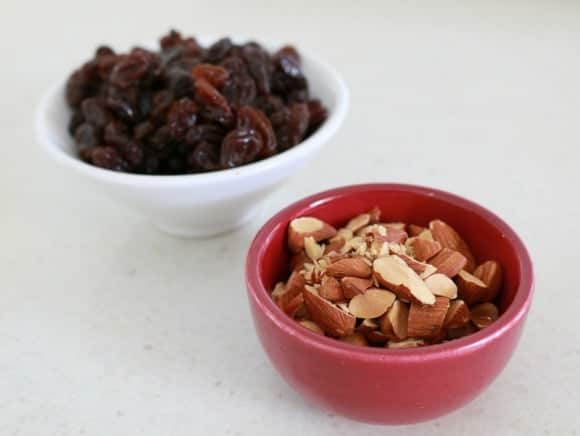 This might just be my newest and most favourite fudge recipe... there's nothing quite like a yummy little piece of Boozy Rum & Raisin Fudge.
What fudge flavours do you like experimenting with in the Thermomix?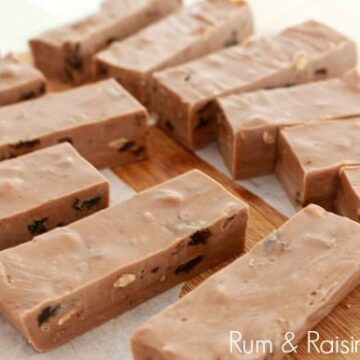 Ingredients
200

g

milk chocolate melts

200

g

raw sugar

1

can condensed milk

125

g

Butter

25

g

liquid glucose

¼

cup

rum

½

cup

raisins

½

cup

roasted almonds

, roughly chopped
Instructions
Line 25x15cm slice tin with baking paper.

Pop the rum and raisins into the microwave for 2-3 X 30 second bursts.

Set aside for 30 minutes to allow the flavour to enhance.

You'll notice that most of the rum will have soaked up.

In the TM bowl, grate the milk chocolate on Speed 9 for 10 seconds.

Set aside in a bowl.

Mill the raw sugar on Speed 9 for 10 seconds.

Add the condensed milk, liquid glucose and butter.

Cook on 100 degrees, Speed 3 for 8 minutes.

Cook on Varoma temperature, speed 3 for 20 minutes.

Add grated chocolate and mix at speed 3 for 15 seconds.

Quickly switch to Reverse, Speed 3 and add the almonds and rum/raising mixture.

Mix for 15 seconds.

Pour the fudge your prepared baking tin.

Refrigerate for 30 minutes or until completely. set.

Cut into small slices.