Growing up I always loved eating the Arnott's Monte Carlo biscuits - they were one of my faves! I'd twist them apart, eat the filling and then gobble up the biscuits. Too much information? Or a you a twist and eater too?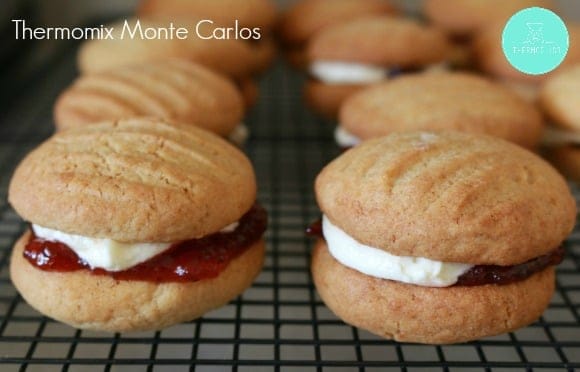 Anyway, I thought it was time to convert my Monte Carlo biscuit recipe to the Thermomix. These are way, way better than the packet ones... I promise! Think soft chewy biscuits sandwiched together with jam and the most beautiful buttercream filling. Oh my gosh it's good.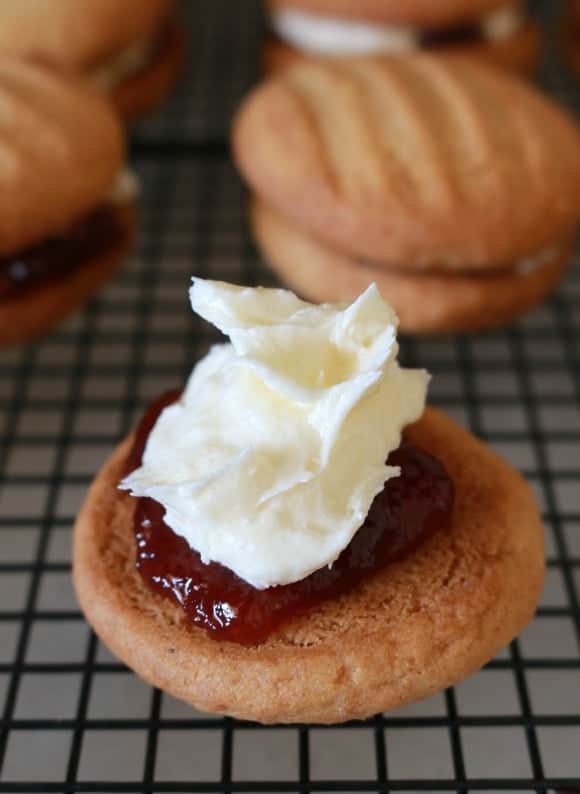 This is the perfect thing to enjoy in the afternoon with a cup of tea. Actually, it's great at anytime of the day! And yep, I still twist and eat... even with these homemade Monte Carlos (although I made an exception for this photo!).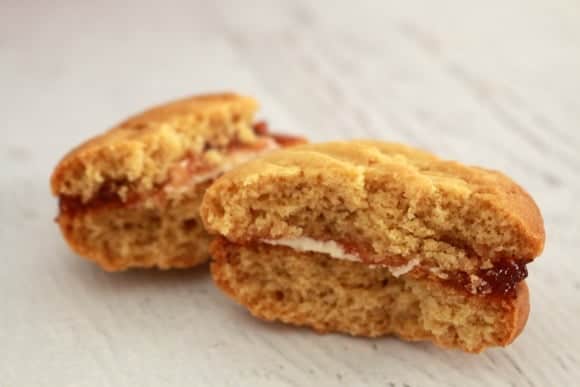 How do you eat your Monte Carlos? Do you bite straight in or twist and eat the filling first?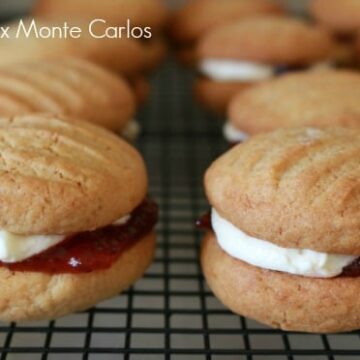 Ingredients
185

g

butter

½

cup

brown sugar

1

egg

1

teaspoon

vanilla extract

1¼

cup

self-raising flour

¾

cup

plain flour

½

cup

coconut

Filling:

½

cup

strawberry jam

(or other jam)

60

g

butter

¾

cup

icing sugar

½

teaspoon

vanilla extract

2

teaspoon

milk
Instructions
Preheat oven to 180 degrees celsius.

Line two trays with baking paper.

Place butter and sugar into TM bowl.

Cream together for 1 minute on speed 3-4.

With TM still running, add egg and vanilla through hole in lid and continue mixing on speed 3-4 for 30 seconds.

Add the flours and coconut and then knead on interval speed for 30 seconds.

Roll teaspoonfuls of the mixture into balls and place on baking paper lined trays.

Press a fork lightly over the top of the dough balls.

Bake in the oven for 10-15 minutes or until lightly golden-brown.

Remove from oven and leave on the trays for 5 minutes.

Place onto a wire rack to cool completely.

To make the buttercream filling, place icing sugar into the TM bowl and mix for 10 seconds on Speed 9 (to remove lumps).

Add butter, vanilla and milk and mix for 30 seconds on Speed 4.

Place a teaspoon of jam onto the middle of half of the cookies.

Add a teaspoon of buttercream on top of the jam.

Top with another biscuit and press together lightly until the jam and buttercream reach the edges.

Store in an airtight container.