If you're after a quick and easy chocolate treat, then Thermomix Oreo Truffles are just what you need! Made from only 3 ingredients, these little babies may not be the greatest thing for your waist-line, but they totally make up for it in taste! And hey, they're only tiny, so it's totally ok!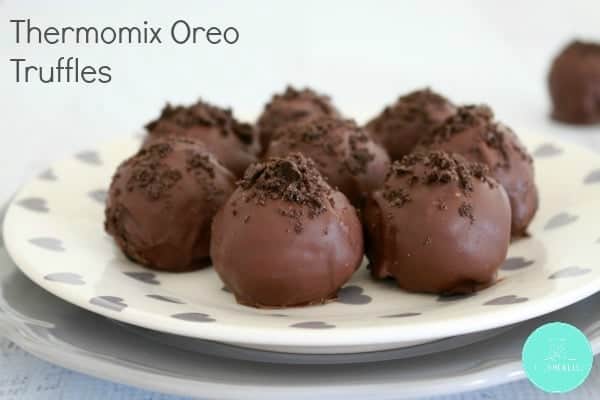 This is a greta recipe for getting kids involved in the kitchen. All you need to do is mix the Oreo cookies and the cream cheese together in the Thermomix and roll the mixture into balls. Pop them into the fridge to harden. Meanwhile, melt some chocolate in the Thermomix and dip the balls into the melted chocolate to coat. Sprinkle over a little bit of extra Oreo crumbs (totally optional but they look great!). Then pop them back into the fridge to allow the chocolate to set.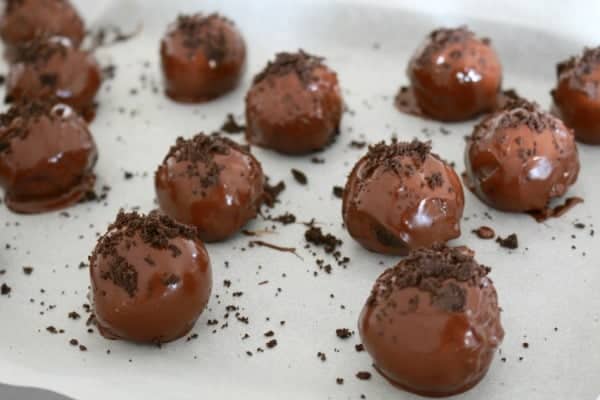 I must admit that these are my go-to treat when I'm asked to bring a plate to a party or celebration. They're just so quick and easy and you can be guaranteed that everyone will absolutely love them.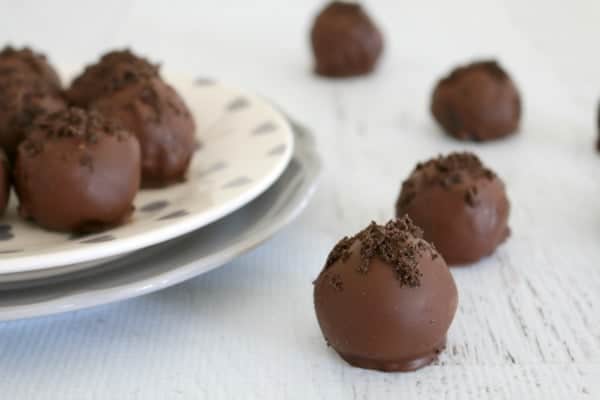 Are you a fan of these yummy Thermomix Oreo Truffles too?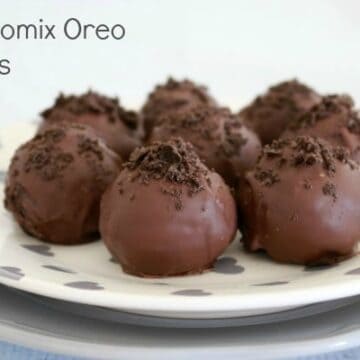 Ingredients
300

g

Oreo biscuits

250

g

cream cheese

, softened,

100

g

milk

, dark or white chocolate
Instructions
Place Oreos into the TM bowl and crush on Turbo until they resemble fine crumbs (set aside 2 tbs of crumbs to sprinkle on top).

Add the cream cheese and mix on Reverse Speed 2 until well combined (scraping down the sides of the bowl occasionally).

Roll into 1 inch sized balls and place on a tray lined with baking paper.

Place chocolate into a clean TM bowl and melt on 50 degrees, Speed 3, 2-3 minutes, scraping the sides occasionally.

Pour the melted chocolate into a bowl.

Place the truffles into the bowl of melted chocolate (in batches) and use two forks to roll the truffles around until they are completely coated.

Remove truffles with the forks and allow any excess chocolate to drip off.

Place back onto the baking paper lined tray and decorate with your choice of toppings (ie. crushed Oreos, candy canes, sprinkles, baubles etc).

Place into the fridge to set for 1 hour.