Our Thermomix Chocolate Slice is almost too easy to make!!
I've got a confession, this Thermomix Chocolate Slice recipe is really just a botched up version of my Thermomix Hedgehog Slice recipe - whoops!  When I went to make my Hedgehog Slice, I forgot to add just one pack of the biscuits in the first step and instead crushed both packs into little pieces.  It wasn't until I was adding the extra ingredients that I realised my mistake, but thankfully it was a pretty delicious one!
This slice is lovely and rich and just one or two pieces will be enough to satisfy even the biggest chocoholics cravings. This recipe does make a BIG slice, so make sure that the baking tin that you use has high sides and also use a sheet of baking paper inside the tin to help you easily remove the slice once it has set.
Have you ever had any kitchen mistakes that have turned into a yummy recipe too? I'd love to hear all about them!
Enjoy x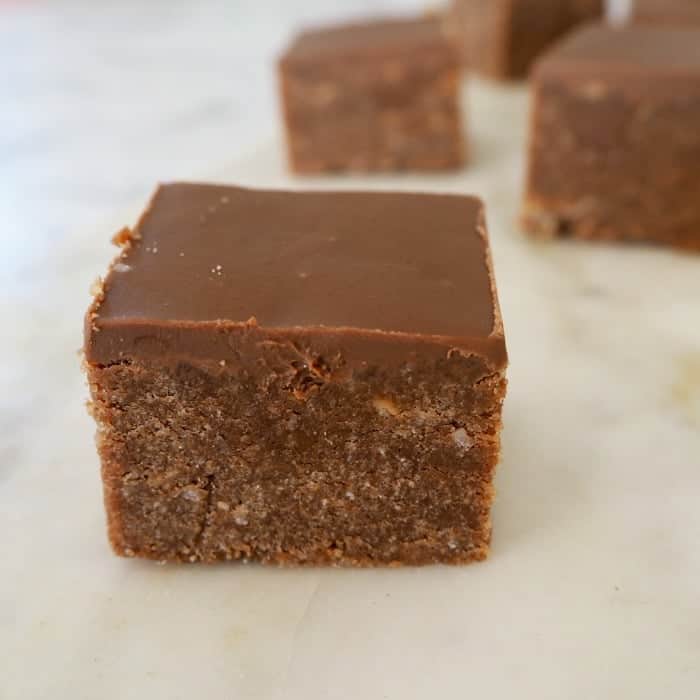 Thermomix Chocolate Slice
You are going to love this Thermomix Chocolate Slice!
Print
Pin
Rate
Ingredients
2

packets of plain biscuits - Marie or similar

250

g

of butter

3

tablespoons

of cocoa

4

tablespoons

of shredded coconut

1

tin of condensed milk

200

g

of milk chocolate
Instructions
Line a 20cm x 20cm square cake tin with baking paper, making sure you leave plenty hanging over the edges to help you remove the slice once it's set.

Place BOTH packs of the plain biscuits into your Thermomix Bowl and crush for 4 seconds on speed 4. Scrape down the sides of your bowl and mix for a further 5 seconds, speed 4 until all the biscuits are finely crushed - you will need to use your spatula to push the biscuits down into the bowl. Set aside until needed.

Pour the condensed milk into your Thermomix Bowl and add the butter (3cm pieces) and cocoa. Cook for 2 minutes on 60 degrees speed 1 or until the butter has completely melted.

Add the biscuits and shredded coconut to your Thermomix Bowl and mix for 10 seconds on speed 4 or until the mixture has combined.

Pour the mixture into your prepared slice tin and flatten the surface with the back of a metal spoon.

Clean your Thermomix Bowl and make sure it's completely DRY before adding the chocolate pieces. Cook for 2 minutes on 50 degrees speed 3 or until the chocolate has completely melted.

Pour melted chocolate over the top of your slice and place it in the fridge for 4 hours or until set.
Notes
This recipe can be stored in the fridge for up to 7 days.
For more great Thermomix Slice recipes, grab your copy of our ThermoBliss Slices Book here!