Browse our collection of the most popular Thermomix Chicken Dinners - from curries to pasta bake, soup to pies, risottos to parma balls and more!
All of our recipes are kid-approved, made using basic ingredients and are freezer-friendly.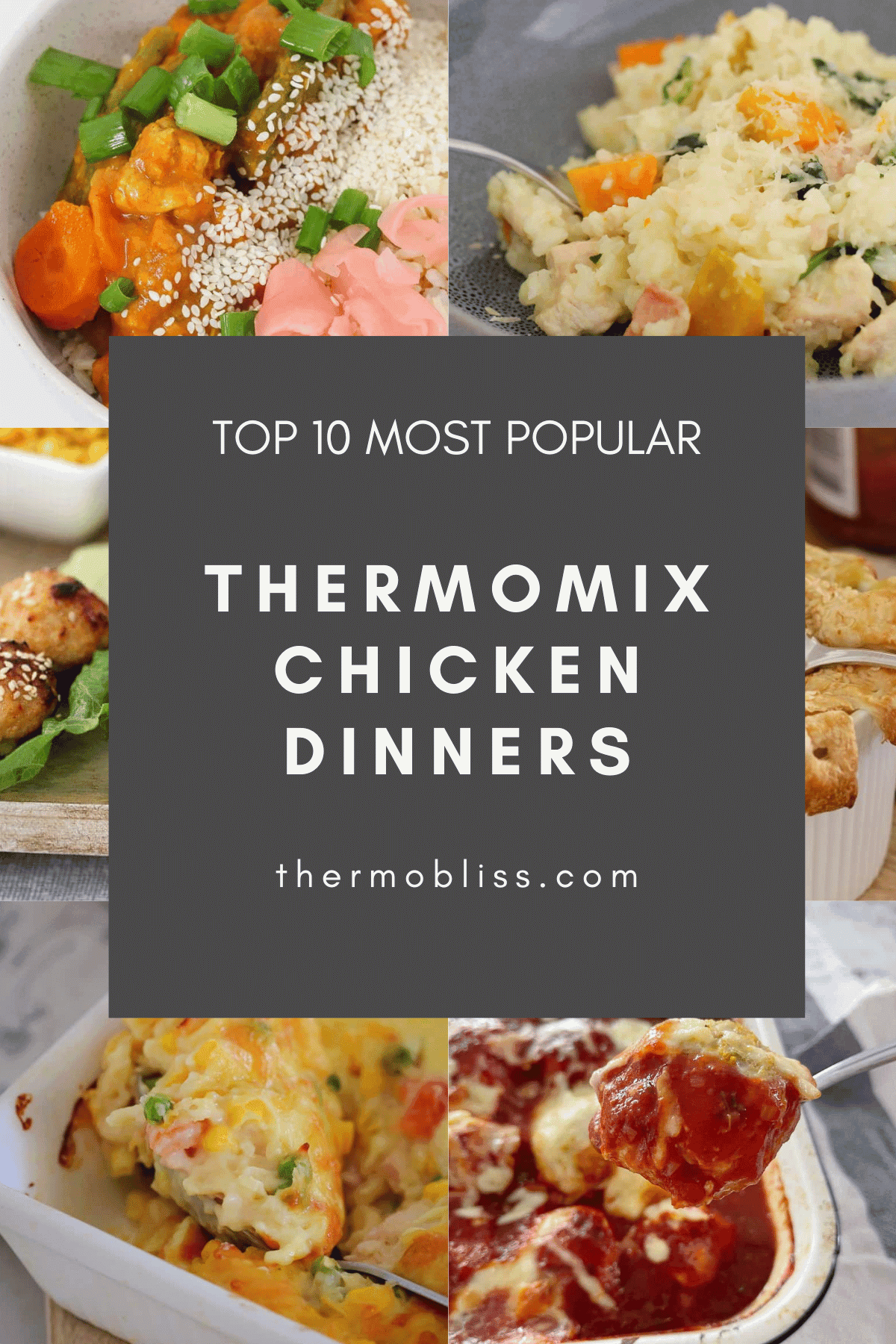 When it comes to family dinners, we're all about making sure that they're:
approved by even the fussiest of little eaters
budget-friendly
made using basic ingredients
freezer-friendly
quick and easy to prepare on busy weeknights
tasty and delicious (so you'll want to come back for more!)
All of the Thermomix chicken dinners we've included below are by far our most popular ones!
They've been made over and over again by ourselves and our readers and have the BIG tick of approval.
We hope you love them too...
There's no need to buy takeaway when you can make your own delicious Japanese curry in your Thermomix!
This one is mild enough that the kids will love it too...
A classic family risotto made with tender chunks of chicken and flavoured with pumpkin, spinach and bacon... and LOTS of parmesan cheese.
Creamy, kid-approved and delicious!
Cooking a full chicken in the Thermomix is SO simple... plus it's so moist and tasty!
Here's our top tips for cooking an entire roast chicken in the Thermomix.
These creamy comforting pies are a favourite dinner in our house!
Plus the Thermomix makes them SO easy to prepare!
These versatile chicken meatballs are kid-friendly, freezer-friendly, healthy and simple to preapre!
Serve them in lettuce cups for a low-carb option, or add them to your favourite bowl of noodles with Asian greens.
This is always a hit with my family! It's super kid-friendly (even fussy toddler approved) and makes a BIG batch.
Freeze any leftovers for a quick defrost and reheat meal.
A healthy and nourishing winter soup... the ultimate cold and flu fighter!
Make a big batch and freeze in containers so you're ready to fight the sniffles when they come along.
One of our most popular Thermomix family dinners! These cheesy, chicken and tomato balls are a healthier version of your favourite pub-style chicken parma.
A winner with the kids (and adults!).
Our chicken tenders are perfect for serving with vegetables or salad.
Or simply add them to wraps for a quick and easy midweek meal.
A flavoursome pasta dish that couldn't be easier to prepare!
This will keep everyone coming back for seconds... or thirds.
Thermomix Cookbooks
Browse our entire range of hardcopy Thermomix cookbooks!
From easy family dinners to tasty lunch box snacks, decadent desserts, cookies and slices to cocktails and so much more!