Our Thermomix Beetroot Ravioli with Goats Cheese takes dinner at home to a whole new level! Served with burnt butter, crispy sage leaves and parmesan cheese - this is one dinner that you'll make over and over again.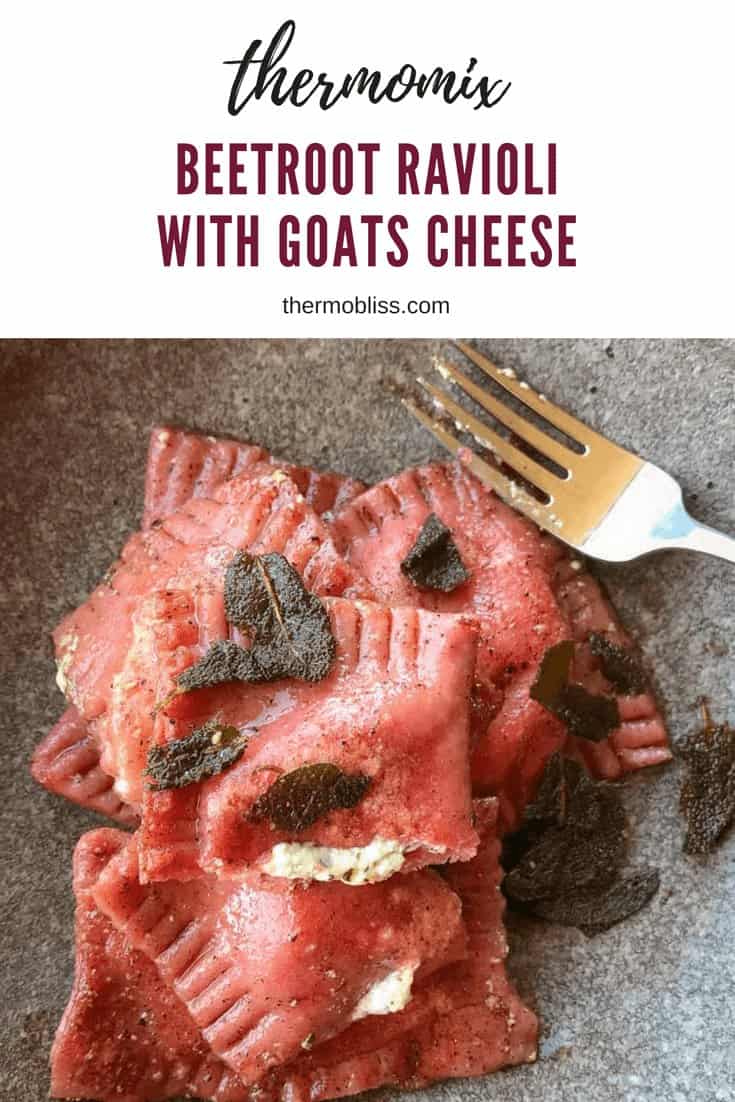 I am SO glad you're reading this recipe because it is honestly the best thing ever!! If you asked my hubby or myself what our favourite dinner is, we would both say it's this. It's the absolute favourite in our house!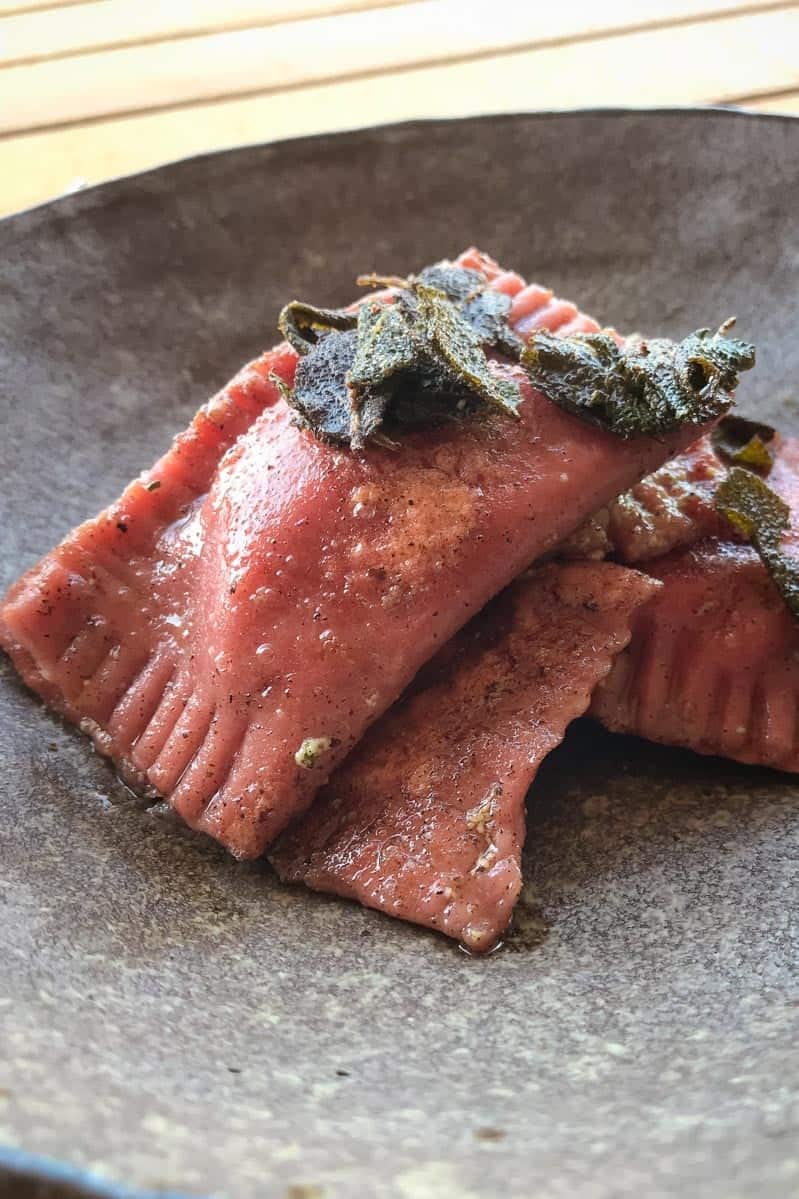 The only time consuming bit is making and rolling out the dough... otherwise it's super simple! Plus, if you're like us and only are only feeding a couple of people, then you'll have heaps of leftover ravioli that you can freeze. We often use our frozen ravioli midweek and it's seriously a 10 minute dinner to cook the pasta and make the burnt butter sauce. Easiest. Thing. Ever!!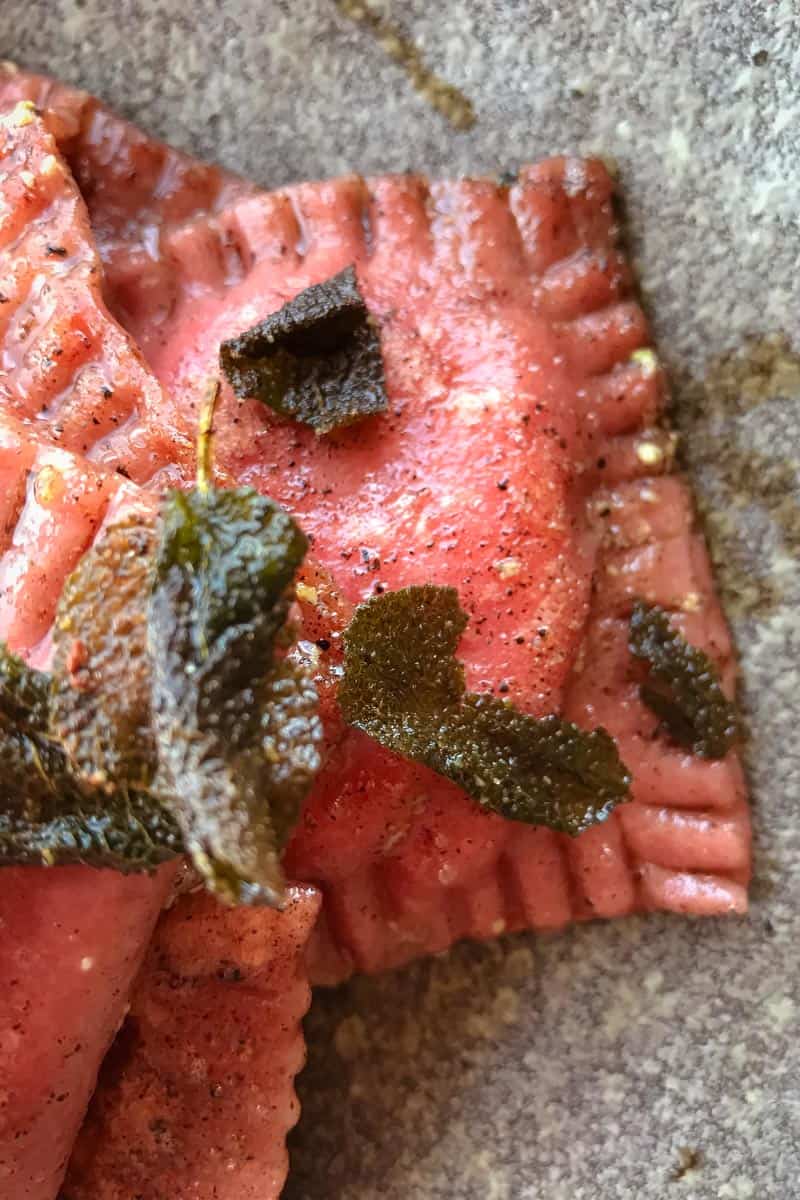 I would highly recommend buying the pre-cooked beetroot from the vegetable section of the supermarket as it's going to save you an absolute bucket-load of time! You 'can' cook fresh beetroot in the oven but it takes at least an hour and then you need to allow them to cool completely (I've only ever done that once... until I realised the joys of pre-cooked beetroot!).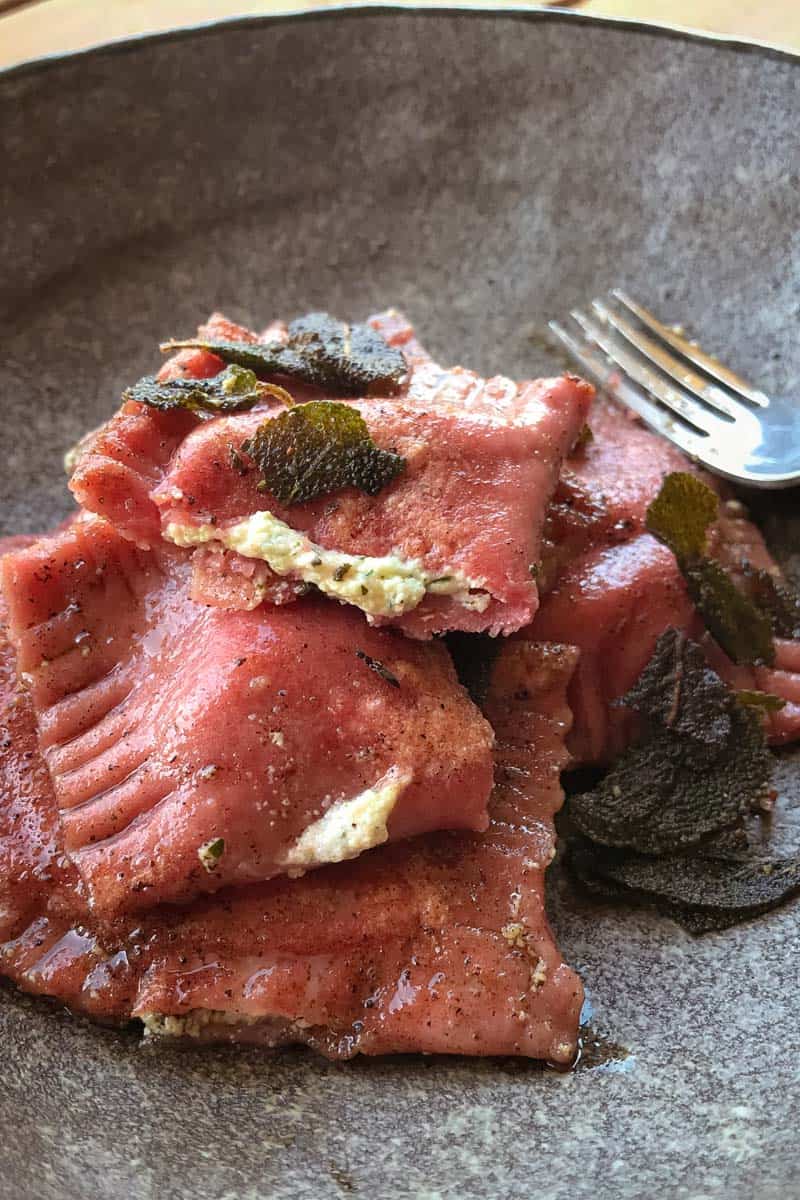 It's the creamy filling that makes this Thermomix Beetroot Ravioli with Goats Cheese so crazy good. It stays soft and delicious when it's cooked, which is just the best!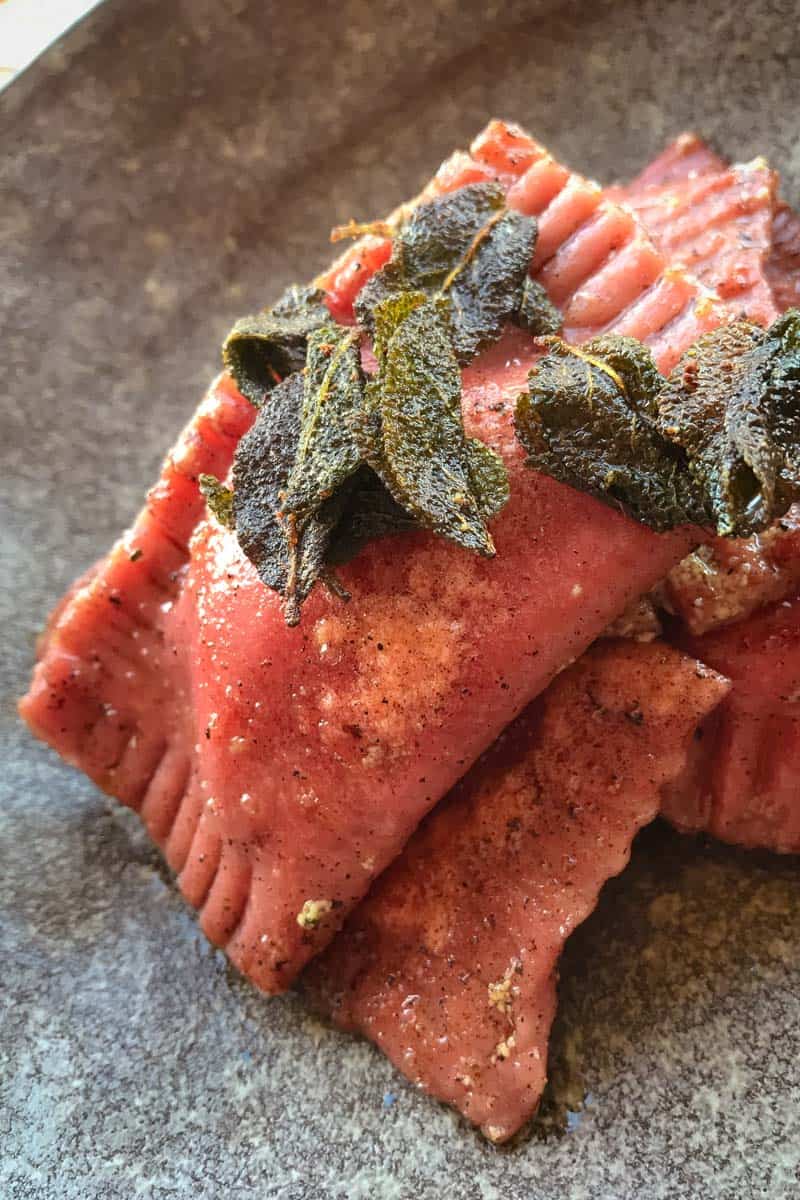 And because this pasta dish has so much flavour going on, it really only needs a super simple burnt butter sauce with crispy sage to finish it off. Trust me... this Thermomix Beetroot Ravioli with Goats Cheese is an absolute must-make.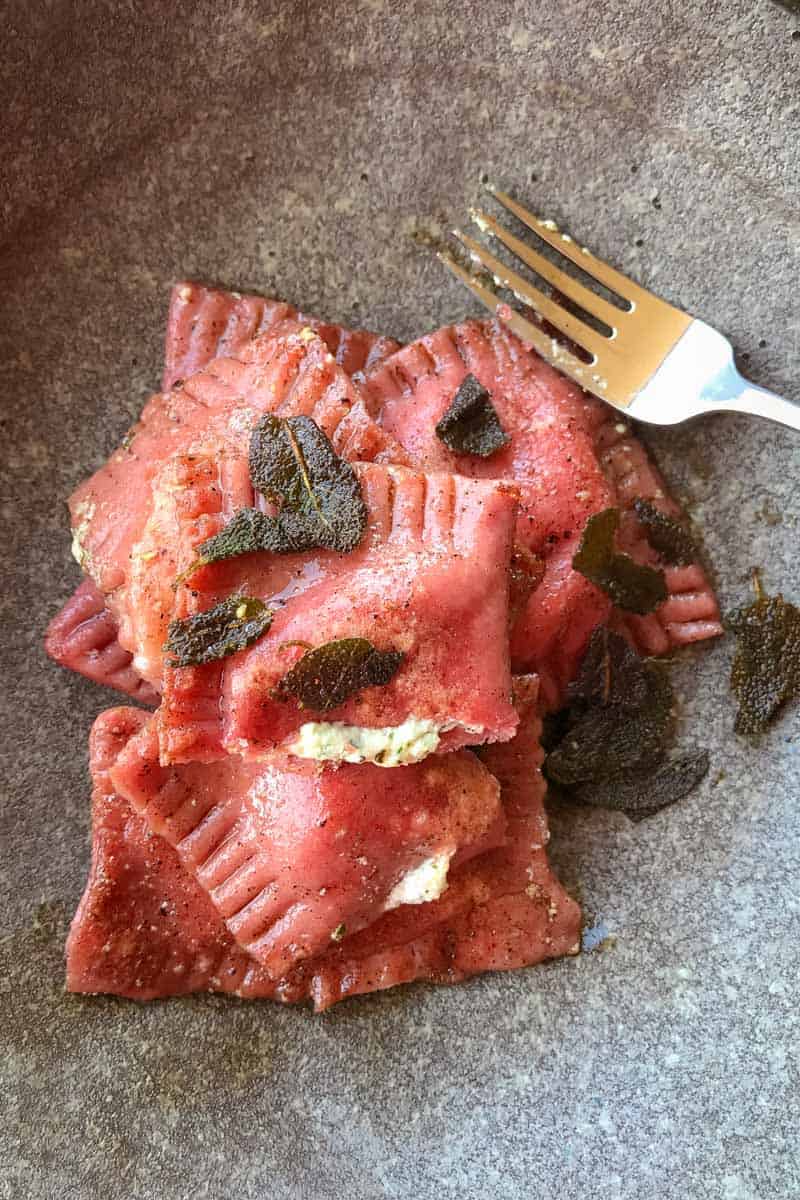 For more great Thermomix dinners, check out our 'Thermomix Dinners eBook Bundle... 2 for $15!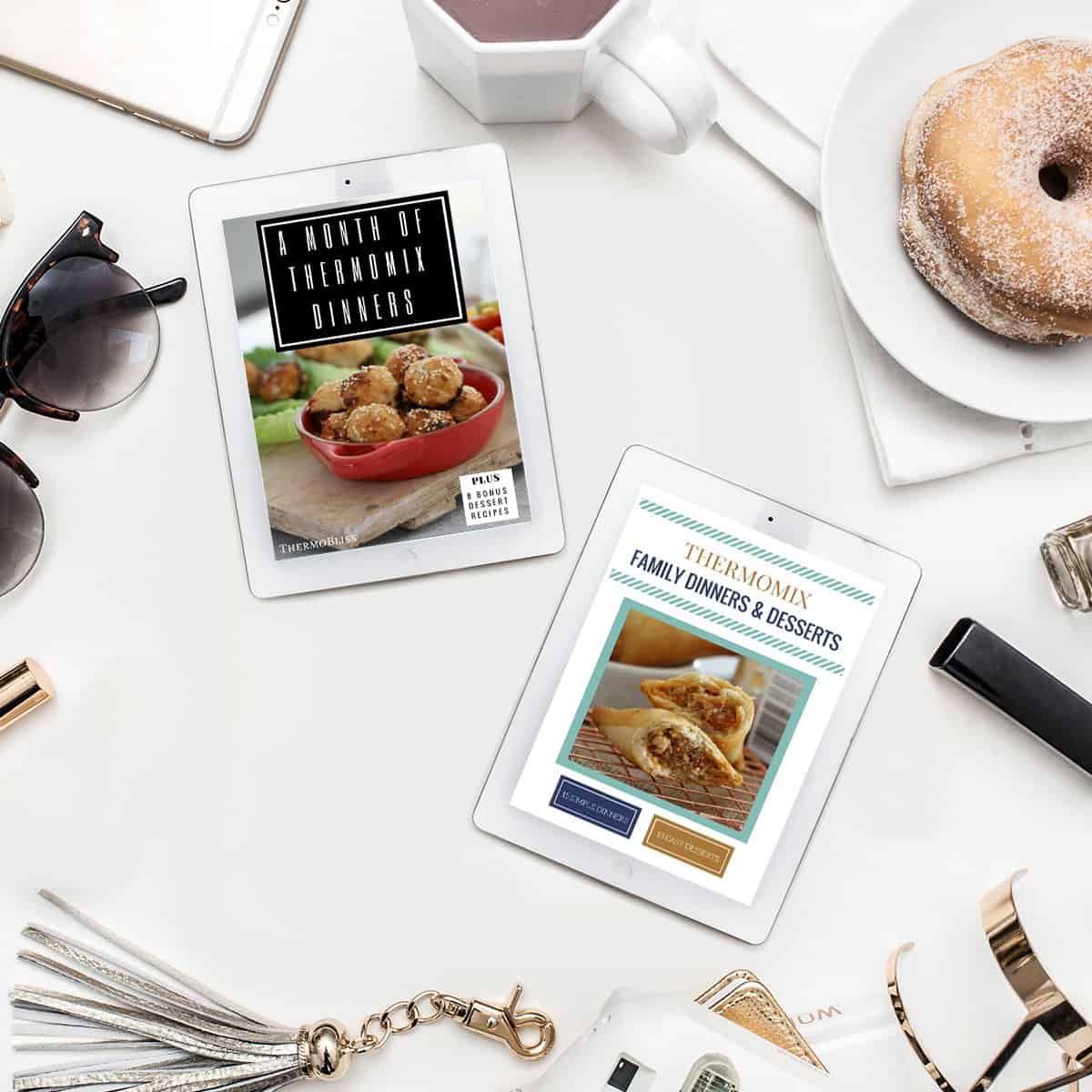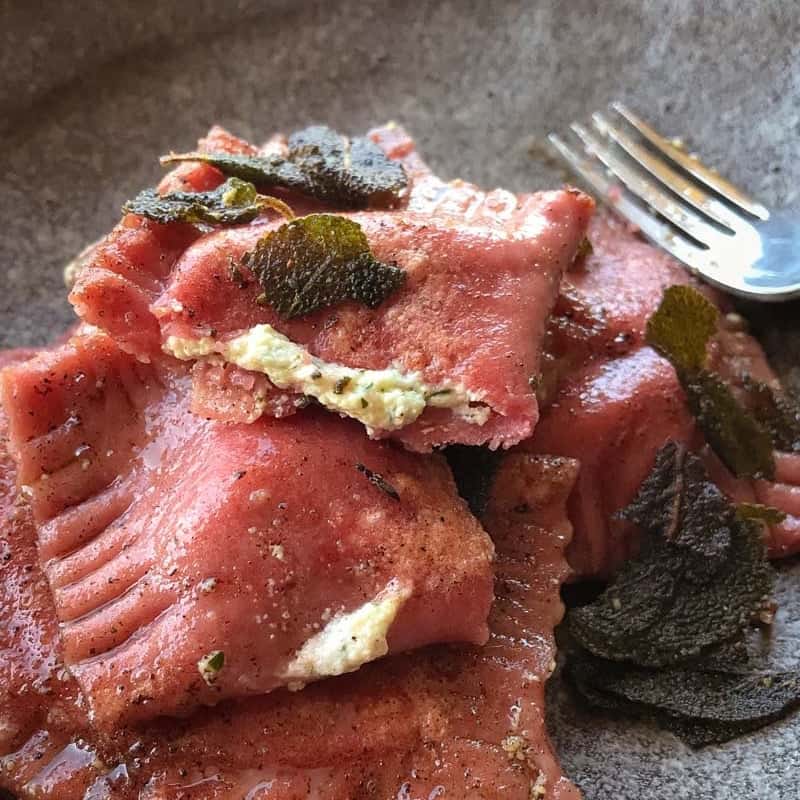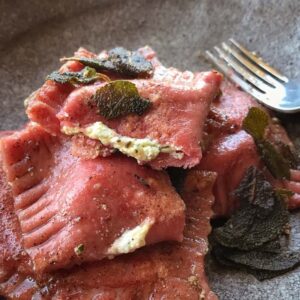 Ingredients
3

medium beetroots (peeled and cooked) - see notes

2

eggs

430

g

plain flour

250

g

ricotta cheese

180

g

soft goats cheese (feta)

2

tbs

mint, finely chopped

salt and pepper, to season

extra plain flour, to roll

120

g

butter

10

g

packet fresh sage leaves

parmesan cheese, to serve
Instructions
Place the cooked beetroot into the Thermomix bowl and mix on Speed 8, 5 seconds. Scrape down the sides and repeat 2-3 more times or until finely chopped.

Add the eggs and mix on Speed 7, 10 seconds.

Add the plain four and mix on Interval Speed (kneading function), 6 minutes.

Remove the dough from the bowl and use the extra flour to roll into a ball. Set aside in a bowl and cover with cling wrap for 1 hour.

In a clean Thermomix bowl, add the ricotta cheese, goats cheese, mint, salt and pepper. Mix on Speed 5, 10 seconds. Scrape down the sides of the bowl and repeat. Place the mixture into a bowl in the fridge until needed.

Divide the dough into 4 equal portions. Roll each portion out into a large thin rectangle (approximately ½cm thick).

Place small tablespoons of the cheese mixture onto 2 of the dough rectangles (approximately 1 inch apart).

Place the remaining two dough rectangles over the top and press down between the mixture to form small parcels.

Use a sharp knife to cut the parcels out and then close each parcels edges with a fork. Place the parcels onto a flat baking tray.

Bring a large pot of water to the boil, add the ravioli and cook until they float to the top (it will only take a couple of minutes).

Meanwhile, place the butter into a large frying pan and melt until bubbling. Add the sage leaves and stir until crispy. Add the cooked ravioli and stir for 30 seconds to coat.

Serve immediately with fresh parmesan cheese.
Notes
You can buy pre-cooked beetroot from the fresh vegetable section of most supermarkets. 
If you can't buy pre-cooked beetroot, you can roast it in the oven, allow it to cool and then proceed as per the recipe. 
If you're not using all of the ravioli at once, you can freeze it in an airtight container in the freezer for up to 3 months. If can then be cooked from frozen.