I have to admit that when it comes to using my Thermomix for cooking dinner, I'm not the greatest in the world. Sure, I make all of my cakes, biscuits, slices etc in it... but in terms of dinners, I still seem to be a traditional girl at heart (mind you, I'm 'trying' my very best to use the Thermie more for dinners). BUT risottos are my exception! I make all of my risottos in the Thermomix. ALL OF THEM!!!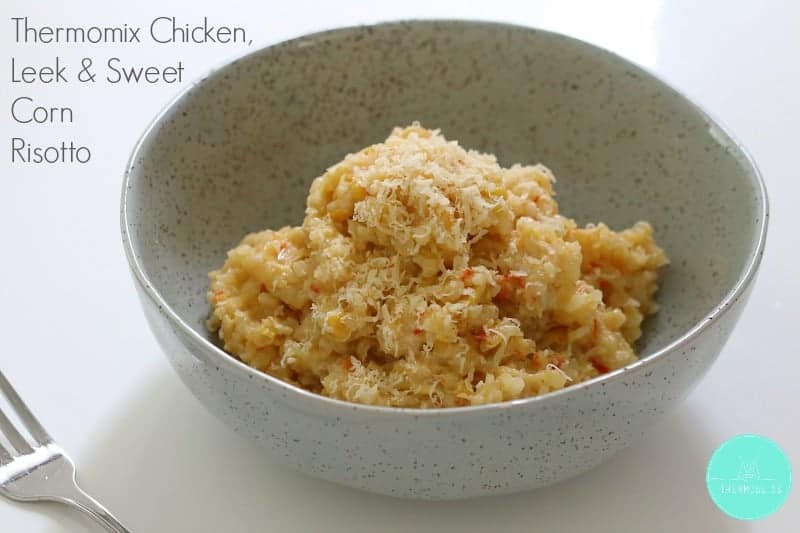 This Thermomix Chicken, Leek & Sweet Corn Risotto came about as an adaptation of my favourite family pie. I have a major thing for chicken, leek and sweet corn pie... so it seemed like a good idea to make it into a risotto! And it sooooo was!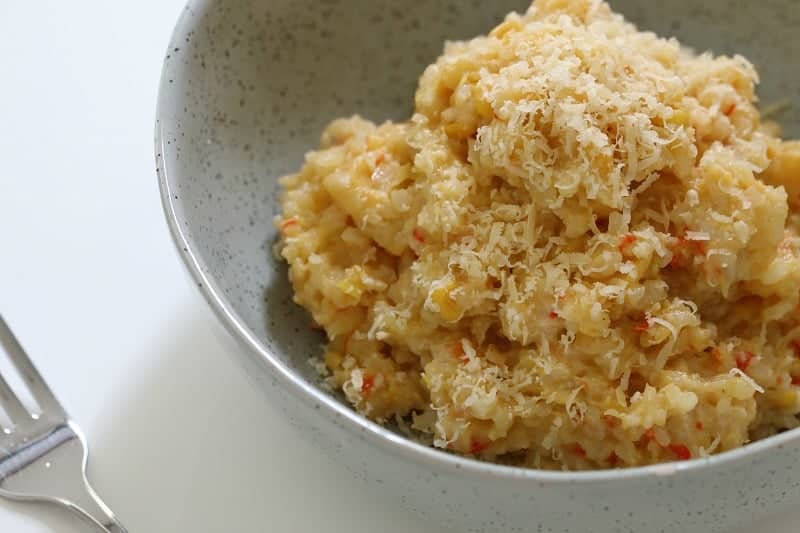 This risotto is nice and easy to make, PLUS the whole family will love it. I pureed a bit of it up for my bub and he loved it. So yep, winner, winner for everyone!!!
If you think this is awesome, don't forget to check out our new Chicken and Mushroom Risotto recipe as well.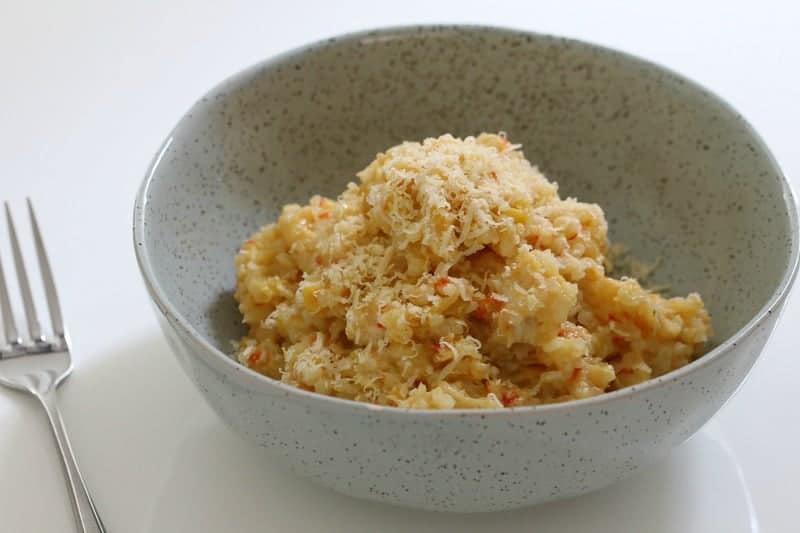 Need some more Thermomix risotto recipes in your life? We've totally got you covered! Click here for our fave risotto recipes...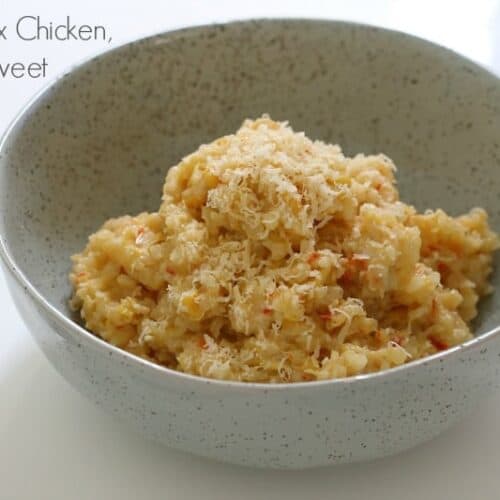 Ingredients
100

g

parmesan cheese

1

leek

(chopped into thirds)

1

teaspoon

minced garlic

20

g

olive oil

½

red capsicum

(roughly chopped)

600

g

water

2

tbs

vegetable stock

(or 2 teaspoon powdered stock)

300

g

arborio rice

500

g

diced chicken breast

1

X 420g can creamed corn
Instructions
Place parmasen cheese into TM bowl. Grate on Speed 10, 10 seconds. Set aside.

Place the leek and garlic into the TM bowl. Chop on Speed 7, 5 seconds.

Scrape down the sides of the bowl.

Add the oil and saute on 100 degrees, 2 minutes, Speed 1.

Add ½ red capsicum and chop on Speed 4, 5 seconds.

Scrape down the sides of the bowl.

Insert the butterfly.

Add the water and vegetable stock.

Cook on 100 degrees, 5 minutes, Reverse, Speed 1.

Add the arborio rice and the diced chicken breast.

Cook for 17 minutes, 100 degrees, Reverse, Speed 1.

Add the creamed corn.

Cook for a further 3 minutes, 100 degrees, Reverse, Speed 1.

Pour into the ThermoServer, stir through the reserved cheese and allow to rest for 5 minutes.