A collection of 10 of the best Thermomix Birthday Cakes... from a classic chocolate mud cake to the perfect butter cake, cheesecake to carrot cake... and more!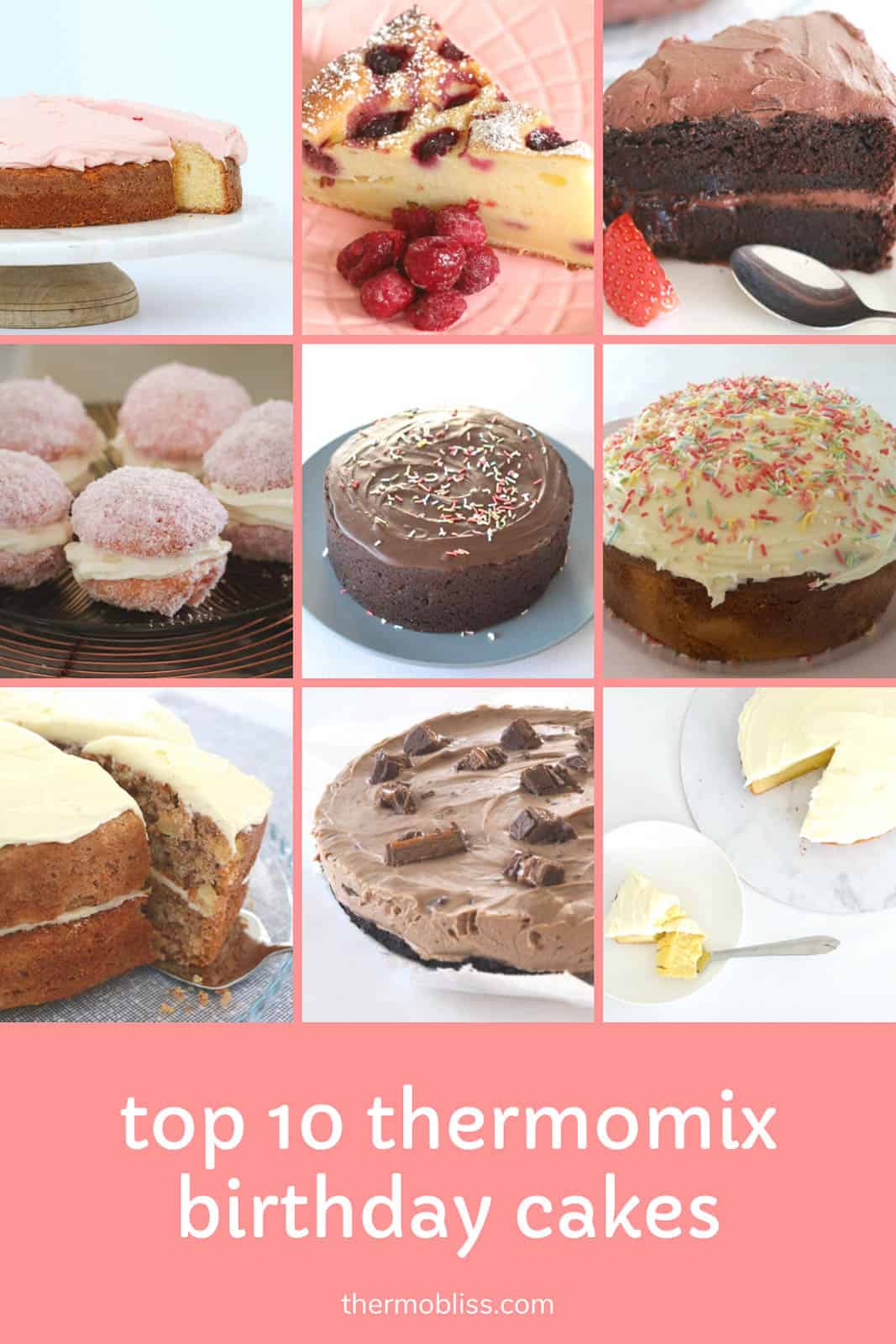 The BEST Thermomix Birthday Cakes | Top 10
If you're looking for a delicious birthday cake recipe, then you've come to the right place! We've put together our 10 most popular Thermomix cake recipes... and all of them are perfect for birthday parties!
This cake has been a family favourite for years... and it's no surprise given how delicious and simple it is! We recommend using a good quality chocolate for the best possible flavour and texture.
Our ultimate and most popular chocolate mud cake recipe! This one is so popular, it was even featured in Thermomix Australia's newsletter as the BEST Thermomix Mud Cake.
This is the BEST birthday cake to whip up at the last minute. It's super quick and easy... and great for kids birthday cakes (especially when topped with sprinkles!
For something a little different, you can't beat our ricotta and raspberry cake! It's dense, moist and delicious served at room temperature or warmed up slightly and served with cream or ice-cream!
This is my go-to Thermomix birthday cake recipe! It's the perfect recipe for a simple round or square cake, or use it to make a number cake, animal shaped cake or more! Plus the buttercream frosting is AMAZING!!!!
If you need a delicious cake that's made with pantry staples and will be ready in no time – this Thermomix Chocolate and Coconut Cake is for you! It's a simple caked that's packed full of flavour, especially when iced with our favourite chocolate ganache and sprinkles.
Our Thermomix Jelly Cakes have 3 main elements: the vanilla cakes, the raspberry jelly and coconut coating and the whipped cream filling.... but trust us, they're all super easy!
Our classic carrot cake made with white chocolate cream cheese frosting is the perfect birthday cake. Carrot, pineapple and pecans are the yummiest trio of ingredients in this old fashioned cake!
There's no better recipe to finish our birthday cakes collection than our famous Mars Bar Cheesecake! It's rich, creamy and packed full of chocolate and Mars Bars. YUM!
So there you have it... 10 of the very best Thermomix birthday cakes! Have we missed any of your favourites!??
Shop Our Thermomix Cookbooks
Check out our entire range of Thermomix cookbooks (all hardcopy cookbooks also come with a FREE eBook version emailed to you immediately upon purchase). PLUS get free shipping on all orders over $50!