These Thermomix Cinnamon Finger Buns are one of my boys' (ok, and mine!) favourite snacks!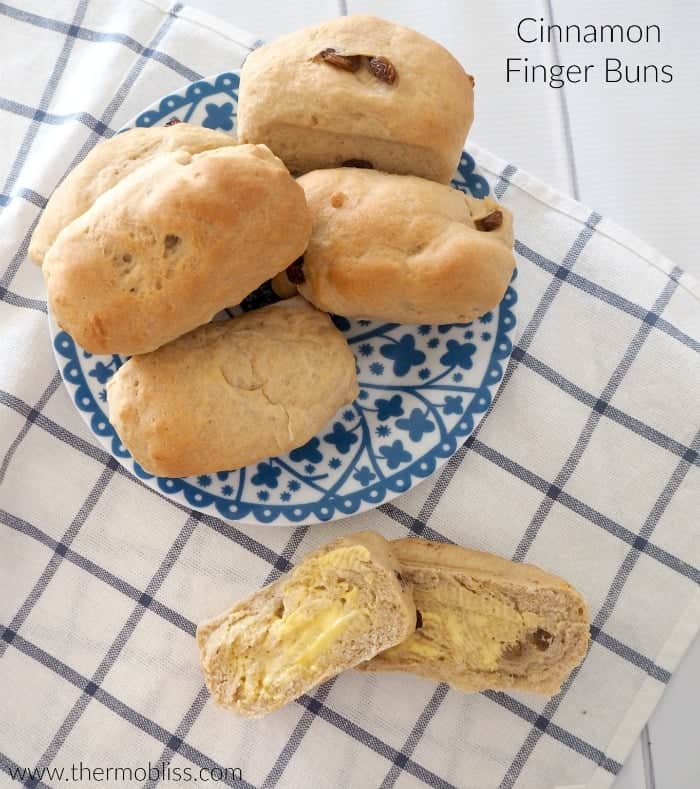 I've been making this Finger Bun recipe from Thermomumma for ages now and the boys just LOVE eating one of these fresh from the oven.  I've made a couple of modifications to the recipe (as I just can't resist doing!) to turn these into Cinnamon and Sultana Finger Buns which taste just like the store bought Hot Cross Buns.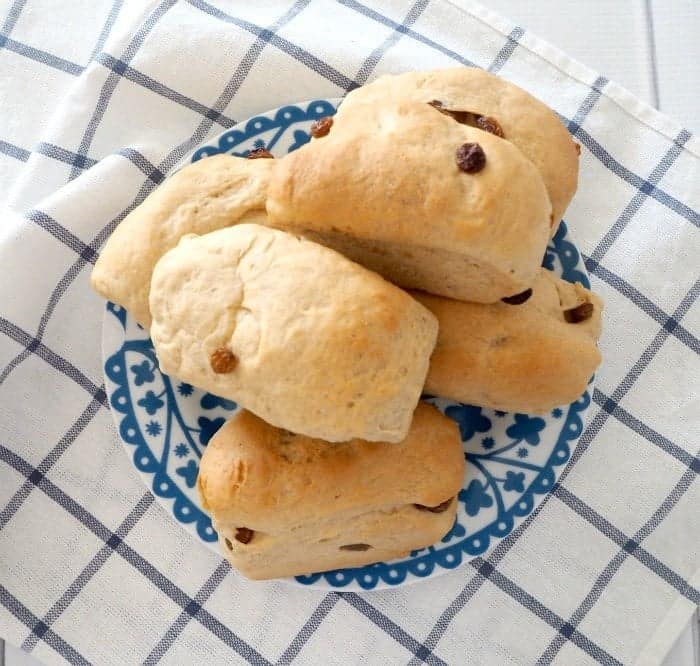 To make life easier, I add the sultanas to the dough and knead them through for a couple of minutes, however if you prefer to have the sultanas kept whole (they do break up a little when kneading in the theme) then simply knead them through by hand before letting the dough rest.  These Thermomix Cinnamon Finger Buns are freezer friendly too and I just pop one frozen into our little guys lunchbox and it's defrosted and ready for him to eat by morning tea time.  I also use two silicon mini loaf tins that I got from Kmart to make these Finger Buns in, however you can also cook these on a baking tray too.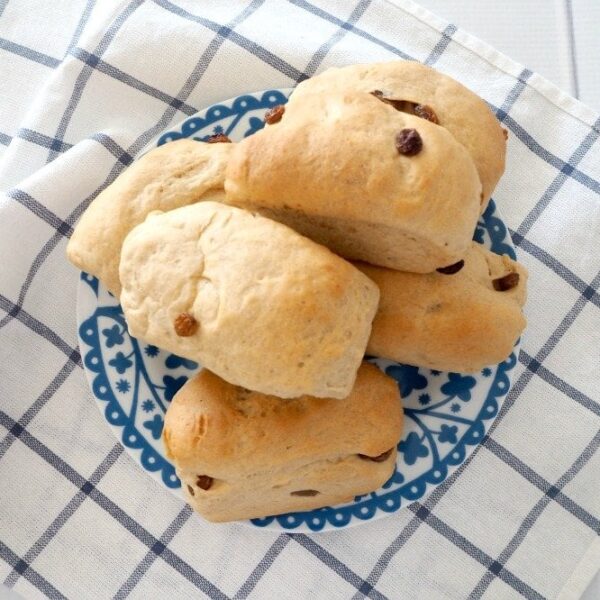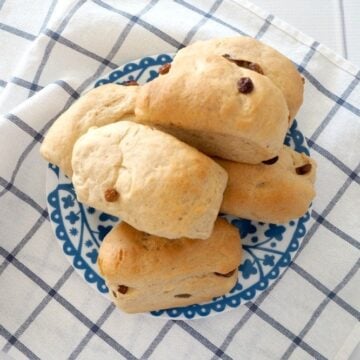 Ingredients
275

grams

water

lukewarm

5

teaspoon

yeast

575

grams

bakers flour

1

tablespoon

cinnamon

1

teaspoon

salt

1

tablespoon

milk powder

2

teaspoon

bread improver

40

grams

caster sugar

50

grams

butter

softened

150

grams

sultanas
Instructions
Place the water, yeast, bakers flour, cinnamon, salt, milk powder, bread improver, caster sugar and butter into your Thermomix bowl and mix for 30 seconds on Speed 4 to combine.

Knead the mixture for 6 minutes.

Add the sultanas and knead for a further 3 minutes.

Transfer the dough into a large oiled bowl or Thermomat and let it rest for 15 minutes.

Punch down the dough and divide it into 12 and roll to form the buns - you can also use a silicon mini loaf pan to do this.

Cover the cinnamon finger buns and allow them to rest for one hour or until they have risen approximately 50% in volume.

Preheat your oven to 180 degrees and bake for 18 minutes or until they are golden brown on top.
Notes
These Cinnamon Finger Buns can be stored in the freezer.
You can also glaze these Finger Buns while they are still warm. Combine 1 tablespoon of Apricot Jam with 2 tablespoons of water and heat in the microwave for 30 seconds. Stir with a fork to combine the ingredients and then use a pastry brush to apply the glaze to the finger buns.
Enjoy!