This Thermomix Festive Jelly Slice will make the perfect dessert for your Christmas parties this year!  It's no bake and while it's a little time consuming waiting for the jelly to set, it really is so easy to put together.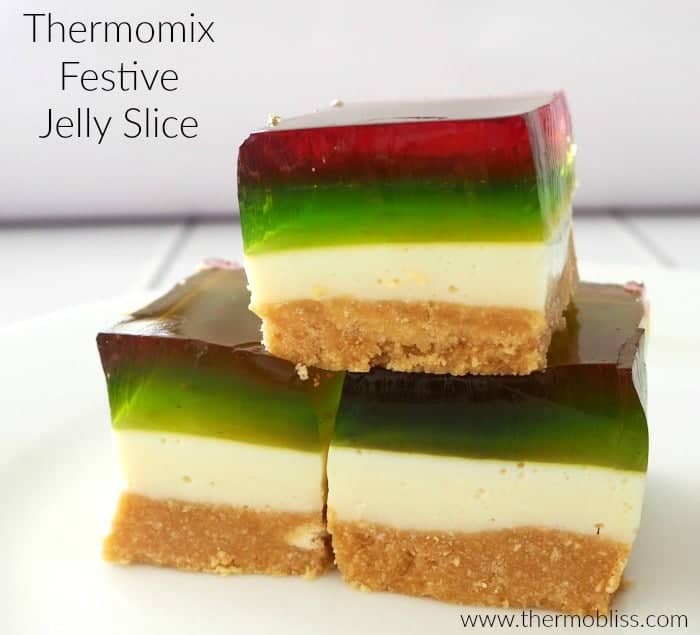 When putting this Thermomix Jelly Slice together, make sure that you use a DEEP slice tray as you want your tin to be deep enough to fit the two layers of jelly.  I'd also recommend putting your slice tray onto a larger oven tray to  move it in and out of the fridge, otherwise you may end up with jelly on the floor which is NOT fun – believe me!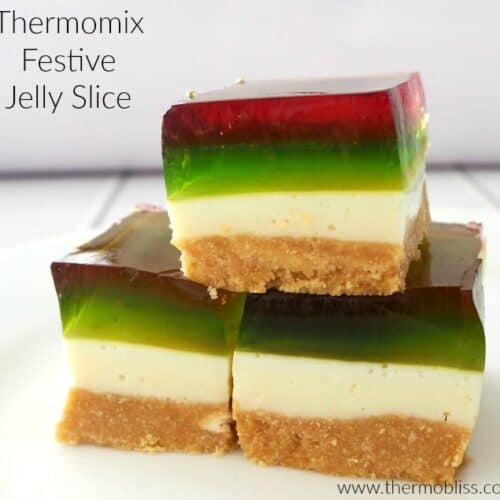 Ingredients
200

g

of Marie biscuits

(or any other plain biscuit will be fine).

225

g

of milted butter

395

g

can of condensed milk

2½

teaspoons

of gelatine

¾

cup

of boiling water

2

Lemons – juiced

1

packet to strawberry jelly

1

packet of lime jelly

Boiling Water as per packet instructions

2

teaspoons

of gelatine – extra for the jelly top
Instructions
Line the base and the sides of a slice tin with baking paper, making sure you leave plenty hanging over the sides.

Place the biscuits in the bowl and crush for 5 seconds on speed 9.

Add the butter and heat for 3 minutes on 80 degrees speed 2.

Remove biscuit mixture from the bowl and pour into the lined tray. Push the mixture down with a metal spoon to create a flat surface. Place in the fridge for 30 minutes to set.

To make the filling, combine the gelatine in a jug with the boiling water and allow to cool slightly.  In a clean bowl, add the lemon juice and condensed milk and mix for 45 seconds on speed 4.  After 5 seconds, remove the measuring cup and carefully pour the gelatine mixture in. Remove the set slice base from the fridge and pour over the filling.  Put back into the fridge for 30 minutes.

In a clean bowl, add the hot water and heat for 3 minutes on 90 degrees speed 2. Add the jelly crystals and one extra teaspoon of gelatine and stir until they have dissolved.  Pour jelly into another bowl and allow it to cool until it has reached room temperature.

Remove the slice from the fridge and carefully pour the jelly over the slice and place it back in the fridge to set for approximately 3 hours.

Prepare the strawberry jelly as per the previous step and carefully pour over the set lime jelly layer.

Place the slice back into the fridge - preferably overnight to set.
If you wanted to make this slice extra festive, you could pipe some cream and sit strawberries on top to make little strawberry Santas – too cute!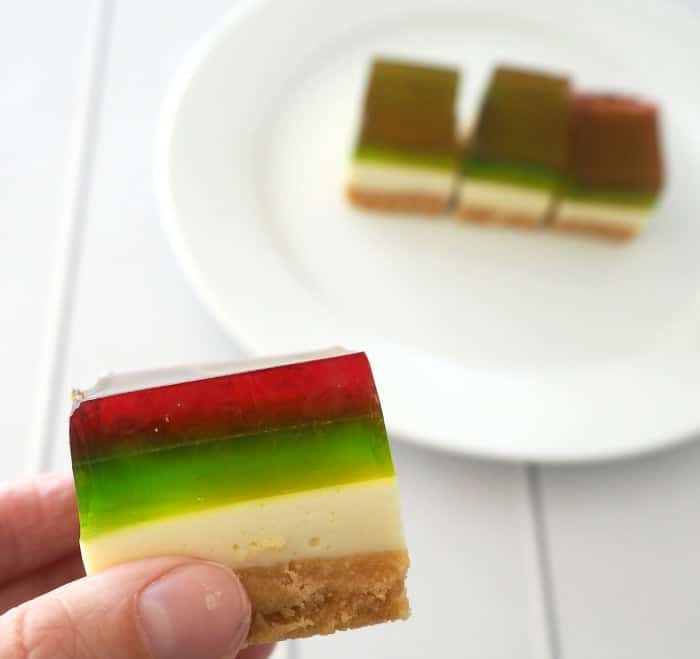 What's your favourite Christmas slice recipe?