Our Thermomix Oat & Caramel Slice is always a winner! Filled with ooey-gooey caramel, oats and chocolate... talk about YUM!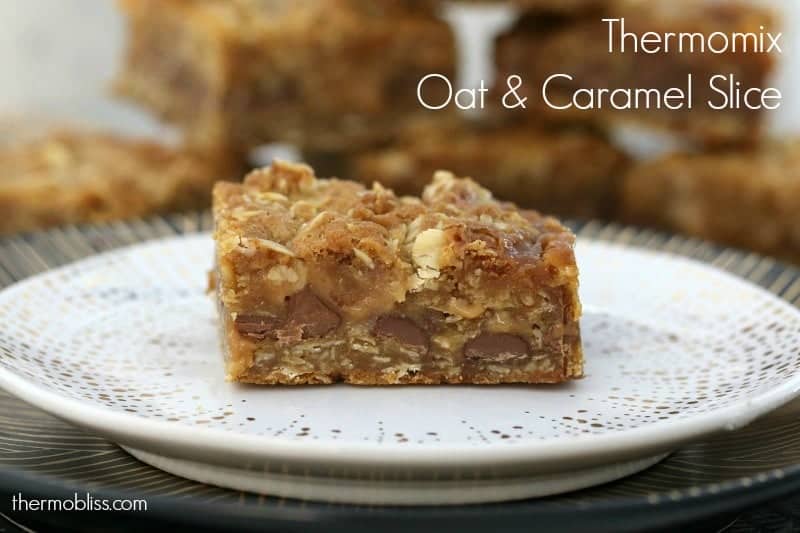 If you've been visiting ThermoBliss for a while now, you'll know that we're two girls who LOVE our slices!!! Whether it's a no-bake slice, a chocolate slice or a traditional favourite.. we're definitely big fans!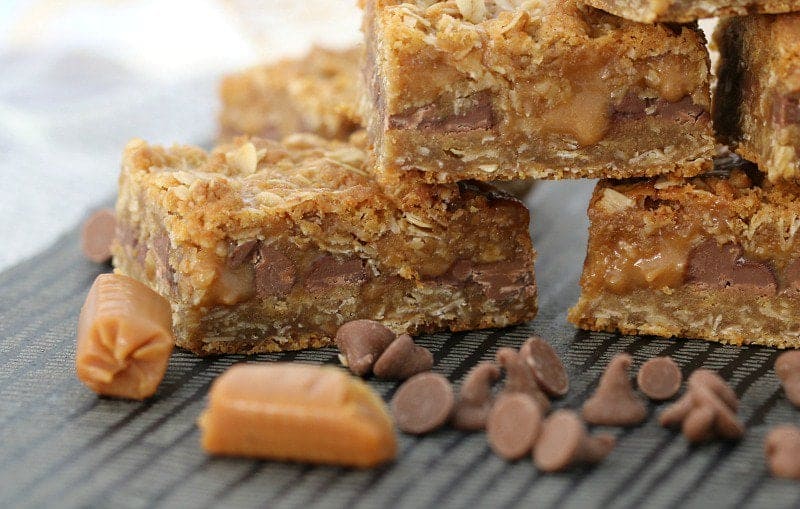 And this Thermomix Oat & Caramel Slice is one of our absolute favourites! It's packed full of caramel and chocolate... and is definitely not a recipe for the faint-hearted! It's packed full of sugary goodness... and just try stopping yourself at one piece!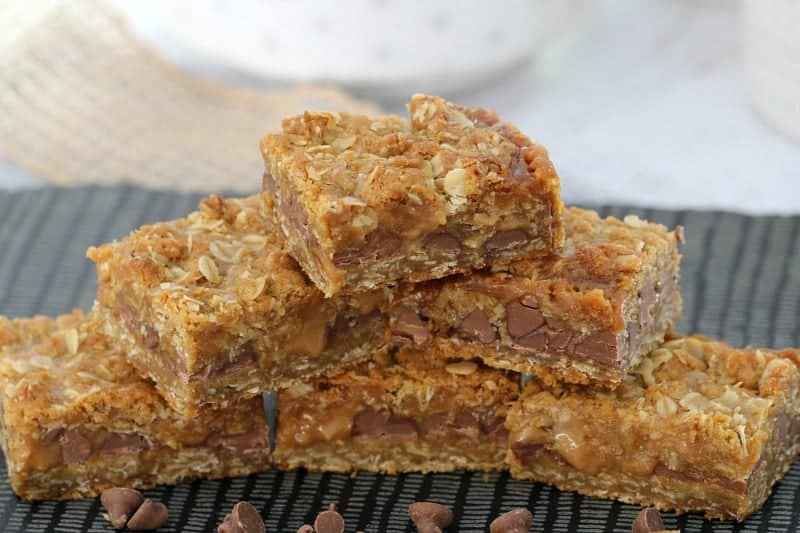 Before you get baking, just one little tip! This slice has a layer of gooey caramel in the middle (which is AMAZING!), but this means that you really do need to wait until the slice has completely cooled and set before cutting it. I like to leave it overnight... but give it at least a few hours! I know.. I know... it's so hard to wait... BUT it's totally worth it!
Enjoy! xx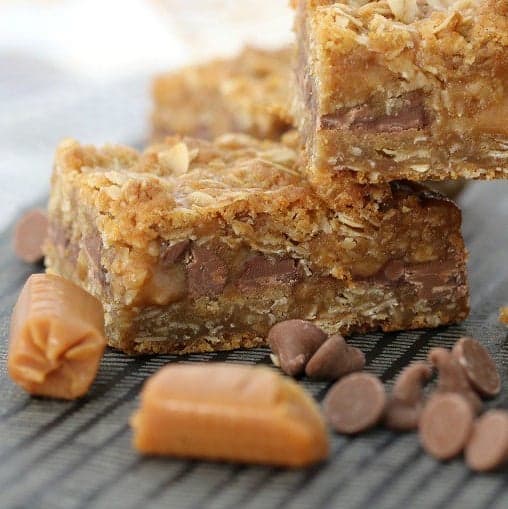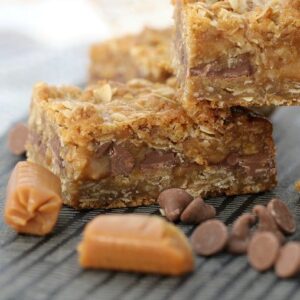 Ingredients
175

g

butter

150

g

brown sugar

1

tbs

vanilla extract

125

g

plain flour

90

g

rolled oats

1

teaspoon

bi-carb soda

pinch of salt

35

soft chewy caramels (we used Werthers Originals Chewy Caramels)

115

g

cream

pinch of salt

175

g

chocolate chips
Instructions
Preheat oven to 180 degrees celsius.

Line a 20 X 20cm cake tin with baking paper or foil, leaving an overhang on two sides.

Place the butter into the TM bowl and melt on 80 degrees, 2 minutes, Speed 2.

Add the brown sugar and vanilla and mix on Speed 3, 10 seconds. Scrape down the sides of the bowl and repeat.

Add the plain flour, oats, bi-carb and salt to the bowl.

Mix on Reverse, Speed 3, 10 seconds. Scrape down the sides of the bowl and repeat for a further 10 seconds.

Add half of the mixture to the tin and press down firmly.

Bake in the oven for 10 minutes. (Set aside the other half of the mixture).

Meanwhile place the caramels, cream and salt into the TM bowl. Melt on 80 degrees, Speed 3, 4 minutes (scrape the sides after 2 minutes).

Spread the chocolate chips over the cooked oat base.

Pour the salted caramel sauce over the top of the chocolate chips.

Crumble the remaining oat mixture over the top.

Cook for approximately 15 minutes in the oven.

The slice will be ready when the oats have turned golden and the caramel sauce in the middle is bubbling.

Allow the slice to cool in the tin and then place in the fridge overnight.

Take the slice out of the fridge and cut into squares.