We used to spend a small fortune buying muesli bars from the supermarket (and it probably didn't help that my favourite ones always seemed to be the expensive ones!), but since getting our Thermomix, we haven't bought any muesli bars. And why would you, when the Thermie makes it so easy to mix up your own!!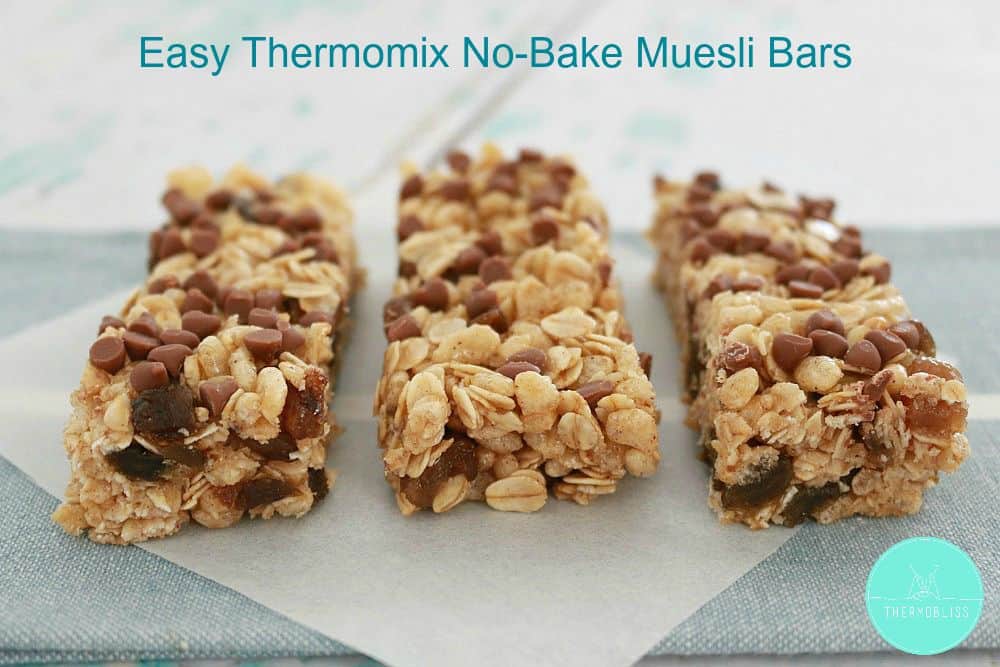 Usually I bake my muesli bars in the oven, to get them nice and crunchy (if you haven't already, make sure you check out our Fruit & Nut Muesli Bars... boy oh boy they're good!). But sometimes you just want a quick and easy recipe that doesn't involve turning the oven on - and that's where these Easy Thermomix No-Bake Muesli Bars come in.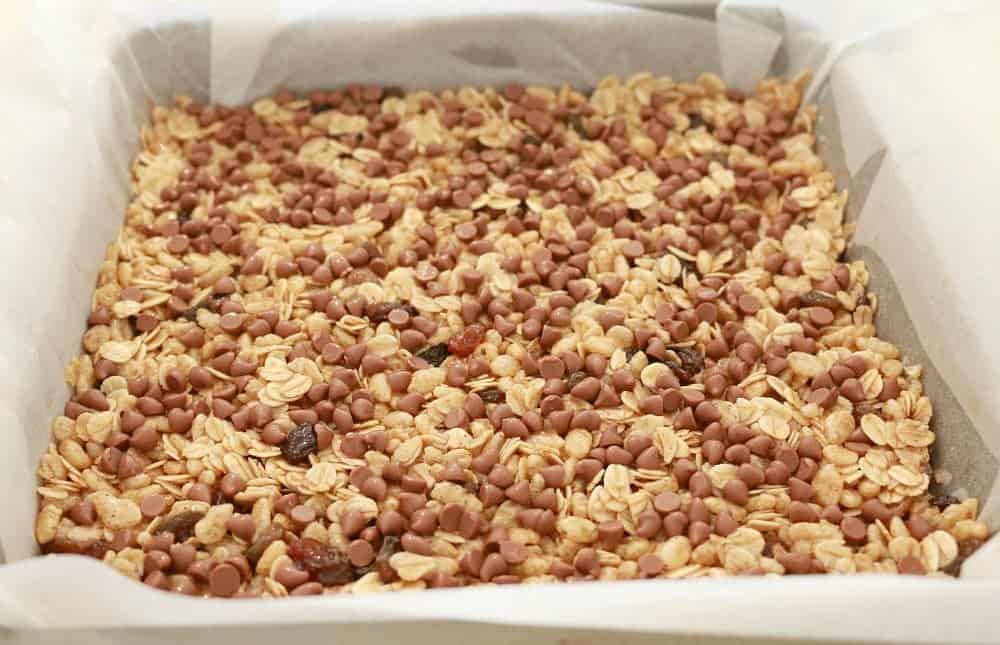 The tricky thing with no-bake muesli bars is that they can fall apart quite easily. So you need to cook the liquid mixture for quite a long time (10 minutes) so that it resembles more of a thick caramel sauce. The thickened sauce will keep everything together nicely. The other trick is to press your mixture down really firmly into the tray... with all your muscles! That way you're less likely to have any oats or choc chips escaping. I also like to leave my muesli bars in the fridge overnight before cutting them as it's much easier to get perfect slices. However, if you don't have time, a few hours will do.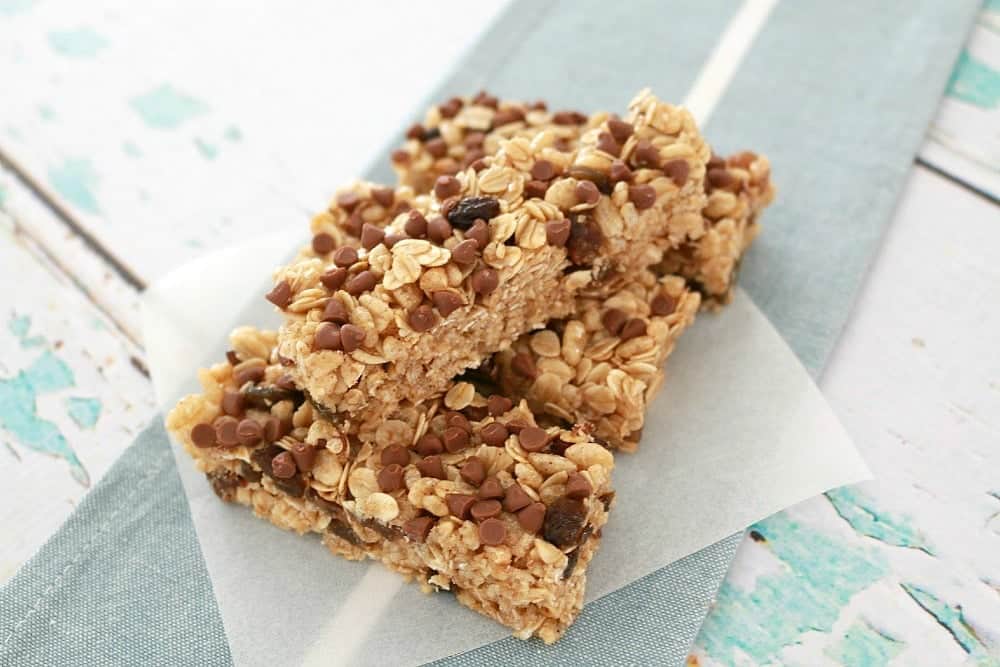 And that's it! Yummy, easy no-bake muesli bars that the whole family will love.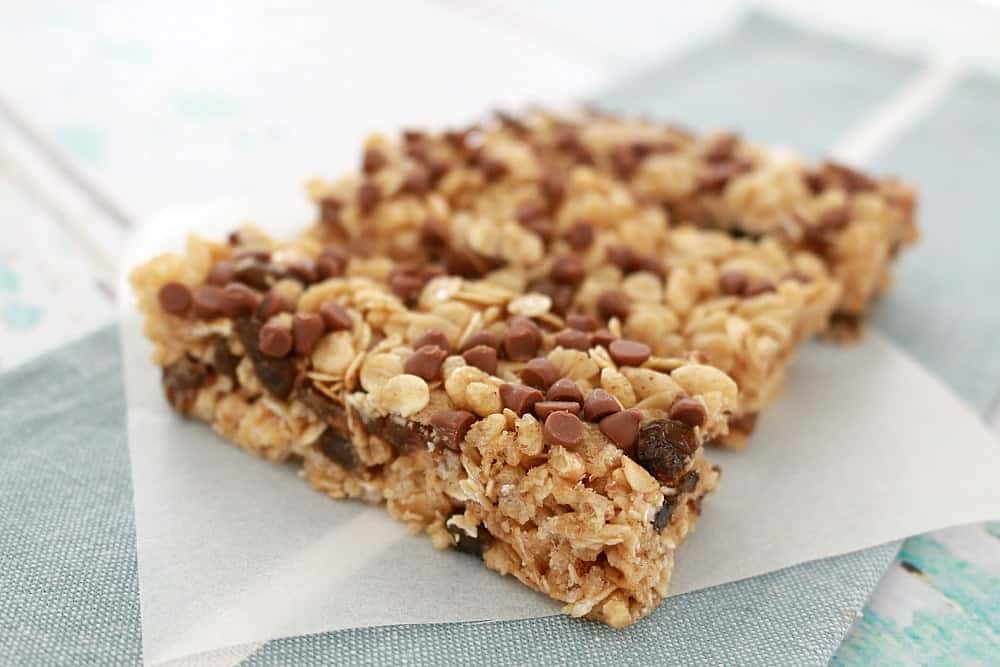 Enjoy 🙂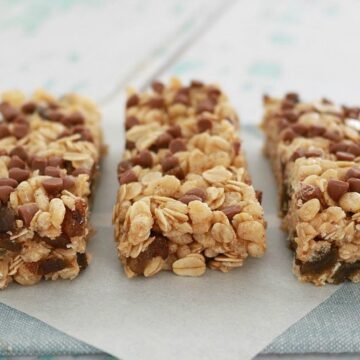 Ingredients
125

g

butter

100

g

brown sugar

180

g

honey

2

teaspoon

cinnamon

1

teaspoon

vanilla extract

150

g

nut-free toasted muesli

(~1 ½ cups)

30

g

rice bubbles

160

g

sultanas

95

g

mini chocolate chips

(½ cup)
Instructions
Grease and line a 20cm square baking tin with baking paper, allowing the sides to overhang. Set aside until needed.

Place the butter, brown sugar, honey and cinnamon into the TM bowl.

Mix on for 10 minutes, 100 degrees, Speed 1. It needs to heat for this long to allow the mixture to thicken enough.

Add the vanilla extract and continue to mix for 20 seconds, Speed 1. 

Place the toasted muesli, rice bubbles and sultanas into the TM bowl and mix or 30 seconds, REVERSE, Speed 2, or until completely combined.

Press the mixture firmly into the prepared baking tin (using the trick of placing another tray on top and pressing down very firmly).

Sprinkle over the chocolate chips and firmly press down again.

Place the tray into the fridge and leave for a minimum of four hours (overnight is best) before cutting into bars.

Store in an airtight container in the fridge for up to a week.