Growing up, lamingtons were one of my favourite treats (just not the ones filled with cream… eeew!). I've always loved the combination of the chocolate, coconut and jam. The only problem with lamingtons is that they go stale quite quickly because of the sponge filling… and so this Thermomix Jammy Chocolate Coconut Slice is just the answer! It has the same yummy choc/coconut/jam flavours of a lamington, but it will last for days and days!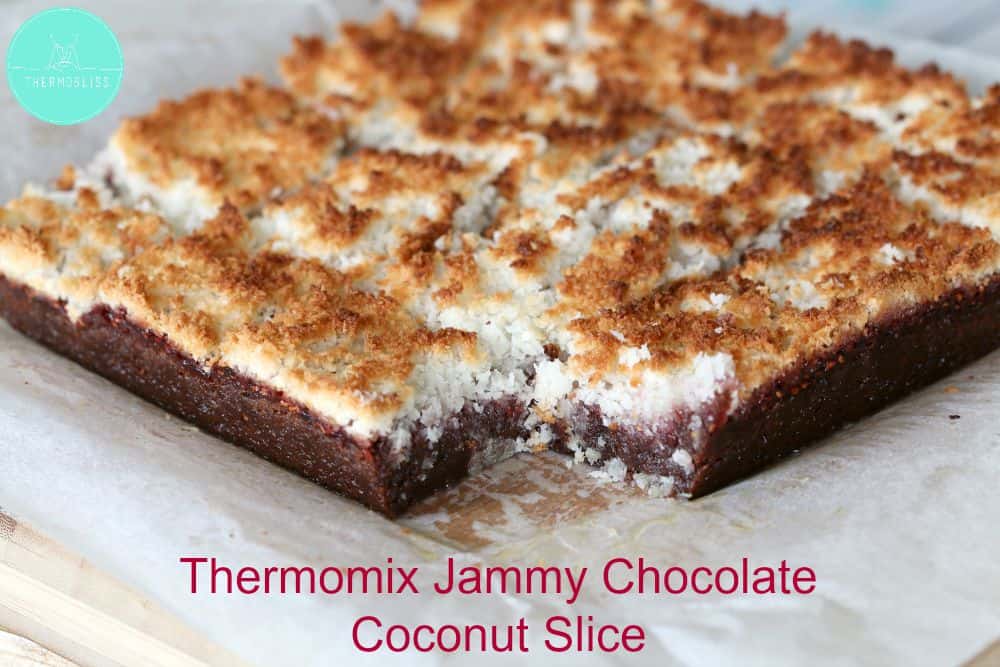 This delicious little thing is made up of three drool worthy layers. On the bottom is a beautiful chocolate-brownie type base. It's rich and chocolatey and so, so good. Next up is a sweet jam filling (I like to use raspberry jam but feel free to experiment). And finally, on top, is a coconut layer. OMG I can't even tell you how much I love anything that has coconut in it. It's a LOT!
If you're thinking that this is a little bit like my coconut jam slice, but with a chocolate base, then you would be so right! I love that recipe to bits and so it was only a matter of time before it ran the baking experimentation gauntlet! And so, after a few different tries, I am definitely happy with this slice. It's got the yummiest lamington flavours, but in a super awesome slice.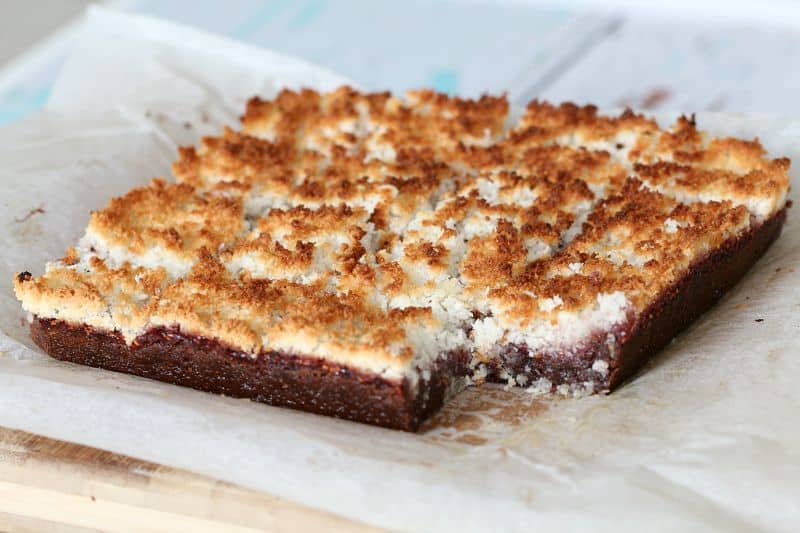 This is a great little lunchbox filler or a perfect partner to your cuppa. Plus, it's going to stay fresh way longer than a batch of lamingtons!!
PS – it's really important to leave this slice overnight before attempting to cut it!! Otherwise you'll end up with a big coconut-ty mess (and yep, as you can see in the photos, I started to cut this one after just a couple of hours in the fridge and it began to crumble a little, so I popped it back into the fridge overnight- and the next day it was really easy to cut into pieces!).
xx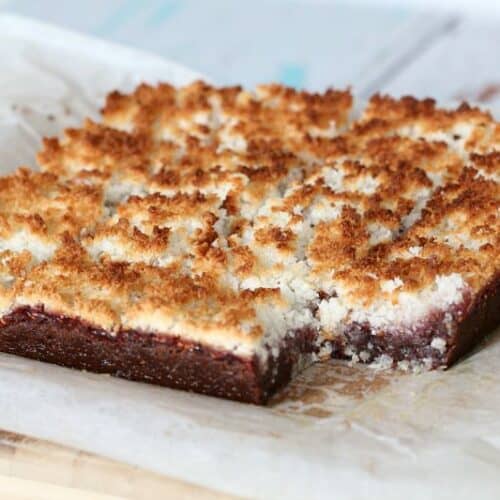 Jammy Chocolate Coconut Slice
Just like a lamington! This triple layer slice has a chocolate base, a jam filled centre and a coconut topping made in the Thermomix.
Print
Pin
Rate
Ingredients
2/3

cup

(150g) caster sugar

1 1/2

cups

(175g) self-raising flour

2

tablespoons

cocoa powder

125

g

butter

, melted

1

tsp

vanilla extract

1

egg

2/3

cup

raspberry jam

2

egg whites

2/3

cup

(150g) caster sugar

1 1/2

cups

(150g) desiccated coconut
Instructions
Preheat oven to 180 degrees (160 if using fan-forced).

Grease and line a 20cmX20cm square cake tin with baking paper.

Place self-raising flour, caster sugar and cocoa into the TM bowl and press Turbo 5-10 times to sift.

Set aside.

Melt the butter and vanilla on 80 degrees, Speed 2 for 3 minutes.

Reduce to Speed 1 and slowly add the flour, sugar and cocoa mixture.

Add the egg.

Increase to Speed 2 and mix for 15 seconds of until completely combined.

Stir until completely combined.

Spread the mixture evenly into the cake tin and bake for 20 minutes.

Remove from the oven and spread the jam over the chocolate base while it is still warm.

Place the egg whites, caster sugar and desiccated coconut into the TM bowl.

Mix on Speed 3 for 30 seconds.

Spread over the top of the jam.

Bake for a further 20-25 minutes or until golden.

Allow the slice to cool completely before removing from the pan and cutting into slices.