Next time you're looking for a quick and easy slice that's an absolute winner with kids and adults alike... look no further than our Thermomix Fruit & Nut Slice. It's completely no-bake... and tastes delicious!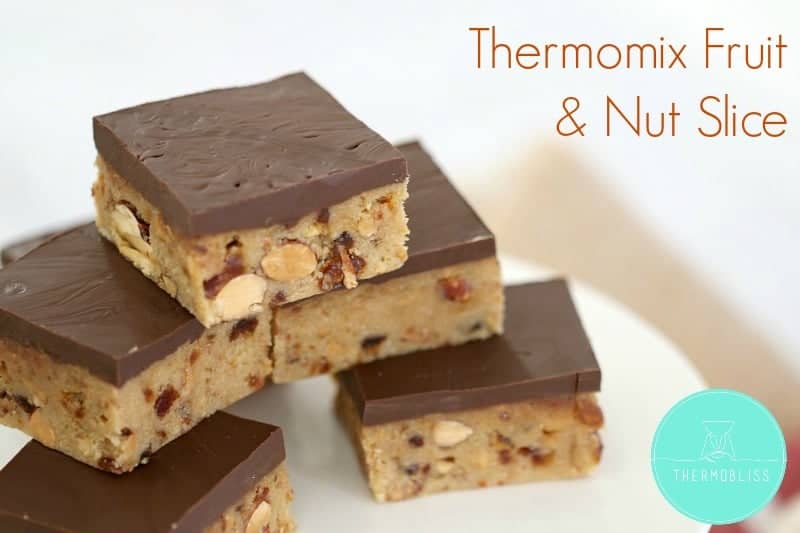 I like to make my slice using chopped dates as the fruit and roasted almonds as the nuts - however, you can mix and match with any kind of dried fruit and nuts you like. I personally prefer to use roasted nuts in this slice as I think they taste better... but it's totally up to you (and what you have in your cupboard!).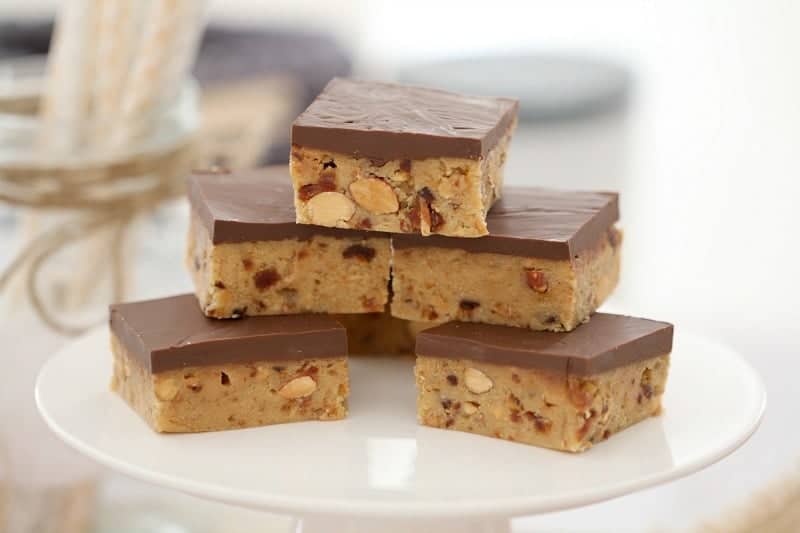 There's no need to clean the Thermomix in between the steps in this recipe... just wait until you're ready to make the chocolate topping then give it a quick wash and dry! Easy peasy!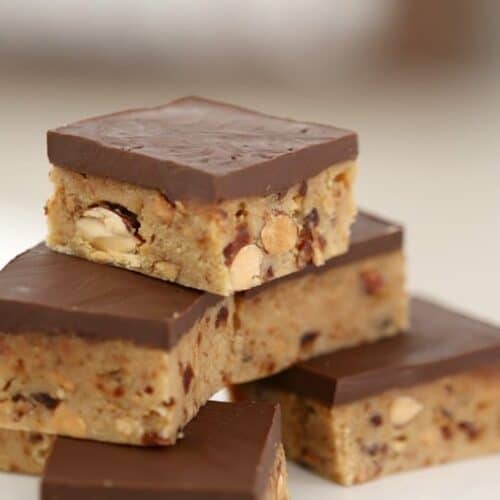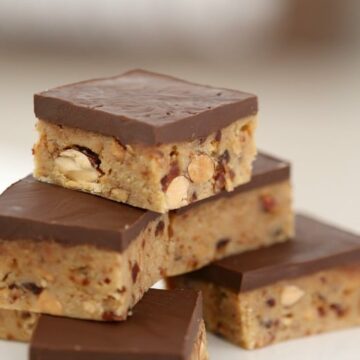 Ingredients
130

g

(1 cup) roasted almonds

100

g

(¾ cup) pitted dates

250

g

plain sweet biscuits

(like Arnott's Marie)

220

g

(¾ cup) condensed milk

2

tbs

golden syrup

125

g

butter

250

g

dark chocolate

20

g

coconut oil

(optional)
Instructions
Grease and line a 18X28cm rectangular slice tray with baking paper and set aside.

Place the roasted almonds into the Thermomix bowl and press Turbo 2-3 times (or until the almonds are roughly chopped - it's fine if there's still a few whole almonds). Set aside in a large bowl.

Add the pitted dates to the Thermomix bowl and hold down Turbo for 5-10 seconds or until roughly chopped.

Add to the bowl with the chopped almonds.

Place the plain biscuits into the Thermomix bowl and finely crush on Turbo for 10-15 seconds. Add to the almonds and dates and set aside.

Place the condensed milk, golden syrup and butter into the Thermomix bowl and melt on 80 degrees, 3 minutes, Speed 2.

Scrape down the sides of the bowl and repeat for a further 1 minute, 80 degrees, Speed 2.

Add the crushed biscuits, chopped almonds and dates and mix on Reverse Speed 3 for 10 seconds or until completely combined.

Spoon into the prepared tray and smooth down the top with a spoon.

Place into the fridge for 1 hour.

Grate the chocolate by pressing Turbo 3-4 times.

Add the coconut oil and melt on 80 degrees, 3 mins, Speed 2 (scrape down the bowl partway through).

Pour the chocolate over the top of the slice and allow to set before cutting into slices.