Eeek!! I honestly cannot believe it's nearly Christmas! I go through stages of feeling totally organised and then completely and utterly disorganised. Please tell me it's not just me that's feeling the chaos right now!?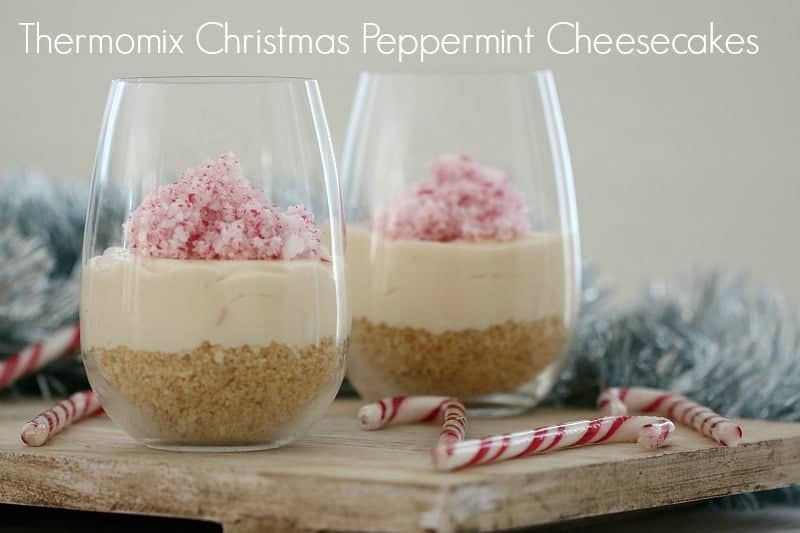 Anyway, I thought I'd share a favourite recipe of mine – these no bake Thermomix Christmas peppermint cheesecakes. I love these SO much. Not only are they completely no-bake, they also taste great!!!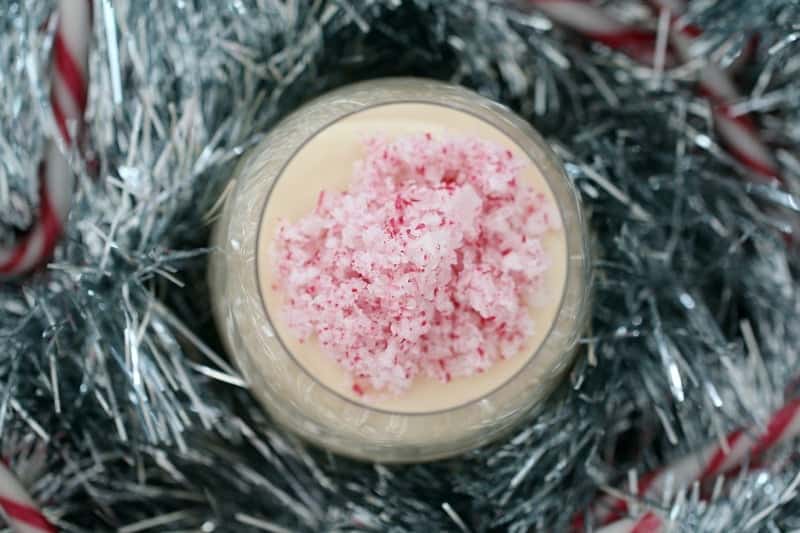 I like to do these as little mini individual cheesecakes – it just adds that super cute factor! Plus you don't have to share… which is always a bonus.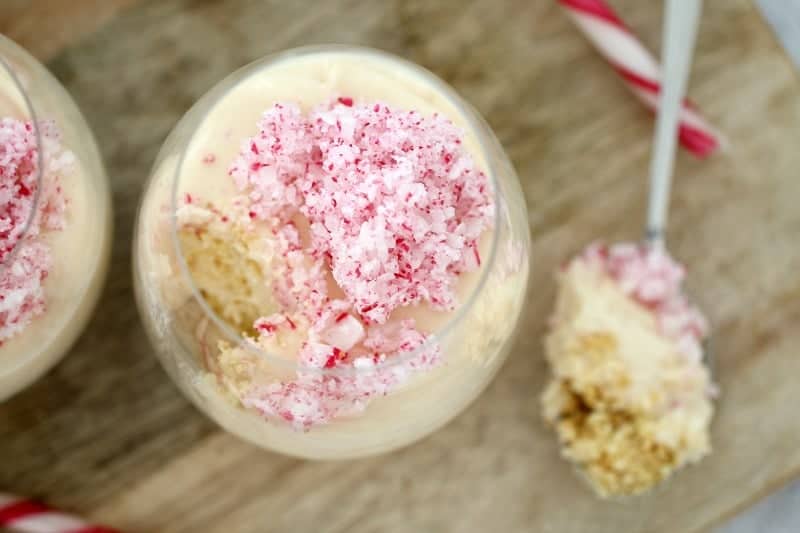 Happy (nearly!) Christmas. Enjoy these yummy little Thermomix Christmas peppermint cheesecakes. xx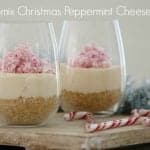 No Bake Christmas Peppermint Cheesecakes
Ingredients
300

g

candy canes

, crushed (reserve 100g for decoration)

80

g

butter

125

g

plain sweet biscuits

(like Arnott's Marie)

For the filling:

300

ml

thickened cream

375

g

cream cheese

, room temp

¼

cup

caster sugar

1

tsp

peppermint extract

2

tsp

gelatine powder

2

tbs

boiled water

180

g

white chocolate melts
Instructions
Set 6 serving glasses or individual bowls aside.

Crush the candy canes by pressing Turbo 5-10 times - depending on how chunky or fine you would like them. Set aside.

Place the butter into the TM bowl and melt on 100 degrees, 2 minutes, Speed 2.

Add the biscuits and crush on Turbo for 10 seconds (or until they resemble fine crumbs).

Scrape down the sides of the bowl and repeat until completely combined.

Divide the mixture amongst the 6 glasses and place into the fridge.

Place the cream into the TM bowl and beat on Speed 3.5 until peaks are just starting to form (this can be anywhere between 10 seconds and nearly 2 minutes - depending on the freshness of your cream).

Set the cream aside in a separate bowl.

Place the cream cheese, caster sugar and peppermint extract into the TM bowl and mix on Speed 5 for 20 seconds.

Place 2 tablespoons of boiled water into a cup. Sprinkle over the gelatin powder and stir until completely dissolved.

When the mixture has cooled, add it to the cream cheese mixture and mix on Speed 5 for a further 20 seconds.

Melt the chocolate in the microwave in 30 second intervals until just melted (stirring each time with a dry metal spoon). * Please note that you can melt the chocolate in the TM, however, for this recipe I find it quicker to do it in the microwave.

Add 200g of the crushed candy canes (reserving 100g for decoration), the melted white chocolate and whipped cream to the bowl and mix on Speed 5 for 45 seconds or until smooth.

Divide the mixture equally between the glass jars, top with the reserved crushed candy canes and place into the fridge for a minimum of 4 hours to set (preferably overnight).