Browse our collection of easy family-friendly Thermomix chicken recipes - from risottos, to a whole roast chicken, pastas, pies, soups and more!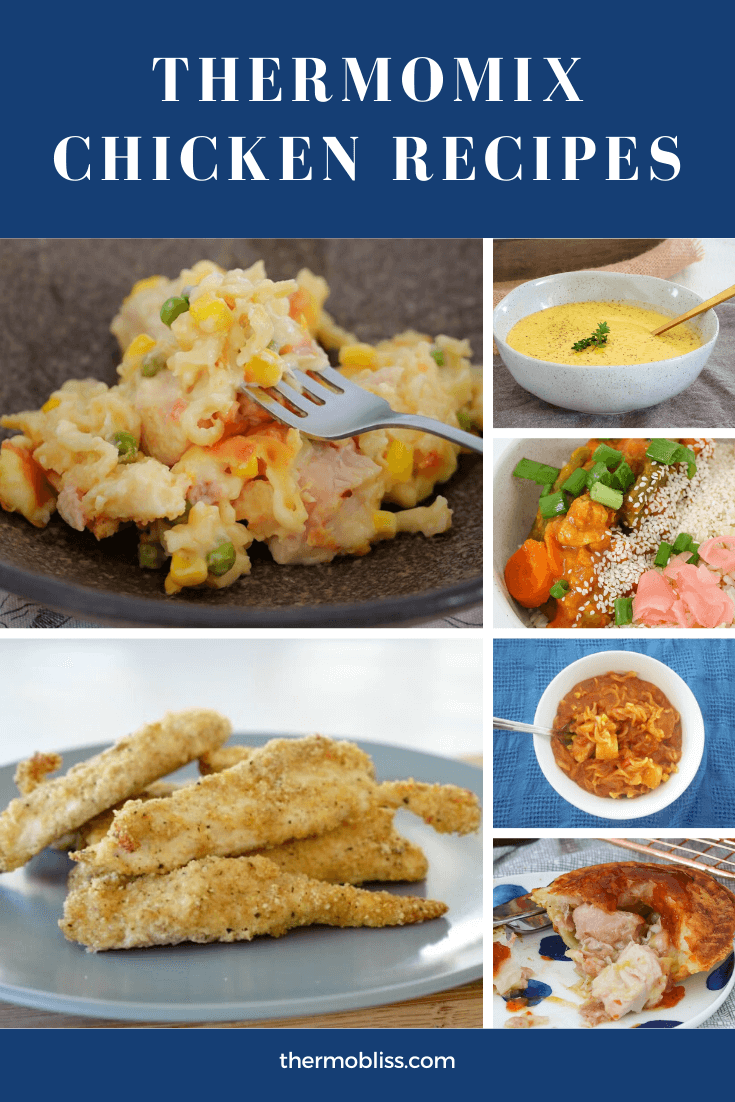 Thermomix Chicken Risottos
Nothing beats a delicious and simple risotto recipes. All of our risottos are family-friendly, perfect for midweek dinners... and the leftovers taste even better reheated the next day!
Our classic chicken & mushroom risotto is always a winner. It's absolutely delicious when following the recipe... or add some chopped bacon with the onion and garlic and then saute.
This yummy risotto was a favourite of my sons when he first started on solids... and he still loves it 4 years down the track!
This recipe is an oldie but a goodie! Add an extra veggie boost by stirring through a few handfuls of baby spinach at the end.
This classic risotto is a firm favourite in our house... and it tastes even better reheated the following day!
Thermomix Chicken Pasta Recipes
Our pasta recipes are perfect for feeding a crowd... or a house full of hungry kids!
Chicken... bacon... BBQ sauce.... this recipe is sure to be a hit with the whole family! Plus there's lots of sneaky veggies hidden inside!
The ultimate comfort food dinner... creamy delicious and packed full of flavour!
Serve our famous chicken parma balls with your favourite pasta. A deliciously simple and kid-friendly recipe!
Thermomix Chicken Soup Recipes
Serve up a bowl of nourishing chicken soup with a side of homemade bread, focaccia or savoury muffins for the perfect winter meal!
Classic Thermomix Chicken Soup
A classic creamy chicken soup that's sure to help bust any cold or flu blues!
A hearty and flavour-packed soup that the entire family will love!
Add some extra veggies to this healthy soup.. and beat the winter freeze!
Thermomix Chicken and Corn Soup
Once you've tried our famous Chinese restaurant inspired soup, you'll never buy it takeout again. It's THAT good (and easy!!!).
Basic Thermomix Chicken Recipes
From cooking a whole chicken in the Thermomix to shredding chicken breasts to making homemade chicken tenders... our recipes really are so simple!
Tender juicy chicken in the Thermomix? We've got you covered!
If you love the idea of cooking a chicken in your Thermomix... then you must try this recipe!
Make your own delicious sandwich fillings with our simple tips for steaming and shredding chicken breasts.
Whip up a batch of our chicken tenders and serve with vegetables or salad... or pop in a yummy wrap or burger!
More Thermomix Chicken Recipes
A collection of Thermomix chicken recipes wouldn't be complete without these last few recipes!
One of our most popular 'fake-away' recipes... this chicken curry is light, fresh and absolutely delicious!
Comfort food doesn't get any better than these creamy chicken pies! Whip up the filling in the Thermomix and then bake in your pie maker or oven.
You can find more easy Thermomix chicken recipe ideas here.
Our Thermomix Dinners Cookbooks
If you love our easy and family-friendly recipes, then please feel free to browse our collection of hard-copy Thermomix cookbooks, including our best-selling 'A Month Of Thermomix Dinners Volume 1 & 2'.