If you like caramel, you are going to absolutely LOVE today's recipe for Thermomix Caramel Scrolls!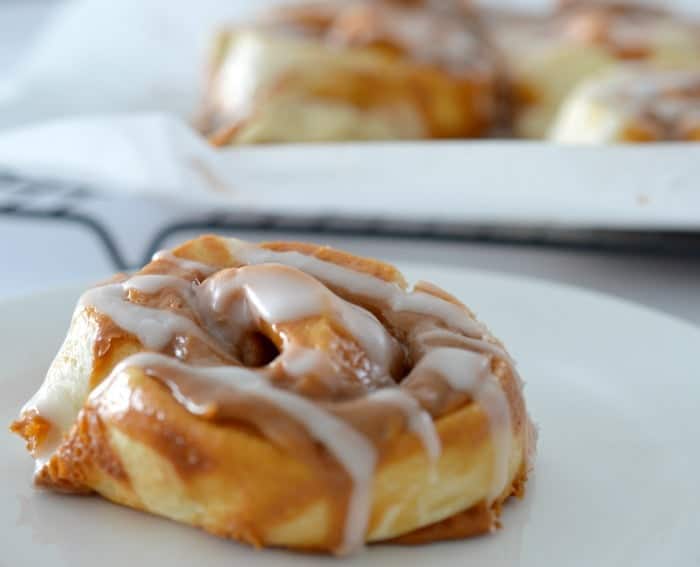 These Thermomix Caramel Scrolls are packed full of caramel and topped with a delicious vanilla icing which just adds to their sweetness.  They are the perfect treat if you don't mind getting your hands a little sticky thanks to the thick caramel which oozes out while you eat them.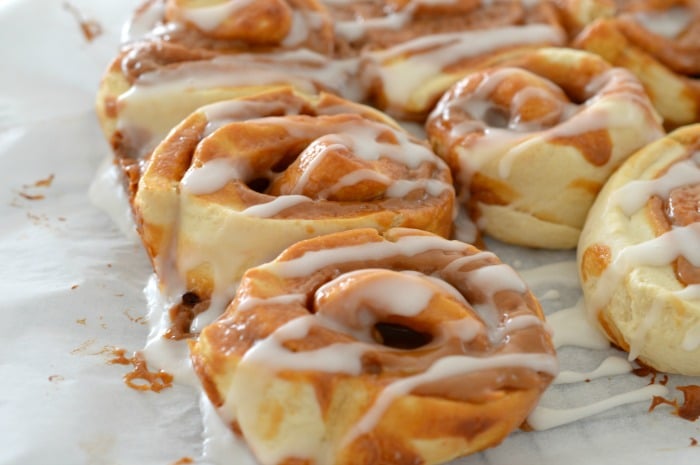 They are gorgeous and soft and you will have to stop yourself from eating just one!  They are also incredibly easy to make, although bear in mind that some of the caramel WILL ooze out when rolling and cutting your scrolls, I just scooped it up and drizzled it over the top of the scrolls once they were on the baking tray.  They are also quite sticky to eat, and I'd highly recommend not leaving the kids to eat these unsupervised unless you want sticky handprints all over your walls!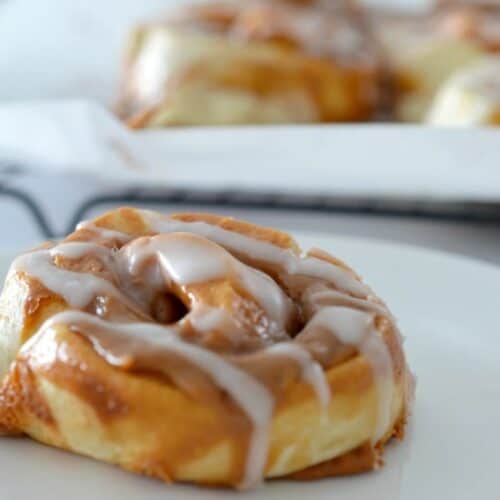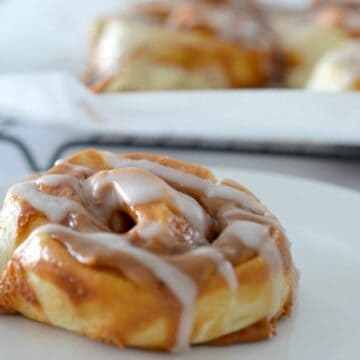 Ingredients
300

g

(2 Cups) of self raising flour

90

g

of butter

½

teaspoon

of salt

160

ml

(⅔ Cup) of milk

For the filling

1

tin of Caramel Top 'N' Fill

For the icing

1

cup

of icing sugar

2

tablespoons

of boiling water

½

teaspoon

of vanilla extract
Instructions
Preheat your oven to 210 degrees and line a baking tray with baking paper.

Place the flour, butter and salt into the Thermomix bowl and mix for 10 seconds on speed 9 until mixture is the same consistency as bread crumbs.

Add the milk and mix for 7 seconds on speed 4 to combine.

Use the kneading function to knead the dough for 2 minutes.

Turn the dough out onto a floured bench and using a rolling pin, roll the dough out until you have a 30cm x 40cm rectangle.

Spread the Caramel Top N Fill (which has been lightly whisked) over the top of the dough, leaving a 2cm gap around the edges. If it's a warm day, I suggest popping it into the fridge to chill for 30 minutes before moving onto the next step.

Starting at the long side, carefully roll the dough until enclosed.

Place your dough into the fridge to chill for 15 minutes - this makes it easier to cut.

Cut into 12 slices – approximately 2cm thick.

Place on a baking tray – make sure to leave enough room for the scrolls to rise.

Bake in oven for 18 minutes or until golden brown on top and cooked through.

Let the scrolls cool on the tray for five minutes while you make the Vanilla Icing by combining the icing sugar, boiling water and vanilla extract together in a small bowl.

Pour the Vanilla icing over the top of the Caramel Scrolls before letting them cool for a further five minutes.
Do you love caramel too? What's your favourite Caramel recipe?