This Thermomix Banana and Pineapple Cake is super simple to make and there is a good chance you will have everything you need to make it in your pantry - winning!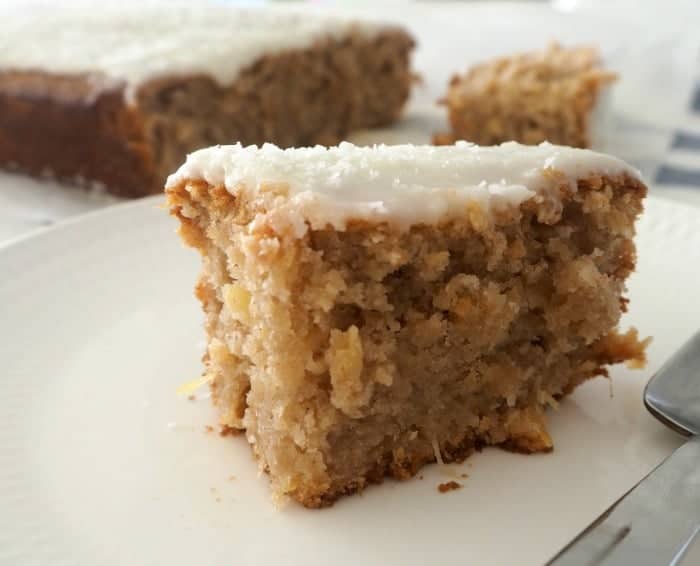 I've been making this Banana and Pineapple Cake for years, so it made sense to convert it to make in my Thermomix!  This cake is so deliciously moist and full of flavour and it really doesn't need to be covered in icing, but today I couldn't resist!
I usually make this cake in a large loaf tin (which you can also do but it will take around 45 minutes to bake), however by making it in a slice tin it seems to go further and is perfect to pop a small slice into the kids lunch boxes.  This cake is also freezer friendly, so you can pop some away for another time - that's if it lasts long enough!
Remember to also check out our recipe on Thermomix Banana Cake here! It comes with Cream Cheese Frosting as well.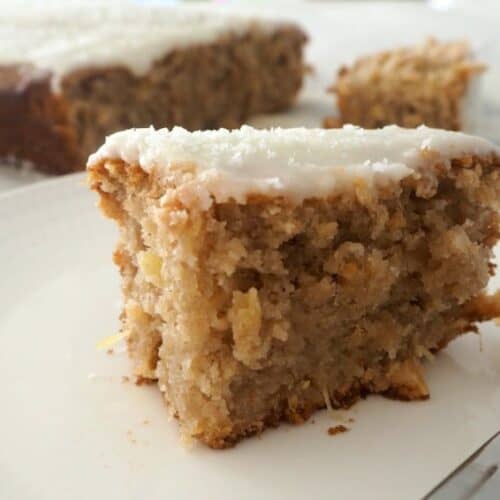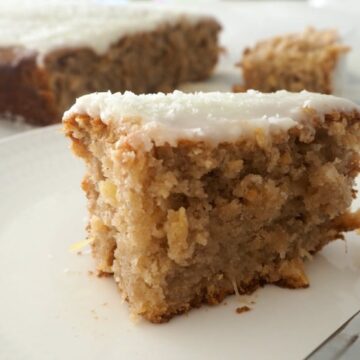 Ingredients
2

medium bananas

150

g

crushed pineapple - drained

2

teaspoons

ground cinnamon

200

g

caster sugar

250

g

self raising flour

30

g

of desiccated coconut

140

g

coconut oil

50

g

pineapple juice

2

eggs
Instructions
Preheat your oven to 170 degrees and line a slice tin with baking paper.

Peel the bananas and place them into your Thermomix bowl along with the eggs. Mix for 10 seconds on speed 4.

Add the remaining ingredients and mix for 10 seconds, speed 4, REVERSE.

Scrape down the sides of the bowl and mix for a further 5 seconds, speed 4, REVERSE.

Pour the mixture into your prepared tin and bake in the oven for 35 minutes or until cooked through when tested with a skewer.
Please note the baking time for this recipe can vary depending on the size/moisture content of your banana.  I suggest checking your cake at the 35 minute mark and cooking for 5 minute increments as needed.