Is there anything better than the flavour combination of peanut butter and chocolate? I think not! For years I have always made my favourite chocolate chip cookie recipe and thought it was the best thing ever... until I got a little bit bored one weekend and decided to play around with the recipe. Yep, then these little babies were discovered and my oh my! They're incredible! I've decided that the only thing better than a chocolate chip cookie is one that has peanut butter in it too.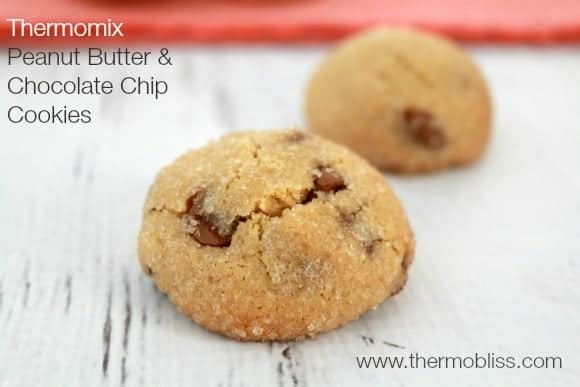 I like to roll my cookies in raw sugar because it gives them the most delicious crunch on the outside when they're cooked. And hey, anything rolled in sugar has to taste pretty amazing, right!? Oooh and just one little piece of advice... whatever you do, make sure you eat one of these warm, straight out of the oven. The chocolate will be all melted and delicious and the cookie will be oh-so-soft.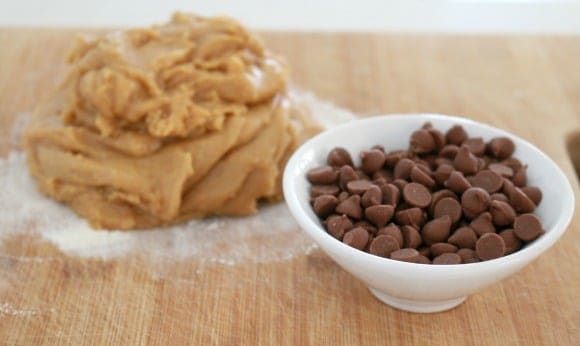 I know the recipe says ¾ cup of chocolate chips, but if you're anything like me, you'll want to measure out a full cup (because a few sneaky chocolate chips will certainly be eaten during the making of these cookies!).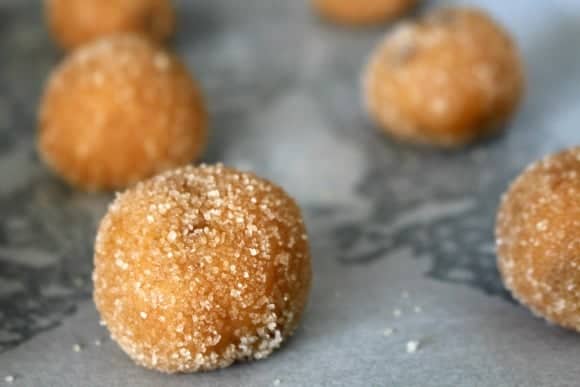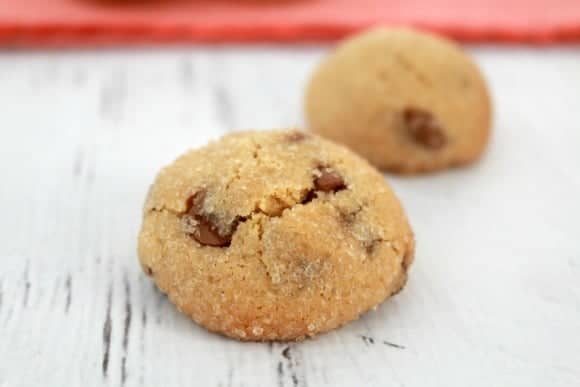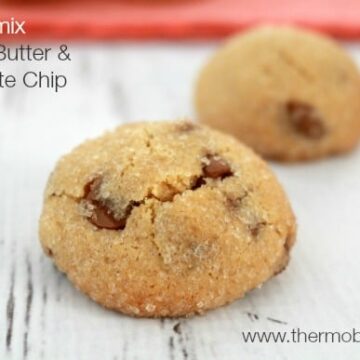 Ingredients
125

g

butter

, softened to room temperature

½

cup

of peanut butter

1

cup

brown sugar

1

tsp

vanilla extract

2

eggs

1

and ½ cups plain flour

1

tsp

baking powder

¼

cup

raw sugar

, to coat

¾

cup

chocolate baking chips
Instructions
Preheat oven to 180 degrees celsius (or 170 degrees celsius fan forced).

Grease and line two baking trays with baking paper and set aside.

Cream together the butter, peanut butter, brown sugar and vanilla extract for 1 minute on Speed 3.

With the TM blades still running, add the eggs one at a time and mix on Speed 3 for 30 seconds.

Add the sifted flour and baking powder and knead on interval speed for 30 seconds.

Add in the chocolate chip cookies and stir through with a spatula.

Roll the mixture into tablespoon sized balls (if the mixture is too soft, put it into the fridge for 15 minutes to firm up).

Roll the dough balls through the the raw sugar.

Place the cookie balls onto the prepared baking trays and cook for 15 minutes or until lightly golden.

Leave the cookies to cool on the trays for 5 minutes before transferring to a wire rack to cool completely.

The cookies will be crunchy on the outside but soft on the inside (like all the best cookies are!).

Store the cookies in an airtight container for up to 5 days (they will soften slightly over this time).