I have to admit that I am the WORST possible person when it comes to cleaning my Thermomix. I hardly ever remove the blades and wash them separately, I'm a huge fan of the whole 'self'-cleaning' thing, and I'll happily wait for the dishwasher to clean my bowl instead of having to clean it myself. Gosh, that sounds really bad, doesn't it. But I also know that I'm not the only person out there who doesn't treat their Thermie like a goddess!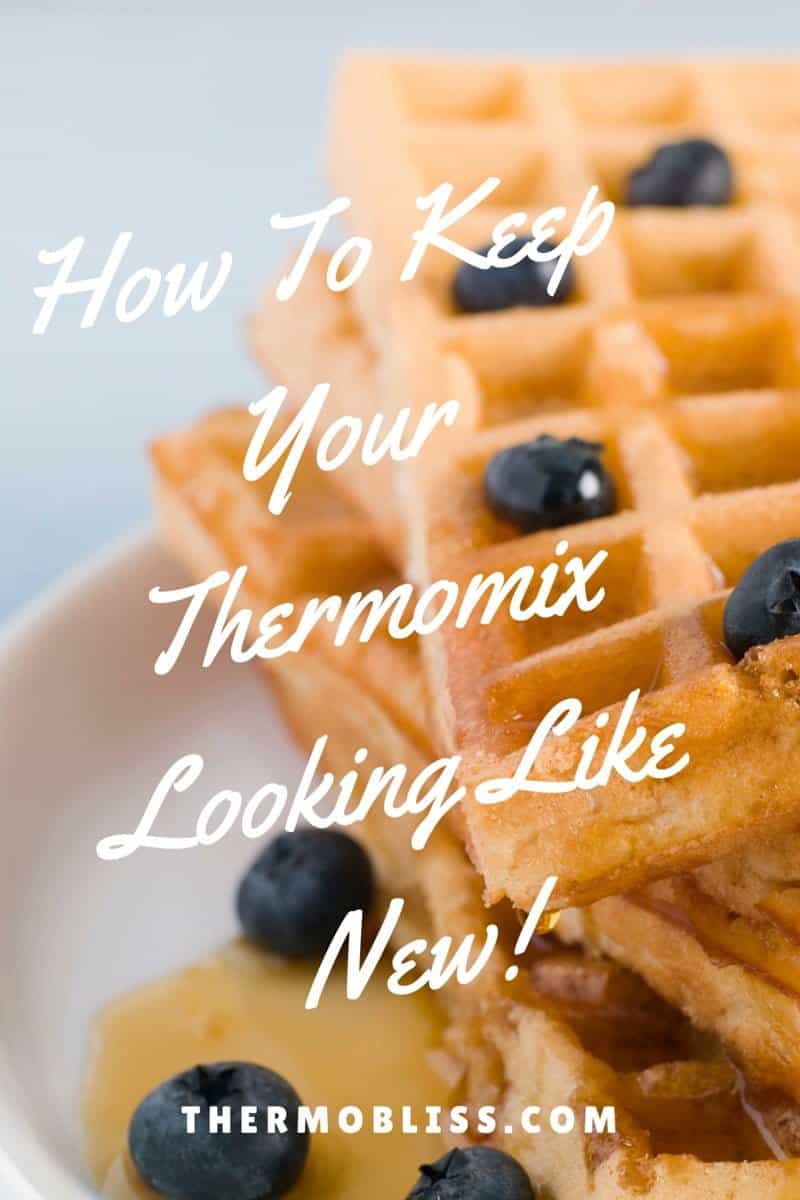 So here are my top tips for getting your Thermomix looking like new again (without having to do very much at all!). PS. You definitely don't need to do these things all the time... just when you know your Thermie really needs it!
How To Get Your Thermomix Looking Like New Again!
Use the 'self-cleaning' method... like ALL THE TIME!! Pretty much every time I use my Thermomix, I'll clean it by popping in a little squirt of dishwashing liquid and filling the bowl halfway up with water. Turn up to Speed 8 (or higher if you dare) and let it do it's thing for about 20 seconds. Rinse with clean water and you're done!
Clean your blades by adding eggshells to the bowl, covering the blades with water and mixing on Turbo for 20 seconds. Then rinse the bowl... obviously!
You know those annoying little bits on the side of the white machine where your lid clicks in. Yep, the bits that get full of flour, green juice and everything else! Well, grab a tea towel, press it into the gap and move the towel firmly back and forth - all of the yucky bits will come straight out.
When you're feeling super motivated, grab a toothbrush and give all of the little nooks and crannies (lid, rubber washer and blades) a really good clean.
Pop your bowl, blades and lid into the dishwasher. Honestly, just do it! Just don't put the machine in!
When your Thermie needs a really good clean (yep occasionally you just have to suck it up and do it), add 750g water, 2 tbs bi-carb soda and 250g vinegar to the bowl. Heat on Varoma, Speed 3, 15 minutes. Rinse with clean water.
Lemons! Lemons are a clean Thermomix's best friend. Pop lemon skins and enough water to cover the blades into the Thermomix bowl and mix on Turbo for 15 seconds. No wasting lemons again!
Carefully pick up your machine and give it a good wipe down underneath. It is a bit eeew... but hey, it needs to be done.
Soak a damp cloth in vinegar and wring it out. Wipe down the entire machine, including the bowl, buttons and sides. Everything! It will look sparkling clean again.
And so that's it... the lazy girls guide to keeping your Thermomix looking fab. I mean really, you paid $2k for it - you kinda want it looking nice, right!!?? xx