I'm a huge fan of breakfast… in fact it's probably my favourite meal of the day. I'm one of those people that wakes up hungry! When I was younger I would often skip breakfast – now I have no idea how I ever did that. If I didn't eat breakfast I would feel so tired and yuck during the tired! So breakfast in our house is kinda a big deal! And one of my very favourite things to make is a big batch of homemade granola.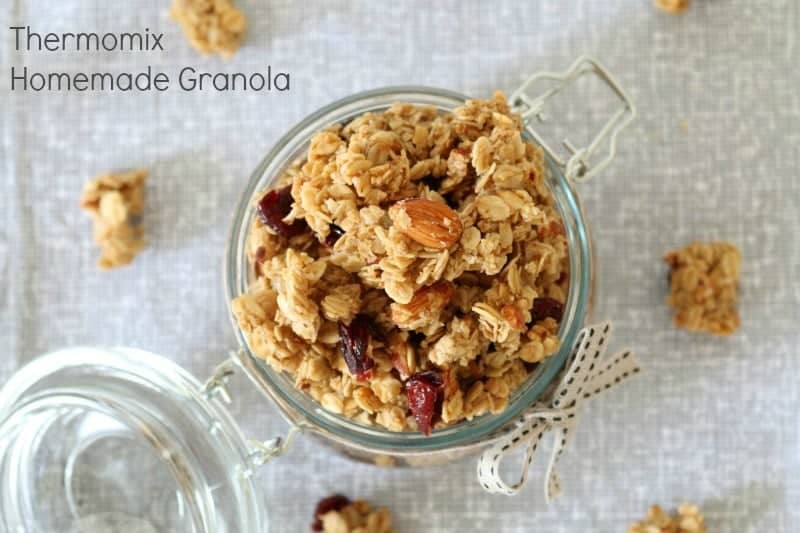 Usually a make a batch of this on the weekend and it keeps us going throughout the whole week. It will last for weeks in an airtight container at room temperature which is super handy. It's also way cheaper than buying the granola clusters from the supermarket.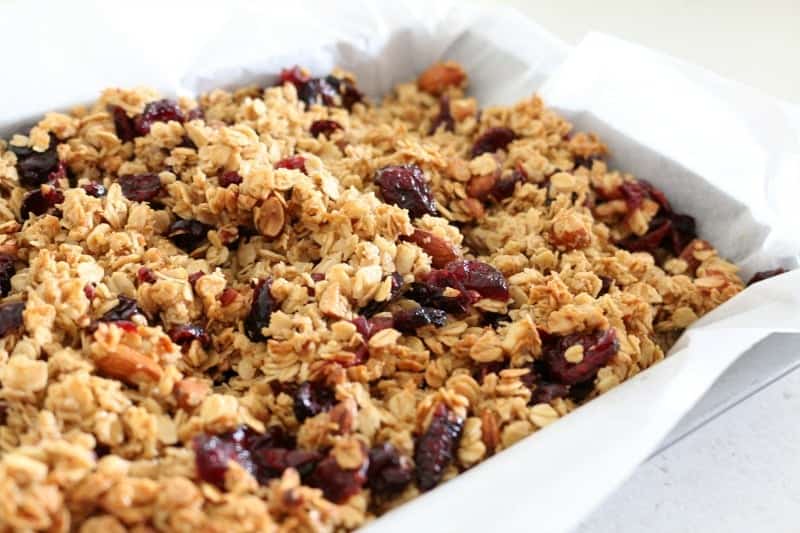 I like to sprinkle a handful of clusters over my yoghurt in the morning, or add some milk and sliced fruit to it. It's so yummy and seriously takes no time at all to make. I love to add dried cranberries to my granola, but you can use any dried fruit you like – or leave it out altogether!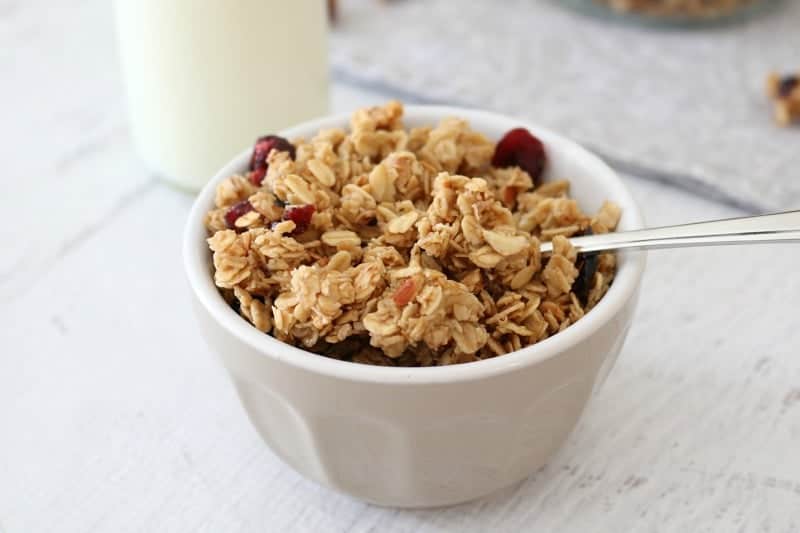 Delicious. Simple. Easy… that's what ThermoBliss cooking is all about!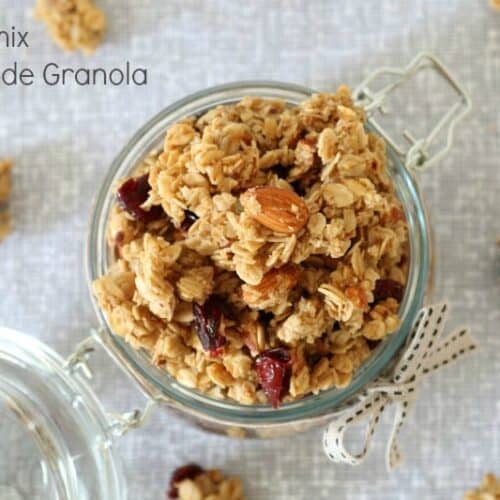 Ingredients
1

cup

almonds

1/3

cup

(70g when melted) melted coconut oil

1/3

cup

(65g) packed brown sugar

1/4

cup

(85g) honey

1/2

tsp

cinnamon

1/4

tsp

salt

1

tbs

vanilla extract

4

cups

(360g) rolled oats

1/2

cup

dried fruit

(optional)
Instructions
Preheat oven to 150 degrees celsius.

Grease and line a 30X20cm slice tray with baking paper.

Place the almonds into the TM bowl and press Turbo 3 times. Remove the almonds and set aside in a separate bowl.

Add the melted coconut oil, brown sugar and honey to the TM bowl and mix for 2 minutes, Speed 2, 100 degrees.

Scrape down the sides of the bowl and repeat for a further 2 minutes, Speed 2, 100 degrees.

Add the salt, cinnamon, vanilla extract, almonds and rolled oats and mix for 20-30 seconds on Reverse, Speed 2.

Place the granola mixture into the prepared tin and bake for 25-30 minutes or until lightly golden brown.

During the cooking time, remove the mixture every 10 minutes and stir well.

With 5 minutes cooking time remaining, add the dried cranberries and stir to combine.

Remove the granola from the oven and set aside to cool completely. As it sets, it will harden up.

Break the granola into clusters.

*The granola can be kept in an airtight container at room temperature for up to 3 weeks.