Whether you're waiting (im)patiently for your Thermomix to arrive or you've just had the delivery and demo with your consultant, here's our list of the top 10 desserts you should make as soon as you get your Thermomix!
From cheesecakes to puddings, pies to cakes and more!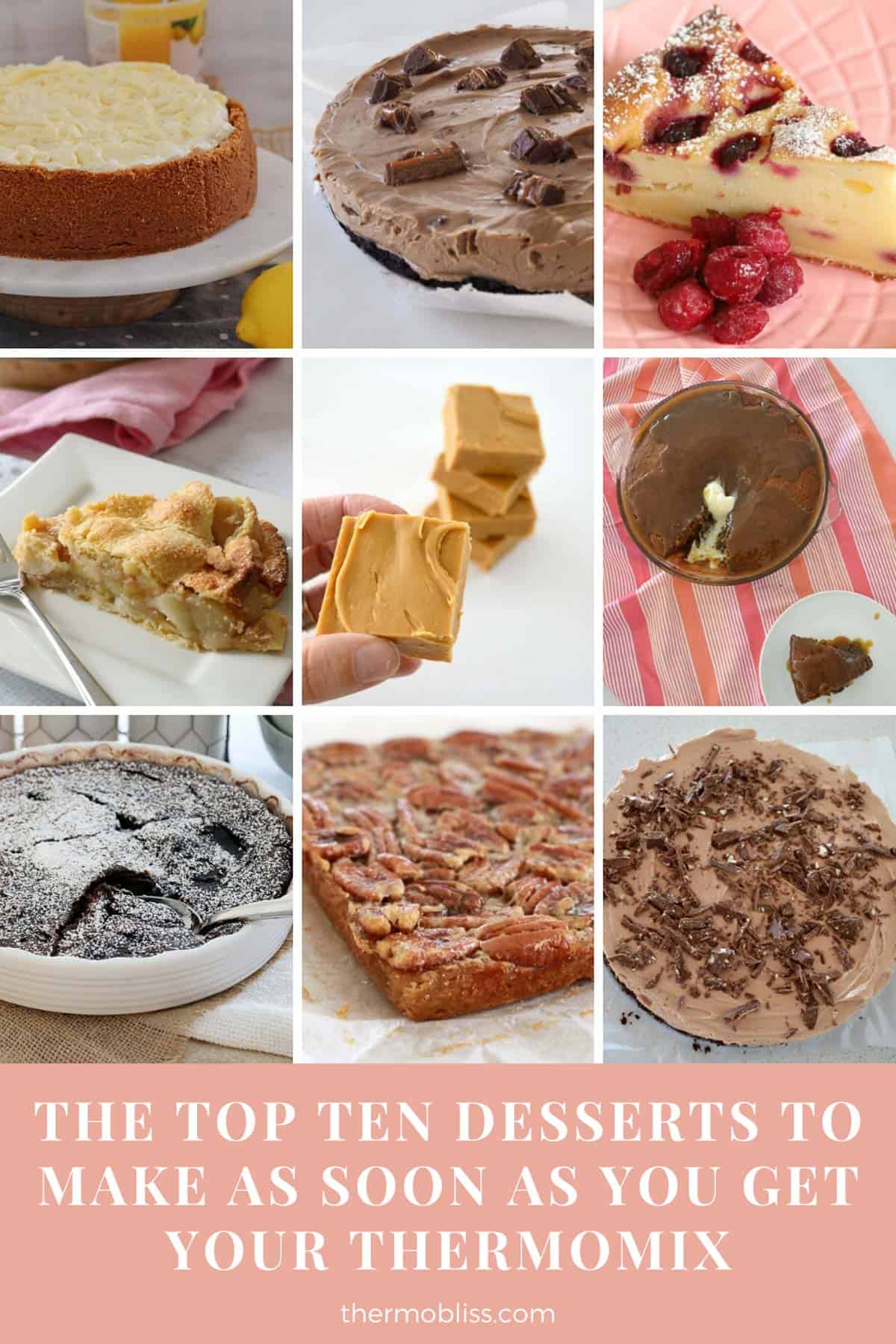 Thermomix Desserts
It's no secret that desserts are one of our specialities here at ThermoBliss!
We LOVE making delicious desserts for our family and friends. But we also know how daunting it can be when you first get your Thermomix... what to make first!?
And so, we've put together a list of our most popular Thermomix desserts that will get you well on your way to being a Thermomix dessert queen (or king!).
When it comes to winter desserts, it's pretty hard to beat a chocolate self-saucing pudding (although a sticky date pudding is of course, on par!!). Served warm with a big scoop of ice-cream or a dollop of cream, you'll be wishing winter will never end (well maybe not that far!).
Toblerone Cheesecake is one of the most delicious and easiest dessert recipes going around and every time I make it, it's always super popular with friends and family.
This is such a classic recipe and is the perfect way to finish off a special meal, although I won't judge if you decide to have this pudding as a main meal! Although I think this Sticky Date Pudding is amazing all on it's own, it does taste pretty spectacular when served with a scoop of ice-cream.
Made from homemade Thermomix pastry, this apple pie is absolutely delicious. The flakey, crispy pastry will blow your mind… and really, is there anything better than a yummy apple filling!?
This Caramel Fudge makes a great after dinner treat or is also great to share with friends at your next party... it also makes a great gift for friends, family and teachers.
This recipe is a variation on the Classic New York Baked Cheesecake (which is equally as delicious, but has more of a creamy vanilla flavour rather than lemony like this one!).
This cake will take you no time at all to whip up (and yet it looks super impressive!). You can serve it at room temperature all by itself, or warm it up with a scoop of ice-cream or a dollop of cream.
This no bake Mars Bar Cheesecake is the perfect make ahead dessert (so it would be perfect for Christmas!) and will also cater to a crowd.
This Thermomix Blueberry & Lemon Tart really does have the best of both worlds.. super yummy homemade pastry and a totally deliciously tangy and sweet filling. YUM!
This slice tastes just like pecan pie, but in a deliciously yummy slice. Nothing beats that beautiful pecan and maple syrup flavour!
Our Thermomix Cookbooks
If you love our Thermomix recipes, then please browse our collection of hardcopy printed cookbooks!