This really is the best Thermomix Mud Cake with Peanut Butter Frosting. In fact, this is my classic, all-time favourite Thermomix mud cake recipe (it's so yummy that it was even featured by Thermomix Australia last year… we're pretty proud of that!).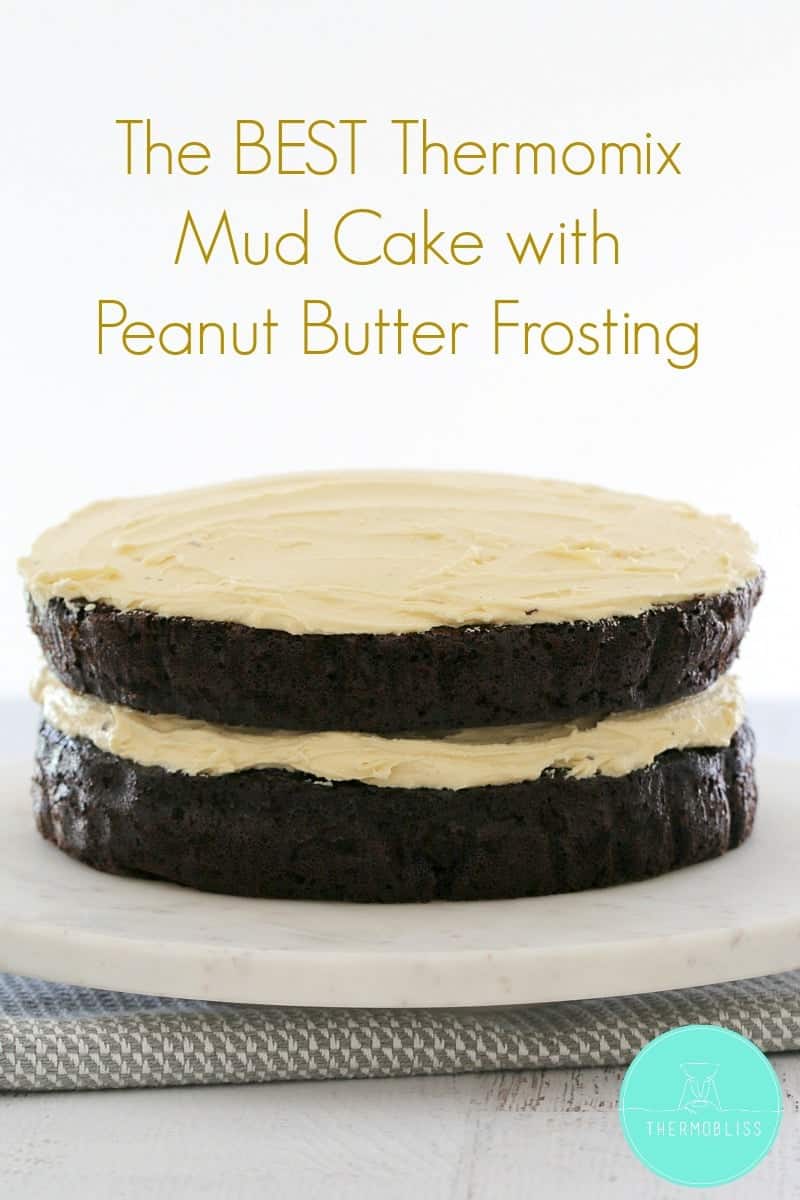 But to take this cake to a whole new level, I left out my usual milk chocolate frosting, and instead covered the mud cakes in the most delicious peanut butter frosting. Holy moly, it's SO good!!!
I only frosted the middle and top of the cake this time around, BUT you will definitely have enough frosting to cover the sides as well if you like. You can keep your cake super simple, or go crazy decorating it… whatever you like!
So if you're a chocoholic, then our Thermomix Mud Cake with Peanut Butter Frosting is for you!!!! Enjoy xx

The BEST Thermomix Mud Cake with Peanut Butter Frosting
Ingredients
Chocolate Mud Cake:
1 and ¾ cups (220g) plain flour
1 and ¾ cup (350g) caster sugar
¾ cup (65g) unsweetened cocoa powder
1 teaspoon baking powder
2 teaspoons bi-carb soda
1 teaspoon salt
1 cup (250ml) buttermilk
½ cup (125ml) vegetable oil
2 large eggs, at room temperature
1 teaspoon vanilla essence
1 cup (250ml) hot strong coffee

Peanut Butter Frosting:
225g butter, softened
½ cup (125g) smooth peanut butter
3 cups (375g) icing sugar mixture
1-2 tbs cream
1 tsp vanilla extract

Instructions
Preheat oven to 180 degrees celsius.
Grease two 9 inch round cake pans and line with baking paper.
Measure the flour, sugar, cocoa powder, baking powder, bi-carb soda and salt into the TM bowl and sift on Speed 8 for 5 seconds.
Set aside in a separate bowl.
Place the the buttermilk, oil, room temperature eggs and vanilla in the TM bowl and mix on Speed 3 until well combined.
With the blades on speed 2, slowly add the dry ingredients to the wet ingredients and mix until combined.
Pour in the coffee and mix on Speed 2 until combined.
Divide the batter equally between the baking pans and bake for approximately 25 minutes or until a toothpick inserted in the center comes out clean (don't overcook the cake – you want it to be nice and fudge-like!).
Allow to cool completely.
To make the peanut butter frosting, place the softened butter and the peanut butter into the TM bowl.
Mix for 10 seconds, Speed 4.
Scrape down the sides of the bowl and repeat for a further 10 seconds.
Add the icing sugar mixture and mix on Speed 5, 10 seconds.
Scrape down the sides of the bowl and mix for a further 10 seconds.
Add 1 tablespoon of cream and the vanilla extract.
Mix for 30 seconds, Speed 4.
If your frosting is too hard, add the remaining tablespoon of cream and mix for a further 20 seconds.
To assemble the cake, spoon a small amount of peanut butter frosting onto the bottom of a serving plate.
Place one of the mud cakes on top.
Spread over some of the peanut butter frosting and sandwich together with the second mud cake.
Spread the remaining frosting over the top of the cake.
Please note that there will be enough frosting to cover the sides if you like.